THE FIX WAS IN
Prince Harry beating Usain Bolt in a race is something that I thought I would never say. The "race" was part of the prince's Caribbean tour and it really wasn't much of a race. Bolt barely moves out of the blocks while Harry takes off like his life depends on it. I guess being royalty does have its benefits. Not many people are able to say the beat Bolt in a race, whether...
HE TOOK TIME OUT TO DO IT
For those of you who got a chance to tune into Fan Night on NBA TV, you might have seen this bizarre site at the Indiana Pacers/Atlanta Hawks game.One of the fans in the stands appeared to be carrying a "house phone" and appeared to be talking on it during the game.NBATV analyst Chris Webber decided to let the world know of this occurrence and inform the viewer about what...
(WIPES TEAR)
I just stumbled upon the video below over at r/NFL. When I saw the title – "Peyton Manning Farewell Song" – I have to admit that I thought it would suck, as these videos often do. But not this one. Frankly, I think it sums up the plaintive, melancholy yet appreciative and nostalgic mood of Colts fan on this strange, strange day about as well as any video and song could...
WHERE'S GRIMACE?
Valparaiso was hammered by Detroit, 70-50, in the Horizon League Championship Game on Monday night.... [[ This is a content summary only. Visit my website for full links, other content, and more! ]]
GET DOWN, GET FUNKY
We think Rob Gronkowski might have impregnated a Vancouver-based broad a few years ago and might not know that he has a son that looks to be about 5-years-old. Maybe 6. Yes, the math doesn't add up, but the kid's dance moves make us think his father is Gronk. Just watch as 'Little Gronk' the other night destroys Rogers Arena during this LMFAO stop in the action. Swag, b...
STICK WITH YOUR DAY JOB
It ain't as easy as it looks.
BREAK IT GENTLY
Antonio "Scoop" Jardine a Philadelphia Local and graduate of Neumann-Goretti Highschool, has earned a lot of fans in his college basketball career at Syracuse University. The Philadelphia native is a player "transformed" after five years with the Orange, averaging 8.6 points, 2.3 rebounds, 4.9 assists and 1.5 steals this season. One fan who's especially sad to see "SCOOOOOOP...
ROLL DOGS
Colts owner Jim Irsay and Peyton Manning may be parting ways tomorrow but they seemed fine as they together flew into Indianapolis International Airport Tuesday night. Irsay and Manning arrived around 9:30 p.m. and got into a Range Rover together. As they drove away, Irsay stopped and told Eyewitness News Sports Director Dave Calabro they "just wanted to say hi." ESPN analyst...
BIGGER IS BETTER
Kris Humphries older sister Kaela is stepping out from the shadow of her former sister-in-laws and into a spotlight of her own.The 29-year-old sister of Kim Kardashian's ex-husband and New Jersey Nets basketball player Kris has signed a contract as plus-size model with Ford modeling agency. The six degrees of Kardashian keeps spreading down another avenue of exploitation. Ford...
DIAMONDS IN MY TEETH
Seattle Seahawks running back Marshawn Lynch had to find someway to blow part of his new four-year, $31 million contract. And if the four year deal wasn't a sign of a commitment to the Seahawks, his new purchase definitely is. The Pro Bowl running back had some jewelry made for his mouth - a custom-made Seahawks grill. The Seahawks grill will be Lynch's "go-to grill...
KEEP YA HEAD UP
Niklas Kronwall's hit on Jakub Voracek Tuesday night was one that you could feel through the TV. The Red Wings were playing the Flyers in Detroit and almost midway through the second period Kronwall laid the back of his shoulder into the body of Voracek and absolutely crushed him. Voracek got up immediately following the hit but had very little understanding of where he was or...
NET LOSS
The Erie Otters of the OHL were forced to stick a skater in net when their only healthy goalie, Ramis Sadikov, was knocked out of the game after being run by an opposing skater. The Otters other netminder, Devin Williams, was sidelined with a concussion he sustained a few days earlier, forcing the team to call on forward Connor Crisp. Crisp had been out of the lineup since September...
All Sports News

Delivered to your inbox

You'll also receive Yardbarker's daily Top 10, featuring the best sports stories from around the web. Customize your newsletter to get articles on your favorite sports and teams. And the best part? It's free!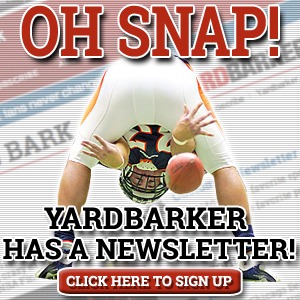 THE HOT 10: Who's Trending
Latest Rumors
Best of Yardbarker

Today's Best Stuff

For Bloggers

Join the Yardbarker Network for more promotion, traffic, and money.

Company Info

Help

What is Yardbarker?

Yardbarker is the largest network of sports blogs and pro athlete blogs on the web. This site is the hub of the Yardbarker Network, where our editors and algorithms curate the best sports content from our network and beyond.