Found October 20, 2011 on Fight Knights Blog: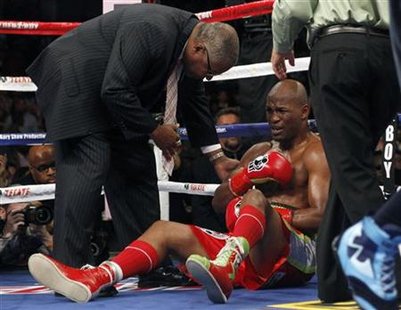 Everyone has heard the famous Aesop's Fable, The Boy Who Cried Wolf.  The tale tells of a Shepard boy who repeatedly tricks nearby villagers into thinking that a wolf was attacking his flock.  Alas, as the end of the story, when a wolf genuinely begins attacking his flock of sheep the boy once again cries for help and the villagers disregard him.
Bernard Hopkins this past weekend may have been a victim of this same tragic tale.  While the legitimacy of the shoulder injury is debatable, there is no mistaking that Hopkins's previous misdeeds played a role in both how the fight played out, as well as the public perceived it.
For example here's a hypothetical:   Let's assume that the late Arturo Gatti fell to the ground from a borderline illegal shove and dislocated his shoulder.  As he lies on the ground wincing in apparent pain, the referee goes over and asks him whether he can continue.  Would boxing fans even think about questioning Gatti's injury?  Use that same hypothetical and substitute other names, Holyfield, Arguello, Chavez, etc.  Most fighters of Hopkins's HOF stature would get the benefit of the doubt.  This is reason why, in my opinion, Bernard Hopkins absolutely needs to produce clear cut evidence that he was hurt.  For one lone reason: he has pulled something like this too many times.  
Don't clearly remember what these past occurrences were?  Here is a closer look at the moments that caused so many boxing fans to become so cynical about Hopkins and his current injury.  Here are just some of the incidents that he may have "cried wolf".  These are listed in chronological order.
Robert Allen I – 1998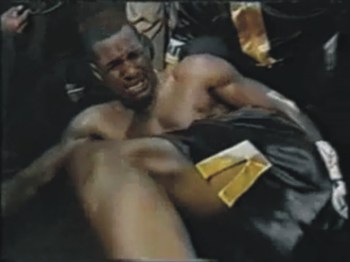 Robert Allen in his first of three matches with Bernard Hopkins had a very interesting outcome.  It was Hopkins's 8th defense of his IBF Middleweight Belt.  Allen, ahead on two of the three scorecards, was involved in a hold infested match with Hopkins.  Then in the middle of one of the Of course here, Judge Mills Lane "threw" Hopkins out of the ring while separating the two fighters.
Hopkins claims that he suffered a broken ankle and could not walk.  Later after speculation arose that Hopkins may lose his title; he quickly rose to his feet announcing that he could in fact continue.  Judge it for yourself.  Aforementioned event occurs at the 2:35 mark.
Antwun Echols II - 2000
This was arguably the most entertaining fight of Bernard Hopkins's career.  This foul filled fight is a must watch if you can find a replay (I only have the highlights below).  Earlier in the fight Hopkins hits Echols with one of the most brutal rabbit punches ever seen on HBO.  Tony Weeks, of course, disregards it and thinks that Echols is faking (which some attribute to Echol's never changing face).  Later Echols picks Hopkins up during a clinch and tosses Hopkins off of him.  Hopkins of course stays down and claims to have a shoulder injury.  He eventually continues claiming "he don't want to lose the belt like that" and avoids using his right hand for a few rounds.  Later he begins throwing it and eventually walks away with a KO victory.  There will be a debate on whether you can throw punches with a dislocated shoulder.  Once again, judge for yourself.  Go to 2:45 if you want to skip to the takedown though I highly recommend you watch the whole fight.
Joe Calzaghe – 2008
This was a fight that was very close and contained a few fouls.  Bernard is able to knock Calzaghe down with a good right hand in the first round.  As the rounds go on, the volume punching Calzaghe begins swarming Hopkins.  It becomes quite clear that the fight will be going to the scorecards in the middle rounds (as most of Hopkins's matches).  
In the 10th round Calzaghe hits Hopkins low with a left hand.  Replays will later show that the blow didn't seem to hit Hopkins that hard.  Hopkins takes about 2 minutes to recover from it and continues.  Later in the 11th round another borderline punch hits him and Hopkins crumples to the ground trying to draw the foul drawing the ire of the fans.  Joe Cortez doesn't believe the foul and tells Hopkins to continue.  
Before the fight Calzaghe said, "I feel there is every chance Hopkins will try to pull a stunt and get deliberately disqualified because he can argue it's not a loss."
Check out the highlights here.
Roy Jones Jr. II - 2010
Boxing fans had to wait 17 long years for a rematch between these two legends.  They were rewarded with an unpleasing snooze fest.  
Hopkins was grounded by Roy Jones Jr. three times in the fight, twice with rabbit punches and once with a low blow in the 10th round.  What makes it worse?  Hopkins clearly landed a rabbit punch and a low blow himself that Tony Weeks clearly missed.  
"I was seeing spots after the sixth round.  I've been hit in the back of the head in the gym before but it never felt like that. Right now, I'm toughing it out doing this interview. I got hit in the back of my head and my legs just went. I'm still human in there," Hopkins later stated.
Here is the end of the fight.  Skip to 5:30 if you want to see the Hopkins interview where he complains about the rabbit punching.  The highlights show the fouls by both fighters and their subsequent reactions.  Once again, judge for yourself.
--
One last note.  Hopkins is known in the boxing circles for being a "dirty fighter".  However, a long line of dirty fighters before him (Perdoza, Duran, Saddler, etc.) all have something in common: they don't' complain.  Hopkins complains…. Constantly.  This probably doesn't help his cause from a PR standpoint.
The thing about the fable of The Boy Who Cried Wolf is that the boy actually cries wolf several times.  Why? Because it worked so well.  He was bored and wanted to play.  He wanted to play with the sheep but they were not interested in playing.  When he decides to play his trick and cry wolf, all the town's villagers come running and he plays hooky with one of his friends.  Problem solved! The next day he cries for help saying that there are in fact TWO wolves attacking his flock and the villagers come again.  Problem solved!  Maybe if Hopkins was never allowed to get away with these things he wouldn't be faced with his current problems.  The sad thing is Hopkins truly is a great fighter.  It's too bad these incidents will overshadow his illustrious career.
SW
Oh and for the LAST freaking time.  
Love it hate it?  Hate mail and Love mail welcome at   fightknightsblog@gmail.com
Original Story:
http://fightknightsblog.com/2011-arti...
THE BACKYARD
BEST OF MAXIM
AROUND THE WEB
Latest Rumors
The Backyard
Going Viral

Today's Best Stuff

For Bloggers

Join the Yardbarker Network for more promotion, traffic, and money.

Company Info

Help

What is Yardbarker?

Yardbarker is the largest network of sports blogs and pro athlete blogs on the web. This site is the hub of the Yardbarker Network, where our editors and algorithms curate the best sports content from our network and beyond.