Found December 12, 2012 on 5TH QUARTER MAGAZINE:
After a knockout that had Filipino boxer Manny Pacquiao on the canvas, many speculated that he would hang up his gloves once and for all.  On the other hand, from recent interviews, Manny Pacquiao still believes he has a fight or two still in him.  He has dedicated his life to the sport and leaving that one aspect of his life troubles him.  He rose to prominence all thanks to the sport of boxing. Ricky Hatton has said in a recent interview that Manny Pacquiao should retire.  Hatton said, The only advice I could give Manny Pacquiao is that his legacy is already secured.  The thing is with us fighters is that there is always one more fight.  What's he going to achieve by having one more fight?  Probably nothing.  He's an eight-weight world champion.  There's nothing more to be said. Ricky Hatton was knocked out by Manny Pacquiao himself back in 2009.  That knockout took Hatton down a dangerous path of drugs and suicide.  His life started to spiral out of control.  As a fellow boxer, Hatton does not want that happening to Pacquiao.  He believes the Filipino boxer has cemented himself into one of the best boxer's we have seen lately.  Taking one more fight could further complicate his life. Leaving something you love that you have put so much time into is difficult for anybody.  Pacquiao has millions of dollars to support his family and even help the country of the Philippines.  Proving a point is no longer necessary.  He has done what he has possibly could in the sport of boxing.  A fight against Floyd Mayweather, Jr. to further cement his legacy?  Not needed.  Pacquiao has already let the world know what he is capable of as a boxer and as a person.
Original Story:
http://www.5thquartermag.com/2012/12/...
THE BACKYARD
BEST OF MAXIM
RELATED ARTICLES
Manny Pacquiao's adviser and assistant trainer goes after a Getty Images photographer.  Apparently, the two did not want the photographer snapping up photos of the boxer as he laid face-first on the canvas after being knocked out.  The photographer just wants an apology. Photo courtesy of Y! Sports
Manny Pacquiao has returned to the Philippines after his knockout loss to Juan Manuel Marquez, saying he will fight again despite some members of his family imploring him to retire. Shortly after arriving in Manila on Wednesday, Pacquiao told fans ''we will rise again'' and ''there will be future fights.'' He says he will rest for five months before...
Manny Pacquiao was knocked out cold in the 6th round in his KO loss to Juan Manuel Marquez. But despite his second straight defeat, Pacquiao has vowed not to retire. A vow that goes against the wishes of both his wife, Jinkee Pacquiao and his mother, Dionisia. The former eight-division world champion wiped tears from his eyes listening to his wife, Jinkee, make a tearful appeal...
What boxer is afraid of Manny Pacquiao at this moment? He was dropped like a sack of potatoes this past Saturday by Juan Manuel Marquez, and the invincibility that Pacquiao seemed to have over the last few years has become a fleeting memory. You have to believe that Floyd Mayweather really doesn't care to fight [...]
The knockout heard around the country, in their fourth fight Juan Manuel Marquez finally defeated Manny Pacquiao by  knockout in the 6th round. I must say while it was a great punch by Marquez, Manny got caught trying to end the fight early and get out of dodge, and when [...]
Not an over the top shot to the jaw.
  As the diminutive idol plummets face first into the mat, a country of 95,000,000 people watch in stunned silence… their breath stolen away by a Mexican fighting god.    Manny Pacquiao lay motionless, unconscious, for almost exactly a minute. In that blackness he is oblivious to hundreds of millions of eyes on him.  Ten seconds vanish in a blink as everyone stands...
Following Juan Manuel Marquez's shocking KO of Manny Pacquiao Saturday, the boxing world has tried to figure out how the 39 year old Marquez suddenly found more punching power than he had in his first three encounters with Pacquiao. The conventional wisdom/conspiracy theory of choice has been that Marquez is doping. To wit: he showed up at Pacquiao/Marquez IV with more muscle than...
Ever since Juan Manuel Marquez rendered Manny Pacquiao unconscious with a spectacular overhand right at 2:59 of the sixth round to capture the fictional WBO "Champion of the Decade" belt on Saturday night at the MGM Grand in Las Vegas, … Continue reading →
Juan Miguel Marquez may have gotten the better of Manny Pacquiao Saturday, but apparently that wasn't the only punching going on in the ring. As we all know by now, Marquez knocked out Pacquiao cold at the MGM Grand, taking out the Filipino with a mean right hook that had him dazed and on the ground for well over a minute. Unsurprisingly, as Pacquiao fell and as he lay motionless...
Thanks, Next Media Animation, for rendering much of this blog post redundant. That's quality coverage -- Mitt Romney's losing stink infected Manny Pacquiao, Pacquiao lost because he loves cockfighting and women and has the wrong religion and doesn't train hard enough, etc. We've already had plenty to say about the past weekend: My stories on Pacquiao-Juan Manuel...
On the 80th episode of The Slant, host Brad Stein talks about the NFL and the future of Manny Pacquiao. Download & Listen Here
Boxing News

Delivered to your inbox

You'll also receive Yardbarker's daily Top 10, featuring the best sports stories from around the web. Customize your newsletter to get articles on your favorite sports and teams. And the best part? It's free!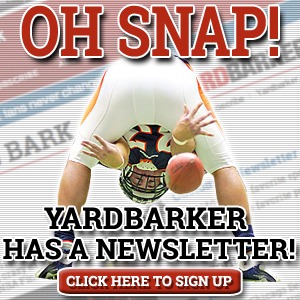 Latest Rumors
Best of Yardbarker

Today's Best Stuff

For Bloggers

Join the Yardbarker Network for more promotion, traffic, and money.

Company Info

Help

What is Yardbarker?

Yardbarker is the largest network of sports blogs and pro athlete blogs on the web. This site is the hub of the Yardbarker Network, where our editors and algorithms curate the best sports content from our network and beyond.