Found April 09, 2013 on Awful Announcing:
On the whole, CBS and Turner offer tremendous coverage of the tournament.  From airing every game on every channel, to the depth and quality of announcers, to the production values.  However, there's definitely some areas CBS should think about tweaking ahead of the 2014 NCAA Tournament.  Some of those suggested tweaks and other thoughts on last night's coverage of Louisville's victory over Michigan in 5 Takeaways from the National Championship Game... 1) The first area CBS needs to address is the studio.  It isn't working. Charles Barkley and Kenny Smith are fantastic, some of the best and most entertaining in the business at Inside the NBA.  I know many readers find Doug Gottlieb grating, but I actually don't find him to be the worst analyst on television.  Having all of them on the CBS set produced a jumbled, uninformed, argumentative mess that made CBS's infamous Super Bowl blackout coverage look Emmy worthy.  From Kenny Smith mispronouncing names (Spike Allbright?  Shane Buchanan?), to Charles Barkley's obvious fatigue, to the panel arguing over Trey Burke's foul trouble while Louisville was cutting down the nets, it was a bad night for the studio. So what should CBS and Turner do for next year?  Move Kenny Smith and Charles Barkley back to Inside the NBA where they excel.  Their moonlighting college basketball analyst days should come to an end.  Second, move Doug Gottlieb to the booth full time and have him team with Kevin Harlan for two weekends of the tournament where his strong opinions can take better hold.  Finally, restore the studio team of Greg Gumbel, Greg Anthony, and Seth Davis.  They aren't flashy by any means, but they get the job done.  More networks are taking a "less is more" approach with the studio.  There's a reason.  It actually works. 2) Another area that was crowded?  The broadcast booth.  Steve Kerr and Clark Kellogg have shown good chemistry in the past, but last night's game was played at such a high pace the competition for airtime was even more dramatic.  Way too often the two were interrupting each other, finishing each other's points, or parroting what was previously said.  Kellogg in particular was criticized for his wordiness.  It also affected Jim Nantz's call as I thought he was subdued once again and busy playing traffic cop after an energetic performance Saturday night. 3) Speaking of Nantz, where was the inspired championship game call last night?  After Louisville's victory there were tons of solid punny options on the table.  A championship on the Cards, the title going to a new Kentucky home, even a white smoke joke.  And yet, Nantz's signature line was, "Louisville completes the emotional journey to the championship!"  Talk about a letdown.  You can hear the call in the video below, thankfully Rick Pitino's pyrotechnics made up for it. 4) CBS should actually be commended for showing some restraint in the amount of attention they paid to the storylines off the court last night.  The Fab Five was shown in the crowd once in the first half and the Kevin Ware shots were kept to a minimum until it was obvious Louisville would win.  I had no problem with him being interviewed on stage after the game or CBS sticking around for his cutting of the net.  I think the network knew it went overboard Saturday night when the game was interrupting shots of Ware on the sideline.  Last night was much more appropriate and the focus stayed on the court where it should have been. 5) With TBS reported to be taking over the Final Four next year and beginning to alternate years with CBS, there very well could be several changes put into place.  You could see Ernie Johnson host the studio coverage and Marv Albert call the Final Four (which would end Jim Nantz's streak of 23 consecutive Final Four calls).  Whatever Turner Sports decides to do, they should focus more on playing to the strengths of their announcers and analysts instead of trying to fit square pegs into round holes.  Whether that be sticking with Marv Albert and Steve Kerr in the booth or allowing the CBS studio analysts to take the reigns, it's time for the networks to start refining their coverage versus throwing everyone they can at viewers.
Original Story:
http://www.awfulannouncing.com/2013/a...
THE BACKYARD
BEST OF MAXIM
RELATED ARTICLES
TELLS IT LIKE IT IS
Charles Barkley has expressed his thoughts on whether or not he believes Britney Griner could handle the competition in the NBA. Find out what he thinks.
Although the fabulous Mike Rice/Melissa McCarthy spoof is getting all the attention from this week's SNL, there was another sports tie-in. Kenan Thompson was back as Charles Barkley. SNL interviewed him during weekend update after the conclusion of the Michigan/Syacuse game. Thompson's impression is astonishingly good. He has the speech patterns and inflection down cold,...
Just the fact, that so many people are still talking about Brittney Griner playing in the NBA, proves my point, that she should attempt it. Doesn't matter if she fails or succeeds, what matters is she can say she tried. Not many have had that opportunity and none during the social media age of media. It would be huge for women sports, Griner and the NBA. I have seen several journalists...
We all know by now that Charles Barkley has no issue saying whatever it is on his mind. Don't believe me? Listen to this So when asked about what he thought about the on-going news about Baylor center Brittney Griner attempting to play in the NBA, you knew his comments would at the very least [...]
It is early to speculate, but the NCAA Tournament could have a new look on CBS and Turner Sports next year. TNT NBA analyst Charles Barkley told the New York Daily News last week that [...]
With another NCAA Tournament in the books, it's time for some reflection. Actually, the reflection comes on the part of CBS/Turner's Charles Barkley. The Chuckster is telling the New York Daily News that it's time for him to cut back on his workload on the tournament. Noting that he was overexposed working 12 hours days on the first Thursday and Friday as well as appearing...
"I have to go to the army." — Dirk Nowitzki, age 18 Its the gift and the curse of living in the day and age where Youtube, camera phones and TMZ exist. Its a gift because we get to see so much, so fast by just stroking a few keys on the keyboard or just [...]The post The Day An 18-Year Old Dirk Nowitzki Gave Scottie Pippen 52 Points, As Told By Charles Barkley appeared first...
The mutual disdain between Mark May and Ohio State fans is well established.  May takes every chance he gets to knock the Buckeyes and their fans down a peg or two on television, and every Ohio State message board, blog, and Twitter page has some space dedicated on it as to why they hate Mark May.  It makes Charles Barkley's little dustup with the Big Ten look like an international...
After three years of CBS/Turner Sports' run televising the NCAA Tournament, it is becoming increasingly clear that Kenny Smith and Charles Barkley are not a good fit in the studio. Along with host Ernie Johnson [...]
College Basketball News

Delivered to your inbox

You'll also receive Yardbarker's daily Top 10, featuring the best sports stories from around the web. Customize your newsletter to get articles on your favorite sports and teams. And the best part? It's free!
THE COLLEGE BASKETBALL HOT 10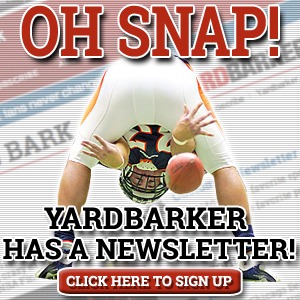 Latest Rumors
The Backyard

Today's Best Stuff

For Bloggers

Join the Yardbarker Network for more promotion, traffic, and money.

Company Info

Help

What is Yardbarker?

Yardbarker is the largest network of sports blogs and pro athlete blogs on the web. This site is the hub of the Yardbarker Network, where our editors and algorithms curate the best sports content from our network and beyond.