Found February 27, 2013 on Fox Sports Wisconsin:
MADISON, Wis. When Ryan Evans gathered the basketball with 2:35 remaining in the first half of Tuesday night's game, a palpable buzz settled across the Kohl Center.The collective hum of Wisconsin's curious fan base suggested everyone had the same question on the brain: Would Evans actually attempt a jump shot from the free-throw line as he suggested days earlier?Sure enough, Evans took two dribbles, stepped into a jumper and rattled in his free-throw attempt, much to the delight of an announced crowd of 17,026. As Evans jogged back down court, he lifted his hands in the air, and the cheers grew even louder. No. 17 Wisconsin would go on to crush Nebraska, 77-46, but in a game that was over before halftime, Evans' unusual technique served as one of the most major developments.The fact a free throw could cause so much commotion should say something about how difficult Evans' season has been from the line. Wisconsin's 6-foot-6 senior forward has endured one of the more peculiar free-throw slumps in college basketball with no explanation as to why the sudden slide transpired.Before the season, his career accuracy rate was 71.1 percent. But this season, it had dropped to an astonishing 40.5 percent and some attempts weren't even close.On Tuesday, Evans resorted to using a jump shot at the line for the first time because his midrange game is one of his best offensive attributes. He had spent the past few days honing the shot in practice, and he made both of his in-game attempts against the Cornhuskers."It worked tonight, so I'm going to keep it going," Evans said. "It felt good. I think it might have been the first time all season I went 100 percent from the free-throw line, so that's an accomplishment. It's a big part of my game. I feel a lot more confident out there."It was, in fact, only the second game this season in which Evans had made all of his free-throw attempts ... he also shot 2 for 2 against Illinois on Jan. 12. Most of his previous performances this season suggested he had never shot a free throw in his life: 1 for 8, 1 for 9, 2 for 8 and a slew of other ugly numbers.Badgers coach Bo Ryan was the first to suggest Evans should make a drastic change. Ryan cited the stylings of former professional basketball player Hal Greer, who also used a jump shot at the line. Greer made 80.1 percent of his free-throw attempts during his 15-year pro career and played in 10 All-Star games.Ryan said Evans finally appeared to possess the belief that his free throws would go in before attempting them no small feat for Evans."He's worked hard before," Ryan said. "It's a fallacy to think that just working hard gets good things done. There's a lot more to it. He feels pretty comfortable. He was hitting them in practice. And before he was missing in practice. So if you're hitting in practice, then why wouldn't you shoot that way in the game?"He was pretty excited in case you couldn't tell. Feels good in life when you're working on overcoming something that is a negative. I'm working on a lot of them."Evans was asked if he thought the Kohl Center crowd's over-exuberant celebrations of his made free throws were a hindrance."I think the crowd helps me," Evans said. "They've been great to me. Our fans here have been phenomenal over the years. I appreciate every single one of them. It was something that was kind of in my head. I'm moving forward out of that. I felt real confident out there today in this new technique. I'm just happy to be out there and knock them down tonight."Berggren blocks: Wisconsin center Jared Berggren blocked four shots against Nebraska to bring his career tally to 126 and become the program's all-time leader in blocked shots. He passed Rashard Griffith, who registered 124 blocks in his two seasons at Wisconsin (1993-95)."To think about all the good players that have come through here, for me to come out on top of that record, it's a pretty cool moment," Berggren said. "I'm not a guy that's real big on individual accomplishments and individual stats, but it's kind of a cool deal I guess."Berggren said he knew he needed two blocks to tie the mark before the game and he didn't take long to pull alongside Griffith. He blocked two shots in the first 80 seconds of the game and later broke the mark when he altered a Nebraska shot in the lane.It was the seventh game this season in which Berggren had recorded four blocks. He registered a season-high seven blocks against Iowa on Feb. 6.Ryan said Berggren's forte was swatting shots without fouling, and that's what has made him so successful. He then cited a game from his coaching days at UW-Platteville in which his team shot 29 percent from the field and still won by shooting 30 free throws. Three players on the other team, Ryan noted, fouled out because they attempted to block every shot."You know, it's not the blocks," Ryan said of Berggren. "It's the changes of shots and his intimidation and the fact that he's there. He doesn't intimidate because he's got a bad haircut. He doesn't intimidate because he looks mean. He doesn't intimidate because he's got 900 tattoos. He intimidates by his presence and his timing. It's not just the blocks."FollowJesse Temple onTwitter.
Original Story:
http://www.foxsportswisconsin.com/02/...
THE BACKYARD
BEST OF MAXIM
RELATED ARTICLES
It is being reported by Jim Polzin of the Wisconsin State Journal that Badgers senior forward Ryan Evans left Thursday's practice with a right knee injury.  When asked about it UW training staff is quoted as saying that the severity of the injury was unknown and he is currently listed as day-to-day.  Should this be a major knee issue this puts an interesting spin on...
Wisconsin's Ryan Evans has been horrible shooting free throws this college basketball season. Entering the game with Nebraska he was shooting 40 % from the line. He had made just 51 of 126 attempts at the charity strike. So it was time for Evans to try something else. Considering it was bottom feeder Nebraska Evans could afford to try a new strategy at the line. So he decided to...
This video is on pretty much every sports blog on the internet, but I thought Ryan Evans and his jump shot free throw needs to be addressed. Evans is shooting 41% from the line this season. That's pitiful. BUT! BUT! BUT! He's only shooting 39% from the field. Oh, it gets better – he's just 2-of-23 from 3-point range. Evans told the Madison newspaper that he'll stick with...
It was a MTB kind of party last night on Badgers Power Hour as Andy, Arman, and Nate all joined in the festivities!! We talked Badgers football, hockey, basketball and more.  What kind of seed can Wisconsin basketball earn? Can we really kiss Badgers hockey NCAA tourney hopes goodbye? What the hell is up with Mike Bruesewitz's hair? Oh, and really Bielema, really?  ...
Have you seen the Ryan Evans free throw attempt? Now Wisconsin Badgers forward Ryan Evans is known for something other than having the dumbest haircut in all of college basketball (it's a high top that belongs in a "Kid n Play" movie, and should stay there) Behold the jump shot of the Ryan Evans free throw. Evan has been awful from the charity stripe lately all season. He went...
MADISON, Wis. Confidence may be an unquantifiable characteristic, but Sam Dekker's level of self-belief is almost always filled to the brim. Just watch the way he jogs down court after burying a 3-ponter, three fingers held high in the air for the crowd to see what he's accomplished. There is a fine line between confidence and cocky, of course, and Dekker has straddled...
After nearly a week off, the #17 ranked Wisconsin Badgers (19-8, 10-4) are back in action Tuesday night to host the Nebraska Huskers (13-14, 4-10) at the Kohl Center. BTN has TV coverage with tip-off at 8:00 PM CT. These two squads met on January 6th in Lincoln for Wisconsin's first B1G road game of the year. The Badgers and Huskers both debuted their alternate "Bleed...
Wisconsin forward Ryan Evans is one of the worst free throw shooters in the nation, but free throw shooting has not always been a weakness for the senior. Last year, Evans shot a respectable 73% from the line. Through 28 games with the Badgers this season, that number has done an incredible nosedive to a mind-boggling 41%. Confidence is clearly an issue for Evans, which is why he...
In an attempt to improve his woeful free throw percentage, Wisconsin Badgers starting forward Ryan Evans decided to change up his free throw shooting style a bit. Channeling former NBA pros Hal Greer and Rick Barry, Evans decided to take a step back from the charity stripe and throw up a jump shot. On the two occasions he was at the line in a 77-46 drubbing of Nebraska, he went 2...
English: Wisconsin Badgers men's ice hockey pregame huddle in a game against Boston University on October 8, 2010 at the 2010 Warrior Ice Breaker Tournament. (Photo credit: Wikipedia) In years past, the Wisconsin Badgers hockey team have been the pace setter for attendance numbers in division I college hockey and in the WCHA. They have the biggest building and they've...
Freshman Sam Dekker tied his career high with 19 points while Ryan Evans (14) and Ben Brust (13) each reached double figures, as No.17 Wisconsin crushed Nebraska, 77-46, to move into a second-place tie in the Big Ten, one game out of first place with three to go.
Senior guard Dan Fahey didn't come to the University of Wisconsin for NBA and college glory. He came to follow a dream and to make an impact, two things he has achieved while working on the Badgers' scout team.
Badgers News

Delivered to your inbox

You'll also receive Yardbarker's daily Top 10, featuring the best sports stories from around the web. Customize your newsletter to get articles on your favorite sports and teams. And the best part? It's free!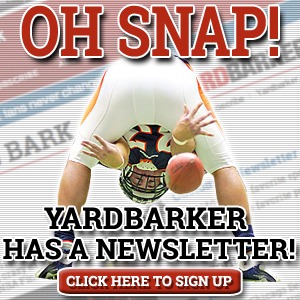 Latest Rumors
The Backyard

Today's Best Stuff

For Bloggers

Join the Yardbarker Network for more promotion, traffic, and money.

Company Info

Help

What is Yardbarker?

Yardbarker is the largest network of sports blogs and pro athlete blogs on the web. This site is the hub of the Yardbarker Network, where our editors and algorithms curate the best sports content from our network and beyond.