Found March 16, 2013 on College Chalktalk:
Alabama moved quickly to a 37-27 lead out of halftime against Florida Saturday afternoon as the Crimson Tide scored on four of the first five possessions while the Gators were sputtering and in need of a pick-me-up.  Enter Kenny Boynton, who had suffered through some of his own struggles this season.  He scored 13 of the Gators' 20 points in a 6:35 stretch that totally turned the game around, gave Florida a seven-point lead, and allowed them to control the rest of the game and roll to a hard-fought 61-51 win. Florida guard Kenny Boyton lit the fuse that propelled Florida into Sunday's SEC Championship game. Credit: Jim Burgess/University of Florida Athletics Communications Boynton had come off a two-point effort in Friday's rout over LSU and gained so much confidence in his play in the second half that he captured a leadership role and willed Florida to the win. "I was really, really happy for Kenny, personally," said Florida coach Billy Donovan, " Just to see him bounce back and to continue to have confidence and belief in himself and to play with that fire that I see him play with so often." Boynton made a layup and then nailed a three off an inbounds pass to cut the game to 37-36.  He had great success in transition against the quick Alabama guards.  When he established, he was able to knock the short jumpers down. "I think Coach did a great job at halftime of challenging us as a team to come out with energy," said Boynton, "I got two free throws and my teammates found me in transition.  I didn't get more aggressive or anything.  The floor just opened up more." Florida guard Mike Rosario noted how Boynton's run  jump started the flailing Gators. "As a team, we just needed a spark, especially from our senior Kenny," noted Rosario, who had 10 points in 29 minutes, "Coach really gave us a good speech at halftime.  You have to want to be in the struggle and this is a grind-it-out game." Boynton responded to Donovan's halftime challenge in a big way.  He was 0-of-3 from the floor and had no assists or rebounds in 12 minutes.  Donovan noted that he challenged him to step up at halftime  Donovan said that he thought Boynton had some good looks early but became deflated after missing a layup and two triples. "I just told him, 'You're a senior in college, right now; It's time too fight. You've always fought,'" commented Donovan, "I said, 'I've got confidence in you, but you have got to fight right now. You have got to fight  through what you're going through and right now, I don't see that look on your face.'" From there, Boynton responded to the challenge.  He was 6-of-9 from the floor with 16 points in 17 minutes to cap off another chapter in his on-again, off-again season. - Ken Cross   Related Posts:Gators are a team of many facetsFlorida's Murphy, Boynton reflect on memorable night…Donovan's attention on Missouri's balance,…Challenging practices help Gators refocusChallengers lining up for Kentucky in SEC
Original Story:
http://collegechalktalk.com/?p=6501&u...
THE BACKYARD
BEST OF MAXIM
RELATED ARTICLES
NASHVILLE, Tenn. Florida had good looks at the basket, but the shots didn't fall. There is no riddle or mystery to be solved when dissecting the final outcome. Those past late-game failures played no role Sunday and they won't in the future. That was the predominant theme inside the Gators' locker room following Sunday's 66-63 loss to Ole Miss in the SEC tournament...
Kenny Boynton and the Gators needed this. The senior guard's shot has been inconsistent throughout his final year at Florida, and it looked like that trend was going to continue on Saturday -- until the second half. Boynton was held scoreless in the first half and scored all of his team-high 16 points in the second half, pushing Florida into the SEC Tournament final with a 61-51...
NASHVILLE, Tenn. Florida knows it's in the NCAA Tournament. Ole Miss thinks it is, but wants to make sure. They'll play here Sunday at noon in the Southeastern Conference Tournament championship game. To the victor goes the league's automatic bid into the NCAA Tournament field of 68. That would come as a relief to Ole Miss (25-8), which entered SEC tourney play firmly...
NASHVILLE, Tenn. (AP) -- Kenny Boynton scored 11 straight points during a 15-0 second-half run and No. 13 Florida overcame a 10-point, second-half deficit to beat Alabama 61-51 on Saturday in the Southeastern Conference tournament semifinals. The top-seeded Gators (26-6) advanced to the Sunday championship game against Mississippi or Vanderbilt. Alabama (21-12), the tournament&...
The Florida Gators advanced to the SEC Tournament finals after defeating the Alabama Crimson Tide 61-51 on Saturday. The Gators needed a second-half comeback sparked by senior guard Kenny Boynton to pull past the Tide, but were able to do so in fine fashion. Florida will face either the Ole Miss Rebels or Vanderbilt Commodores for the conference championship. Boynton scored all...
The Florida Gators got things startd pretty early on Friday against LSU and coasted to an easy win over the Bengal Tigers to a tune of 80-58. Erik Murphy put on a show for the Gators, but the entire squad looked good for the most part. Here is a pictorial account of the game.
After falling to the Ole Miss Rebels in the finals of the SEC Tournament, the Florida Gators took a small tumble when it came to NCAA Tournament seeding. Thought by many to be a 2-seed if the Gators had won their conference championship, the loss pushed Florida all the way down to…wait for it…3-seed status. The Gators are the 3-seed in the South Region and will face the 14-seed...
The Gators know their path through the NCAA Tournament. Florida earned a No. 3 seed and will open its tournament run on Friday in Austin against Northwestern State. There are plenty of big name programs that the Gators could face through the rest of the bracket.
Alabama couldn't leave its fate out of the NCAA tournament selection committee's hands. The Crimson Tide will wait nervously to learn whether it will earn an at-large bid after squandering a 10-point, second-half lead Saturday and falling 61-51 to No. 13 Florida in a Southeastern Conference tournament semifinal. The top-seeded Gators (26-6) advanced to the championship...
Florida cruised through the first half. The Gators took a double-digit lead just seven minutes into the game and pushed the lead to 12 points at halftime. That's when the struggles came. Ole Miss outscored Florida 40-25 in the second half as Murphy Holloway and Marshall Henderson led a comeback to give the Rebels a 66-63 win in the Southeastern Conference tournament title game.
Florida was ready to get back on the court after losing their regular season finale to Kentucky. The Gators got back to their winning ways in the Quarterfinals of the SEC Tournament.
The Florida offense looked to be passing the ball a little deeper than usual and testing the defense. Quarterback Jeff Driskel looked great for most of the day minus a couple of errant throws. Almost every one of Florida's receivers made a standout play. Safety Jabari Gorman was the best player on defense on Friday. We caught a lot of it here in this short video segment from practice.
Gators News

Delivered to your inbox

You'll also receive Yardbarker's daily Top 10, featuring the best sports stories from around the web. Customize your newsletter to get articles on your favorite sports and teams. And the best part? It's free!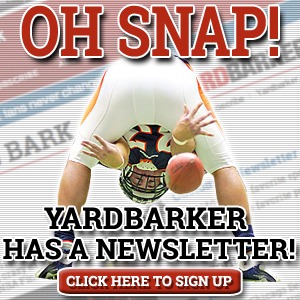 Latest Rumors
Best of Yardbarker

Today's Best Stuff

For Bloggers

Join the Yardbarker Network for more promotion, traffic, and money.

Company Info

Help

What is Yardbarker?

Yardbarker is the largest network of sports blogs and pro athlete blogs on the web. This site is the hub of the Yardbarker Network, where our editors and algorithms curate the best sports content from our network and beyond.