Found November 04, 2012 on isportsweb.com:
North Carolina State- C.J. Leslie is a superstar in the making and Lorenzo Brown is an underrated point guard with great size. Richard Howell has been steadily improving in the paint, and the recruiting class was amazing as it featured three McDonald's All-Americans. If they can all play together and get after teams on defense a championship could be in their near future. Indiana- Zeller will be there superstar, but Christian Watford and Oladipo will determine whether or not they make a final four run. The freshman class is phenomenal and Crean is a great coach, so they have all the pieces to make a strong tournament run. Louiville- They don't have a big superstar or an abundance of NBA talent, but they have seven or eight guys that fit Rick Piton's system. Peyton Siva is their rock at the point, and Chane Behannon is a lights out shooter. They made it to the Final Four last year, and almost everyone is returning. Kentucky- I'm not a fan of their rent a team system, and I don't think this year's class is as good as their last two, but Calipari will get the most out of his freshmen. Nerlens Noel and Alex Poythress will start slow, but once they figure out the college game they will be dangerous. Arizona- I expect a breakout year from Solomon Hill. He's a player that's steadily been improving the last two seasons, and he is now surrounded by a ton of talent to free up space. They brought in three top 10 recruits in the frontcourt. Garrett and Ashley will battle for a starting spot at power forward while Tarczewski will start at center right away. Mark Lyons puts them over the top. Duke- They have a very strong nucleus intact with Mason Plumlee, Curry, and Kelly returning. Duke always seems to live or die by the three balls, but other than Curry they aren't really built to be a shooting team this year. If the freshmen can come in and coincide with the returning players it could be another Final Four season for Coach K. UNLV- The West Coast has a lot of college basketball talent this year and UNLV has a lot of it. Mike Moser is a player of the year candidate, and incoming freshman Anthony Bennett is the number seven recruit in the nation. Anthony Marshall will need to keep everyone happy as they also have former top 10 recruit Khem Birch coming in from Pittsburgh. Michigan State- Life after Draymond Green starts for Izzo and the Spartans, but they have the talent and depth to overcome it. Keith Appling has worked on his shot in an attempt to regain the magic that made him a high school legend. The big men, Nix and Payne, will play together more this year. Each one is talented on both ends of the floor, but both needs to work on their conditioning. Gary Harris and Branden Dawson are athletic talented scorers on the wing. Freshman Denzel Valentine has been compared to Magic Johnson and could see some time at point guard. Michigan- The Big10 might be down in football, but not basketball. Lead by Trey Burke and Tim Hardaway Jr., this Michigan team could make a very deep tournament run. Freshmen Glenn Robinson III and Mitch McGary bring in a lot of hype, and Coach Beilein will hope it equates to wins. Syracuse- They have the talent to make their final year in the Big East a memorable one. Sophomores Michael Carter-Williams and Rakeem Christmas didn't get a lot of playing time last year, but both of them showed flashes of the players they can become. Brandon Triche, C.J. Fair, and freshman DuJuan Coleman will also start, and each one brings something different to the table. They might have the most talented starting line-up in the nation, but conditioning and depth could be an issue. UCLA- Ben Howland had a job saving recruiting class highlighted by the number two recruit in the nation Shabazz Muhammad. Muhammad can light it up from all areas of the court and prefers to create his own shot. The Wear twins will be physical presences in the post all year, and if Joshua Smith can get his weight in check UCLA will be a top five team. Kansas- They have a lot of unanswered questions going into the season, probably more than Bill Self would be willing to mention. Can Elijah Jonson handle the backcourt by himself? Is Jeff Withey capable of being a dominant center? Will Perry Ellis and Ben McLemore live up to their immense hype. If all or most of those questions are answered Kansas will be right in the thick of things come tournament time. North Carolina- It's rare that they have less talent on paper than "little brother" NC State does, but once the season gets going the gap won't be very big. The freshman class is talented and solid all around, but no one stands out in particular. A lot will ride on the development of James McAdoo, and the return of shooting guard Leslie McDonald. Reggie Bullock is a star in the making. Ohio State- I'm not as high on them as a lot of other people are, but I guess a lot of that has to do with how I feel about Aaron Craft. I think he's a tremendous leader and on the ball defender, but his shot isn't great, and he's too slow to create shots on his own. DeShawn Thomas is the best player on a team that will feature a lot of talented players with limited experience. Memphis- They've quietly put together a potentially dangerous team. Pastner has done a great job of recruiting and landed another McDonald's All-American in Shaq Goodwin. Joe Johnson needs to cut down on the turnovers, but I think he will. Adonis Thomas is the x-factor for this team. He could become an All-American candidate, and if he does Memphis won't be sneaking up on teams for long. Baylor- Pierre Jackson and Isaiah Austin are going to make quite the duo. Jackson has a year of experience at this stage, and Austin is a freshman 7-footer with unlimited potential. Baylor will have to hope Austin is hungry for a national championship and doesn't just sleep walk through college like Perry Jones III did. San Diego State- This makes five West Coast teams in the top 17. Quite an upgrade from recent years. Chase Tapely and Jamaal Franklin are serious players that can score and set up for others. SDSU is very deep in their backcourt, but the frontcourt is dangerously thin. They will need one or two big men to step up I they are going to make a run in the tournament. Oklahoma State- They boast on e o the best wing duos in the nation. Freshman Marcus Smart will start at shooting guard and is highly touted. LeBryan Nash will be the small forward after averaging nearly 13 points per contest last year. A lack of depth will be their biggest concern. Missouri- I would have ranked them higher had it not been for their recent of the court issues leading Michael Dixon to be suspended indefinitely. Phil Pressey will still have them competing for an SEC title and with Lawrence Bowers and Alex Oriakhi in the paint, there won't be too many teams that con out-muscle them. Gonzaga- Elias Harris is apparently back for his eighth season at Gonzaga, or at least it seems like it. Harris has matured into a consistent offensive threat and a solid rebounder. Kevin Pangos will run the show and do it better than most. Gonzaga hardly ever gets the respect they deserve, but rarely ever miss the tournament. Florida- They suffered a lot of losses, but Billy Donovan is a good enough coach to overcome them. Kenny Boynton needs to step up and play like the top ten recruit he was coming out of high school. He will be handed the keys to the offense, which will lead to more scoring opportunities. Patrick Young is a beast in the post- he's a shorter version of Dwight Howard. Creighton- Doug McDermott has made Creighton a national threat. His inside-outside game is dangerous, as is his ability to post up and score on bigger guys. If he can improve his shooting, Creighton could be a national title contender. Florida State- Florida State would be in a rebuilding year if Michael Snaer hadn't decided to come back for his senior season. He's a lockdown defender and sharpshooter on the wing. Ian Miller and Okaro White are smart talented players that will be asked to do more this season. Pittsburgh- They've been a black hole for top 10 talents lately, but will get another chance in Steven Adams. He's big, sure-handed, and an able scorer. If Adams plays up to his potential he'll be a certain one-and-done. Trey Zeigler and Tray Woodall will form a very formidable backcourt. Pittsburgh will be a team that starts slow and improves as the season goes on. Tennessee- They possess a very potent three-headed attack consisting of Trae Golden, Jeronne Maymon, and Jarnell Stokes. Each one possesses great size and athletic ability for their positions, but they can all be inconsistent as well. They will need to become more consistent if they are going to make a deep tournament run. Notre Dame Cincinnati Arkansas Kansas State VCU
Original Story:
http://feedproxy.google.com/~r/isport...
THE BACKYARD
BEST OF MAXIM
RELATED ARTICLES
ESPN.com: Indiana enjoying its return to the top Indiana has gone from "Yeah! We're back in the NCAA tournament" to "We're favored to win a national title" in the span of seven months, cementing its status eight days after Kentucky captured the 2012 crown when Zeller and Christian Watford announced they'd return to college. Both Crean and his players insist they...
Who has the stronger conference in 2012? SEC football or Big 10 basketball?   When you think of 2012 college football, first thing that comes to mind has to be the SEC Conference. They're considered the powerhouse conference in all of collegiate football. In the recent AP Top 25 poll, the SEC has four teams ranked in the top ten and seven teams ranked altogether. Those teams are...
Early this evening, the NCAA and Indiana released separate press releases on the status of Peter Jurkin and Hanner Mosquera-Perea. The NCAA has ruled the players must each sit nine games and donate money to charity. Here's IU's release: Calling Indiana University's corrective actions "substantial and meaningful," the NCAA on October 31, 2012, ac- cepted as secondary a...
Indiana has been selected as the preseason No. 1 by Sports Illustrated and the magazine has selected Cody Zeller for one of its four regional covers for this week's issue. Here's the complete release from Sports Illustrated: (NEW YORK – Nov. 6, 2012) – This is the season Indiana basketball fans have been waiting for. The talented and experienced Hoosiers begin the season...
Depth has been cited as one of the many reasons Indiana is the preseason pick to win the national championship. But Tom Crean has been careful in the preseason to not prematurely anoint his team as deep until he can substitute without experiencing much of a drop off in production and consistency. A big piece to establishing that consistency from the bench is sophomore guard Remy...
The NCAA and Indiana University both issued releases on the eligibility statuses of freshmen Hanner Mosquera-Perea and Peter Jurkin earlier this evening and here's some answers to the most pertinent questions regarding the NCAA's ruling: What did the NCAA rule in regards to the NCAA eligibility of Hanner Mosquera-Perea and Peter Jurkin? The NCAA ruled that Mosquera-Perea and...
The NCAA has agreed to reinstate two Indiana freshmen basketball players after they serve nine-game suspensions and repay a portion of the impermissible benefits they received before arriving on campus. Hanner Mosquera-Perea must pay back $1,590 to a charity of his choice. Jurkin will be required to repay $250 to a charity of his choice. Both players will miss the first nine games...
The NCAA has agreed to reinstate two Indiana freshmen basketball players after they serve nine-game suspensions and repay a portion of the impermissible benefits they received before arriving on campus. Hanner Mosquera-Perea must pay back $1,590 to a charity of his choice. Jurkin will be required to repay $250 to a charity of his choice. Both players will miss the first nine games...
It was announced earlier this evening that two freshman of the Indiana basketball team, Hanner Mosquera-Perera and Peter Jurkin, have received suspensions by the NCAA after receiving impermissible benefits from a person the NCAA determined to be a Hoosiers booster and must now both sit out 9 games to start the season.  Mosquera-Perera and Jurkin  must also pay $1,590 and $250...
College Basketball News

Delivered to your inbox

You'll also receive Yardbarker's daily Top 10, featuring the best sports stories from around the web. Customize your newsletter to get articles on your favorite sports and teams. And the best part? It's free!
THE COLLEGE BASKETBALL HOT 10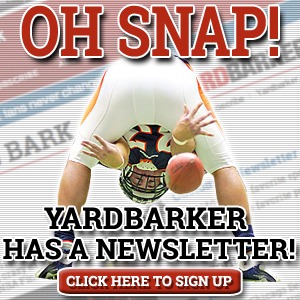 Latest Rumors
Best of Yardbarker

Today's Best Stuff

For Bloggers

Join the Yardbarker Network for more promotion, traffic, and money.

Company Info

Help

What is Yardbarker?

Yardbarker is the largest network of sports blogs and pro athlete blogs on the web. This site is the hub of the Yardbarker Network, where our editors and algorithms curate the best sports content from our network and beyond.