Found January 16, 2013 on Fox Sports South:
COLLEGE PARK, MD -- When the clock expired on Maryland's 51-50 victory over North Carolina State on Wednesday night, a swarm of students quickly overflowed the Comcast Center court in a sea of celebration. That any student body would rush the court after beating the Wolfpack is an obvious sign that the NCSU program has ascended to a significant level of respect. That doesn't happen to run-of-the-mill programs, and for a long time it hadn't happened to the Wolfpack. So, even in defeat, N.C. State garnered reverence, even though the book of public opinion will now read that the Wolfpack failed to validate its win over then-No. 1 Duke last Saturday. After all, they lost to a Maryland team that had dropped two straight and its best win before Wednesday was at Northwestern. But the Terrapins are better than the public's perception, as this night proved. As for Duke and the whole validation deal, this might offered plenty for both sides of the discussion. Had No. 14 N.C. State fully moved on from the Duke game it likely wouldn't have fallen into 10-0 hole, failing to score on its first 11 possessions. Lorenzo Brown (17 points, 8 rebounds, 4 assists), who admitted he put the Pack on his back in the second half, said the Wolfpack took time getting used to the atmosphere and court, even though they had a shoot-around here just five hours before tipoff. But that may have been more desperate Maryland smacking the Pack on their heels, which took them a while for them to regroup. And quite frankly, had the Terrapins been able to hit nearly half of their many open shots in the first 12 minutes, they could have built an insurmountable margin. But they didn't, and N.C. State took advantage and found itself leading with 5 seconds left. But Pe'Shon Howard's runner from the left side fell short of the rim where 7-foot-1 Alex Len grabbed the ball and laid it in with .9 second left for the game-winner. Prior to that, the Wolfpack converted just 31.1 percent of their shot attempts and got no points from the bench. Yet, somehow they were in the lead, and this is where the validation process should really focus, not in the outcome. "It came down to a last-second shot," Brown responded when asked if this took anything away from the win over Duke. "If that shot wasn't tipped back in we would have won the game, so no, not at all." A matter of inches, or a "fingertip," as NCSU coach Mark Gottfried said, shouldn't take away from the overall performance, because there are plenty of plaudits to go around. Negatives, too, though. The poor shooting was a factor of several things, among them terrible offensive execution. Maryland (14-3, 2-2 ACC) is physical and doesn't allow cutters through the lane, thus disrupting the rhythm and timing of opponents' offenses. That's one reason Scott Wood (3-13 from the field) couldn't get open for most of the night. When he was, he missed more than in recent weeks. Wood, however, had a different explanation, though his unhappiness over the outcome was clear in his response about the struggles. "Those balls sucked," he said. Really? They were supplied by Maryland and were made by Under Armor. Was that really his excuse? "They were a little slippery," Wood said, before realizing he couldn't let that response stand alone. "There's no excuse by any means because you will play with 3,000 balls throughout your career. It is what it is, you just have to knock down shots, and we didn't do that." But at least he talked to the media. C.J. Leslie refused, even when prodded by NCSU officials. He walked away from the locker room shaking his head "no." Leslie is a junior who has grown up a lot at NCSU (14-3, 3-1), so he should have handled it better. His refusal can be deemed as immature C.J. resurfacing, but it may have actually reflected the young man's desire to win has caught up and possibly surpassed his interest in personal performance. When gauging if the Wolfpack have the fortitude to make in to Atlanta in the NCAA Tournament, that's a possible development worth considering. There was a time not long ago when the Wolfpack didn't get so mad after a loss. On this night, they were a bitter, unhappy bunch. But does the sum of the performance validate the victory over Duke, or was authentication even necessary? It seemed so before Wednesday's contest, but seeing how the Wolfpack fought back, overcoming a 10-point, second-half deficit, in a hostile arena whose students were primed to storm the court may provide our answer. After all, the 1999 Duke Blue Devils were the last ACC team to go unscathed in league play, and the Terrapins are an NCAA-caliber team. They certainly have the parts. "They all count as one, I always say that, (and) there's a lot of truth to that," Gottfried said, standing outside of State's locker room. "I'm not into the whole validating the Duke (game). There are going to be teams that finish at or near the top of this league that are going to lose some road games, and maybe in here against this group, too." There is no doubt about that.
Original Story:
http://www.foxsportssouth.com/01/16/1...
THE BACKYARD
BEST OF MAXIM
RELATED ARTICLES
COLLEGE PARK, Md. -- The vibe in Comcast Center throughout Wednesday night was that Maryland badly needed to beat North Carolina State. You might even say the Terrapins collective backs were against the wall. They were 0-2 in the ACC and trailing by a point ready to inbound the ball near midcourt with 5 seconds left on a night when scoring was at a premium. Surely they were headed...
Alex Len dropped in a missed shot by teammate Pe'Shon Howard with 0.9 seconds left, giving Maryland a stunning 51-50 victory over No. 14 North Carolina State on Wednesday night. Howard drove the left side and came up short on a 5-footer, but the 7-foot-1 Len grabbed the ball in front of the rim and eased it through the hoop. After the Wolfpack failed on a desperation heave on...
Since Mark Turgeon came to Maryland last year as head coach the Terrapins have not had a big win to claim. "All week Coach talked about making a mark in history." Maryland guard Seth Allen said. "I didn't come here to be mediocre, and I don't think the players came here to be mediocre." Turgeon said. So here is Maryland's chance Wednesday night to reappear...
COLLEGE PARK, Md. (AP) -- Alex Len dropped in a missed shot by teammate Pe'Shon Howard with 00.9 seconds left, giving Maryland a stunning 51-50 victory over No. 14 North Carolina State on Wednesday night. Howard drove the left side and came up short on a 5-footer, but the 7-foot-1 Len grabbed the ball in front of the rim and eased it through the hoop. After the Wolfpack failed...
North Carolina State played excellent defense, never let down after falling into an early hole and staged a fine comeback in the second half. Unfortunately, that wasn't enough to offset an uncharacteristically miserable offensive showing by the best-shooting team in the country. Alex Len dropped in a missed shot by teammate Pe'Shon Howard with 00.9 seconds left, giving...
Alex Len and Maryland will be looking to end a two-game losing streak tonight in College Park against NC State. Here is a quick preview of the Terps.
Alex Len lays in game-winner to beat No. 14 NC State. [Testudo Times] Maryland's first win over a ranked team in three years. [USAT Sports] A lot of people took issue with Terps fans storming the court. [Bog] Nine great Michael Morse memories as he departs Washington. [Bog] Really liked this fellow's take on the Rafael Soriano deal. [Nats Baseball] Showalter and Duquette both...
Game Sim nearly nailed both games last night, predicting a Miami 1 point victory and a Maryland 4 point win.  Of course, it couldn't have predicted the bizarre ends of either game.  NC State loses on a airball from Pe'Shon Howard that finds its way into Alex Len who drops it in at the buzzer.  Boston College is called for a bogus offensive foul only to have Olivier Hanlan...
College Basketball News

Delivered to your inbox

You'll also receive Yardbarker's daily Top 10, featuring the best sports stories from around the web. Customize your newsletter to get articles on your favorite sports and teams. And the best part? It's free!
THE COLLEGE BASKETBALL HOT 10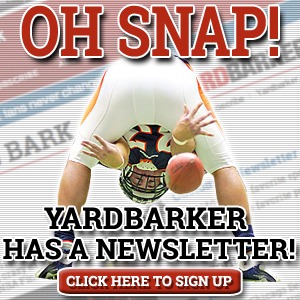 Latest Rumors
The Backyard

Today's Best Stuff

For Bloggers

Join the Yardbarker Network for more promotion, traffic, and money.

Company Info

Help

What is Yardbarker?

Yardbarker is the largest network of sports blogs and pro athlete blogs on the web. This site is the hub of the Yardbarker Network, where our editors and algorithms curate the best sports content from our network and beyond.