Found June 26, 2013 on Fox Sports Carolinas:
PLAYERS:
Alex Len
,
Roy Hibbert
,
Michael Carter-Williams
,
Mason Plumlee
,
Shane Larkin
,
Shaun Livingston
,
Erick Green
,
Glen Rice
,
CJ Leslie
,
Richard Howell
,
Kenny Kadji
,
Seth Curry
TEAMS:
Indiana Pacers
,
Maryland Terrapins
,
Syracuse Orange
,
Duke Blue Devils
,
Miami Hurricanes
,
Virginia Tech Hokies
,
Georgia Tech Yellow Jackets
,
North Carolina State Wolfpack
Taking stock of the ACC's prospects heading into Thursday night's NBA draft. THE HIGH PICKS Some mock drafts have Alex Len out of Maryland going No. 1 overall, which is -- to put it mildly -- head-scratching. There's a questionable (recent) injury history, not to mention inconsistency in his first two years in school. He's skilled, athletic and seven feet tall. Can't teach that. The latest, from NBADraft.net, has Len going at No. 5 to Phoenix, which seems more reasonable. The second pick out of the ACC will likely be Steven Adams from Pittsburgh (at No. 12, to Oklahoma City). The 7-foot center is a "project," of course, and some thought he shouldn't have even left school early and needed another year to get better. Which would basically mean that the first two picks out of the ACC would be two guys drafted on potential. And that also basically sums up how NBA teams draft nowadays anyway, so it's somewhat appropriate. If the draft goes as NBADraft.net projects, then five players that are 6-11 or taller will go in the top 18, and a few of those guys are far from finished products. This seems like a bit of a Roy Hibbert Effect -- as more and more NBA teams go small, the Pacers gained a huge advantage in the regular season and the playoffs when Hibbert really came into his own. The 7-footer was a question mark out of Georgetown, but he's developed nicely into one of the NBA's better centers. To have a guy like that is a huge asset, and teams are willing to take the risk to try to find a diamond in the rough in what has been described as a weak draft. THE MID-TO-LATE FIRST-ROUNDERS Projected anywhere from the mid-teens to the early 20s are Michael Carter-Williams from Syracuse, Mason Plumlee from Duke, Shane Larkin from Miami and Reggie Bullock from North Carolina. Those four are expected to fill out the first round for the ACC. The two point guards, Carter-Wililams and Larkin, are projected at No. 13 (to Dallas) and No. 14 (Utah), respectively. Carter-Williams is 6-6. Enough said, really. Oh, and his size reminds scouts of Shaun Livingston, pre-knee injury. Larkin is just 5-11, but his NBA Draft combine performance turned heads when he registered the highest vertical leap ever (44 inches). Larkin made an enormous leap (pun intended) from his freshman to sophomore year and his trajectory certainly warrants a high pick. Both Larkin and Carter-Williams have the kinds of intangibles that make teams drool, as well -- leadership, court-savvy and a good work ethic. Plumlee is projected at No. 18 overall (to Atlanta), and it makes sense -- he's super athletic, has added a skill each year and was an inch shorter than everyone thought (he's actually 7-0, not 6-11). But Plumlee stayed at Duke for four years, and by NBA logic, this must mean that he is not very good. This is silly, but it's what it is. He's going to fall further than he should, and he'll be a value pick for someone. Bullock is another guy who continued to get better every year in school. By the time he was a junior at UNC, he was the team's best defender, best shooter and at times, best rebounder. His versatile skill set should provide a lot of value for an NBA team. The latest NBADraft.net projection has him at 28th (San Antonio), but plenty of other mocks have him much higher and his interviewing skills have given his stock a bit of a boost. THE FRINGE GUYS ACC Player of the Year Erick Green from Virginia Tech should be an early second-round pick -- most mocks have him as the first pick of the first round (to Cleveland). He's kind of a combo guard, but if he didn't show last year that he can play point guard effectively -- somehow racking up assists in spite of a, um, sub-optimal roster of teammates -- then people aren't paying attention. Remember Glen Rice, Jr? The mercurial wing was at Georgia Tech and suspended often before finally being kicked off the team in March 2012 after a passenger in his car fired a gun. He's made a comeback in the D-League, and his athleticism, shooting touch and seemingly newfound maturity makes him a value pick in the second round. North Carolina State's C.J. Leslie and Lorenzo Brown both decided to forgo their final seasons of eligibility and enter the draft. They both made the best possible decision for themselves individually, but it's somewhat surprising to see both projected as mid-to-late second-rounders. If NBA teams draft on potential, Leslie is bound to go higher than Brown, but the order both are expected to be drafted (and the position) varies pretty wildly from mock draft to mock draft. WILL THEY OR WON'T THEY? Richard Howell (N.C. State), Kenny Kadji (Miami), James Southerland (Syracuse) and Ryan Kelly (Duke) all fall into the category of yes they're good but they're old so something is wrong with them." Which is unfortunate, since all three could really help an NBA roster. Howell is a rebounding machine, Kadji is a skilled stretch-4 and Kelly (also a stretch-4) showed last year pre-injury that he can defend elite players. Syracuse's Southerland is 6-8, but can also shoot three's and he really emerged as a key cog as a senior. All of those guys are projected as late second-rounders or undrafted, and perhaps the most head-scratching omission from most mock drafts is Seth Curry from Duke. Um ... haven't we learned not to doubt Currys at this point? Either way, in a draft filled with uncertainty, there will be a lot of well-established ACC veterans who should latch on to a roster and help a team. Hopefully, many of those players will be fortunate enough to get on a team that's already good and carve out the best possible role for each of them.
Original Story:
http://www.foxsportscarolinas.com/col...
THE BACKYARD
BEST OF MAXIM
RELATED ARTICLES
One guy who's moving up the board fast in this year's draft is Alex Len. Rumors are he might even go #1 overall (which is a miracle/debacle considering the guy never even made 3rd team all CONFERENCE in his college career – but hey, its the Cavs right?). The bigger news though is we've finally located his girlfriend, and she's a walking giant. Meet Essence Townsend, a player...
PHOENIX The highest draft choice the Phoenix Suns have made since 1987 rolled into the day-after press conference at U.S. Airways Center wearing a walking boot and a polo shirt accessorized by the new franchise logo. He handled questions regarding his transition from college basketball to the NBA. He provided a partial explanation for pedestrian productivity during this past season...
NEW YORK (AP) -- The Phoenix Suns used the first pick in the NBA Draft on 7-foot center Alex Len from Ukraine via Maryland. Len and Kentucky center Nerlens Noel -- popular choices in pre-draft speculation as candidates for the No. 1 pick by the Cleveland Cavaliers -- were both available with the fifth pick on an unpredictable draft night. Cleveland instead selected UNLV freshman...
Draft time! It's enough to get me off of Twitter to write more than 140 characters. It's an interesting draft for the Sixers. There is no big talent at the top, but the Sixers, and their new radio-silent analytics-loving GM, have 3 picks in the top 42. Sam Hinkie showed that he could find diamonds in the rough in Houston, and there are certainly some players that can be had from...
The 2013 NBA Draft lacks one thing: star power. Incoming freshmen Jabari Parker and Andrew Wiggins would both be no-brainer picks if they were eligible for the draft. Instead, they are headed to class for a year (at least) and we are left with a draft that lacks Hall of Fame talent -- on the surface. That said, finding talent within this year's field will be difficult. It is...
There are two types of people who talk about the NBA draft — those who say they know what will happen, and those who aren't lying. The 2013 draft is even more of a crapshoot than most, with only some consensus on who the Cleveland Cavaliers will take first overall and virtually no consensus after that. Everybody wants to trade away their picks in what is widely considered a relatively...
Nerlens Noel or Alex Len?  Who will the Cleveland Cavaliers draft with the #1 overall selection in tonight's NBA Draft?  Will they get their wish and trade it for an established player or will teams realize just how "weak" this draft class is and hold off on making those types of deals?  This is what makes today one of the most entertaining days of the year.  This...
The 2013 NBA draft is starting and we're breaking down each pick. Get analysis of each first-round selection here and check our Draft Tracker for every selection and second-round analysis. 1. Cleveland: Anthony Bennett , 6-8, SF/PF, UNLV 2. Orlando: Victor Oladipo , 6-4, SG/SF, Indiana 3. Washington: Otto Porter , 6-9, SF, Georgetown 4. Charlotte: Cody Zeller , 7-0, PF...
A few quick notes on the most recent NBA happenings: It is now widely believed that unless the Cleveland Cavaliers receive a trade offer they cant refuse, they will select either Kentucky center Nerlens Noel or Maryland center Alex Len with the No. 1 overall draft pick. Multiple league executives have told FOX Sports Ohio that the Cavs recent attempts to trade for a veteran small...
INDEPENDENCE, Ohio -- When the Cleveland Cavaliers decided to select UNLV forward Anthony Bennett with the No. 1 overall pick in the 2013 NBA Draft, its safe to say there were no high fives in the room. They had to decide on someone, and they had to do it by Thursday night. Had general manager Chris Grant and his staff been afforded another week, chances are, they wouldve used it...
CLEVELAND A few news and notes heading into Thursday night's NBA Draft. As of Thursday morning, it was still unclear who the Cleveland Cavaliers will select with the No. 1 overall pick. It may be the first time in league history that's happened. But according to sources, three important people in the organization had three different opinions on which prospect fits best...
 Nothing settled entering Draft Day ----- The day is finally here. The NBA Draft is set to take place tonight in Brooklyn at the Barclays Center and for 60 players, it is the realization of a dream. Where those players are going though is anybody's guess from top to bottom. This is not the Draft to be in the business of predicting where players will go. Mock drafts...
College Basketball News

Delivered to your inbox

You'll also receive Yardbarker's daily Top 10, featuring the best sports stories from around the web. Customize your newsletter to get articles on your favorite sports and teams. And the best part? It's free!
THE COLLEGE BASKETBALL HOT 10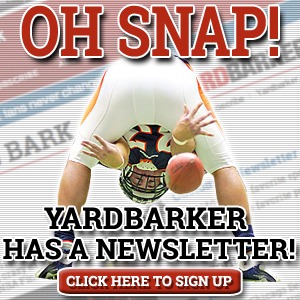 Latest Rumors
The Backyard

Today's Best Stuff

For Bloggers

Join the Yardbarker Network for more promotion, traffic, and money.

Company Info

Help

What is Yardbarker?

Yardbarker is the largest network of sports blogs and pro athlete blogs on the web. This site is the hub of the Yardbarker Network, where our editors and algorithms curate the best sports content from our network and beyond.