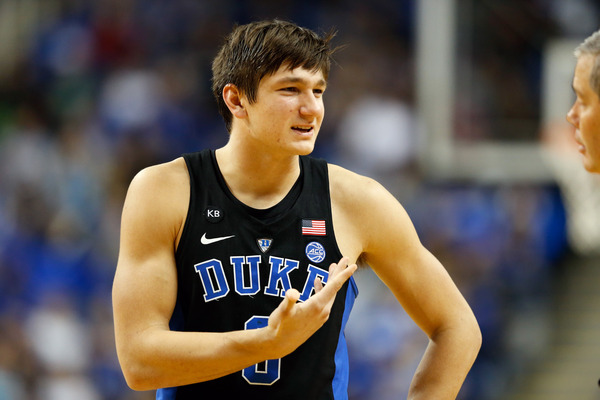 A Florida State assistant coach attempted to downplay an incident involving Duke's Grayson Allen.
Jeremy Brevard-USA TODAY Sports
Grayson Allen has developed a reputation for being one of the dirtiest players in college basketball, and he was accused of more of the same antics in Tuesday night's loss to Florida State. However, the alleged victim claims Allen is being wrongly accused this time around.
Allen jumped into the Florida State bench area while trying to save a ball from going out of bounds in the second half, and he collided with Seminoles assistant coach Dennis Gates in the process. Some felt Allen gave Gates an unnecessary shove. Here is the video:
I'll just leave this here @BleacherReport @SportsCenter @tatefrazier @houseofhighligh pic.twitter.com/tX1UXiD35H

— Caleb Smith (@calebt_smith) January 11, 2017
On Wednesday morning, Gates vehemently defended Allen, calling the play a "great hustle play."
I want to make this very clear! #givegraysonabreak @ESPN @TDOnline @Warchant @Noles247 @GraysonJAllen @DukeMBB pic.twitter.com/3gKBNWfUIC

— Dennis Gates (@coachdgates) January 11, 2017
It's nearly impossible to tell what Allen's intention was, and we wouldn't even be talking about the collision if it involved a different player. After all, this is the guy who was recently suspended for tripping several opponents and appeared to do it again (video here) in just his second game back last weekend.
If Gates did not feel Allen intentionally shoved him, that should be good enough to squash the speculation.
MORE FROM YARDBARKER:
The History of the hoagie: A Philadelphia staple in 11 images
QUIZ: Name the Top 25 scorers in NCAA men's basketball since 1993-94
Can you name the Top 25 scorers in NCAA men's basketball history since 1993-94?
Clue: School-Years Active
More Text: Number of points scored
MORE FROM LARRY BROWN SPORTS:
MORE FROM YARDBARKER
College Basketball News

Delivered to your inbox

You'll also receive Yardbarker's daily Top 10, featuring the best sports stories from around the web. Customize your newsletter to get articles on your favorite sports and teams. And the best part? It's free!