Found March 21, 2013 on Fox Sports:
Rotnei Clarke had been here before. Well, not here, not exactly. The senior sharpshooter for Butler had never before played in the NCAA tournament. This was his only chance. But everything else about this environment was familiar: Clarke was back in SEC country, in Rupp Arena, where he remembers getting crushed by Kentucky when he played for Arkansas. He was back in a crucial late-game situation, this time against Bucknell -- which already had taken a lead with a 16-point swing earlier in the game and now had hit a 3 to pull within eight points of Butler with a bit over two minutes left. And Clarke was back to overcoming adversity, having shot poorly all game, only 1 of 7 from 3 to this point. That's been the theme of Clarke's season: When bad things happen, just keep shooting. So now, the shot clock winding down, Clarke rolled off one screen and then another. With a couple ticks on the clock, his teammate Kameron Woods passed him the ball. In his hands was a chance to finish off Bucknell and win his first NCAA tournament game. He nailed it, adding to what would be a team-high 17 points in the Bulldogs' 68-56 win Thursday over No. 11 seed Bucknell. Which is a pretty cool thing. Because it was only two months ago that the 23-year-old small-town Oklahoma kid found himself lying under the basket at the University of Dayton Arena, unable to move, wondering if he'd ever be able to walk again, much less play basketball. The journey from Verdigris, Okla., to being lifted into a stretcher during Butler's January win over Dayton had been a long one for Clarke. He'd learned his dead-eye shooting from his father, Conley Clarke, who'd played ball at a small college in Missouri. "I really didn't have a choice," Clarke said Thursday. "I was going to play basketball regardless. That's just how my family is. We're a really basketball-oriented family. I could remember fighting with my dad, going home crying when I was in the fourth or fifth grade because of how hard he was on me." But it made Clarke better. It took him from a high school phenom in a town of 4,000 to the featured scorer on the Arkansas Razorbacks. Then things turned bad. Arkansas didn't make the tournament in Clarke's three seasons. The coach, John Pelphrey, and his staff got fired. Clarke transferred to Butler, and had to take the mandatory transfer year off before playing this, his senior season. "The whole year, one of my driving forces in coaching has been trying to make sure he gets a chance to play in this tournament," Butler coach Brad Stevens said. "When we recruited him, that was a big deal: 'Hey, Butler just played in two national championship games; if I go to Butler, I'm going to get to play in the tournament.' " But then, in that January win at Dayton, Clarke's season took a scary turn. Clarke had just stolen the ball and was rushing down the court. He jumped toward the left side of the basket with his right hand so his layup wouldn't get blocked. A Dayton player fouled Clarke on the back of his head. He catapulted headfirst into the basket support, fell to the ground, rolled onto his back -- and couldn't feel a thing from his neck down. His teammates tried to pick him up. He told them not to: "I can't move, I can't move," he said. He tried to be positive as he lay on the court. But he couldn't help thinking of Eric LeGrand, the Rutgers football player who'd been paralyzed in a game in 2010 and confined to a wheelchair. After a few minutes -- the scariest minutes of Clarke's life and Stevens' coaching career -- he started to tingle. Feeling returned. He was put in an ambulance, taken to the hospital, diagnosed with a sprained neck and was able to board the team bus for the ride back that same day. The doctors told him he was lucky to be able to walk again. But in a way, the feeling from that moment never really left. "It never really has left since it happened. It changes your perspective every day," Clarke said in the locker room Thursday. "I used to complain to myself when we got up for our early-morning workouts. We have guys that have internships, so sometimes we wake up and practice at 6 in the morning, and you're sore: 'Gosh, man, I don't want to do this. My body hurts. Now we're going to have to go beat each other up in practice.' Then when something like that happens to you, you wake up and you feel thankful that you're sore." The disappointing first half against Bucknell, when Clarke was missing shots badly, didn't seem to affect him so much. Sure, he had the jitters for his first NCAA tournament game. He shot an airball on an 8-foot floater. He went 2 for 8 in the first half, missing all four of his threes. But he was playing with joy, because now, he had this sort of perspective: "I could be at the end of the bench on a wheelchair, watching my team play." Instead, it was Clarke who hit the dagger of the 3 that buried Bucknell with less than two minutes left. And it was Clarke who brought the ball up the court as the clock wound down to zero, finally the winner of an NCAA tournament game and heading to another.
Original Story:
http://msn.foxsports.com/cbk/story/ro...
THE BACKYARD
BEST OF MAXIM
RELATED ARTICLES
Score: No. 6 Butler 68, No. 11 Bucknell 56 Star(s): Butler: Rotnei Clarke 17 Pts, 2 Ast. Andrew Smith 14 Pts, 16 Reb.  Story: Brad Stevens and Butler are back in the NCAA Tournament, and yet again, it looks like the Bulldogs will be a tough out. Butler defeated 11-seed Bucknell today in its second round game despite an early second half lull and an overall poor shooting performance...
LEXINGTON, Ky. -- Fifteen minutes after Butler's first NCAA opponent was revealed on Selection Sunday, Brad Stevens walked into the locker room and told his team he had already watched 20 clips of Bucknell's defense.The players couldn't help but burst into laughter. They couldn't believe their coach had not only gotten the information but had watched and learned that...
The first sign that this year would be especially mad came in Hawaii on the 11th day of the college basketball season. In an epidemic, this moment would be referred to as Patient Zero, the one that started it all. On Nov. 19 at the Maui Invitational, Rotnei Clarke hit a running 3 at the buzzer to beat Marquette. The epidemic spread quickly. The next day, Butler upset ninth-ranked...
Butler expects its next NCAA tournament opponent to be tougher than its last. The sixth-seeded Bulldogs have video to remind them of the task ahead. Saturday's third-round East Regional game against No. 3 seed Marquette at Rupp Arena is a rematch of November's Maui Invitational showdown, which Butler won 72-71 on Rotnei Clarke's buzzer-beating 3-pointer. Both teams...
Butler expects its next NCAA tournament opponent to be tougher than its last. The sixth-seeded Bulldogs have video to remind them of the task ahead. Saturday's third-round East Regional game against No. 3 seed Marquette at Rupp Arena is a rematch of November's Maui Invitational showdown, which Butler won 72-71 on Rotnei Clarke's buzzer-beating 3-pointer. Both teams...
Bulldogs News

Delivered to your inbox

You'll also receive Yardbarker's daily Top 10, featuring the best sports stories from around the web. Customize your newsletter to get articles on your favorite sports and teams. And the best part? It's free!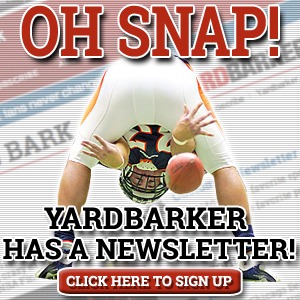 Latest Rumors
The Backyard

Today's Best Stuff

For Bloggers

Join the Yardbarker Network for more promotion, traffic, and money.

Company Info

Help

What is Yardbarker?

Yardbarker is the largest network of sports blogs and pro athlete blogs on the web. This site is the hub of the Yardbarker Network, where our editors and algorithms curate the best sports content from our network and beyond.