Found December 27, 2012 on Down with Goldy:
PLAYERS:
Branden Dawson
,
Adreian Payne
,
Derrick Nix
,
Gary Harris
,
Joe Coleman
,
Keith Appling
,
Draymond Green
,
Brandon Wood
,
Austin Hollins
,
Denzel Valentine
,
Travis Trice
TEAMS:
Michigan State Spartans
,
Minnesota Golden Gophers
Well, this is it.  Michigan State at home is the absolute perfect test to let us know just how good this Gopher team is this year.  A good, but not great, team at home.  The kind of game that a Sweet 16 (or better) contender should be able to handle without much of an issue.  Not that the game shouldn't be close or anything like that, just that you should always have the impression that the Gophers are the ones controlling the game and they should come out on top, and not in last second fashion.  Am I crazy?  Well, kenpom has the Gophers as a 6-point winner.  That's about what I'd hope for/expect.  But it's not going to be easy. Mainly because these teams are almost completely mirror images of each other.  Both are very good defensive teams (Minnesota 17th, Michigan State 12th in D Efficiency), with their main strength keeping teams from getting easy buckets and forcing long jump shots which translates to very good metrics against 2-point shots (Minn's opponents shoot 41% from 2, 23rd best in the country, MSU's shoot 38%, 7th best in the country).  Both teams also block a lot of shots (MN ranks 7th, MSU 44th) and get a lot of steals (MN 6th, MSU 30th) and are good but not great defending the 3 (MN 77th, MSU 87th).  Offensively both teams get the vast majority of their points from 2-pointers and shoot well from inside the line (MN 56th, MSU 23rd) but struggle from deep (MN 207th, MSU 223rd), crash the offensive glass big time (MN 1st, MSU 43rd) and turn the ball over way too much (MN 204th, MSU 275th).  These are two incredibly similar teams.  There are, however, a couple of key differences. First, although the Gophers pound the glass on the offensive end they are weak on the defensive end, while Michigan State is outstanding on both ends of the court.  The Gophers allow their opponents to grab offensive rebounds on 35.5% of their misses, a number so poor it ranks 272nd in the country.  Meanwhile Sparty, led by Branden Dawson, Adreian Payne, and Derrick Nix, is one of the better teams in the nation at grabbing their misses.  This is where the Gophers are most vulnerable.  The last time Michigan State played a team with a similar talent level who also sucked on the defensive glass they grabbed 17 offensive rebounds against UCONN.  If the Gophers allow double digit offensive rebounds to the Spartans it's going to make it tough to win - tough but not impossible, because while Sparty has one clear advantage the Gophers have two. First - free throws.  While neither team commits an atrocious amount of fouls, the Gophers excel at getting to the line while the Spartans don't.  The Gophers struggle at times to make their foul shots, but they should have plenty of opportunities given their skills and Big 10 refs notorious for home cooking.  They should end up getting to the line for probably double the attempts Michigan State gets - if they can make them it's going to be a significant advantage. Second - turnovers.  Both teams suck at taking care of the basketball (likely related to both teams using a scorer as their primary ball-handler and lack of a quality back-up) but while Michigan State doesn't create turnovers (143rd in the NCAA), the Gophers certainly do (29th).  The Gophers cause a turnover on nearly 25% of their opponents possessions, and with nearly everybody on the Spartans outside of Gary Harris quite turnover prone the Gophers will have a heavy advantage in the extremely important turnover battle.  For example, Joe Coleman is the worst Gopher on a TO per possession basis, turning the ball over 26% of the time - Michigan State has four guys worse than that.  This is where the Gophers can do a lot of damage and really control the game. PLAYERS: PG - Keith Appling.  Despite being a pretty horrendous outside shooter Appling has really stepped up and given Michigan State the scoring they needed with Draymond Green and Brandon Wood gone.  He does it by being lightning quick and getting into the lane.  Despite that skill set he's not much of a play maker, averaging just north of 4 assists per game but mostly by default.  He's going to be quite a test for Dre Hollins to handle, and will be a good litmus test to see just how good Hollins has become. SG - Gary Harris.  Although he's second on the team in scoring (12.4 per to Appling's 14.9), Harris is the guy who really scares me.  Ultra athletic but in control at all times (as evidenced by his team best turnover rate, awfully impressive for a freshman), Harris can beat you from the perimeter, in the mid-range, or getting to the rim, although his 0.9 assists per game this year tell you once he puts the ball on the floor he's likely getting his shot.  As good as Austin Hollins has become as a defender it's impossible to keep a guy like Harris from getting his shots off.  All you can do is force him to take bad shots, so if Harris is settling for deep jumpers early you might as well pencil this in as a Gopher W. SF - Denzel Valentine.  Another freshman like Harris, but without nearly as much polish, Valentine has been a turnover machine this year.  He doesn't do anything particularly well, but he's not awful at most things either (other than you know, the turnover thing).  He actually had a game where he registered 10 pts, 10 rebs, and 6 assists against a not-horrible Oakland team, but as of now he's mostly just biding his time until Harris bolts to the NBA after this year. PF - Branden Dawson.  Like Mbakwe for the Gophers, Dawson is returning just a year after destroying his knee, which Dawson did in March.  Also like Mbakwe, at this point in the return you can't really tell he's recently had a major knee surgery, at least not by looking at the numbers.  That being said, the plan was always for this to be Dawson's team this season after Green left.  He had the pedigree, the ability, and the talent and that hasn't happened this season (averaging 9.8 pts and 6.2 rebs) so maybe it is still the knee thing.  I really wish I'd paid closer attention to him the couple of times I've watched Michigan State this year.  C - Derrick Nix.  If you remember Nix you remember him as a big giant fat person.  He's not exactly svelte now at 6-9, 270 lbs. but compared to where he used to be it's a big improvement and his game shows the changes.  He's still not a scoring machine, but he's upped his rebounding average from 3.8 per game last season to 7.8 this year and can show a scoring burst when necessary (put up 25 against Texas).   He's a huge load and an excellent rebounder, and if you still have any questions about Mbakwe's knee and how "back" he is, watch him go against Nix.  A healthy Mbakwe will own him. BENCH - Two players worth mentioning: PG Travis Trice and C Adreian Payne.  Trice actually gives the Spartans a quality back-up pass first point guard, but he's only played in 8 games this year since he suffered a concussion in their opener vs. UCONN.  He seems to be back at this point, playing 25 minutes in Sparty's last game vs. Texas, so we can expect to see a lot of him.  He's an absolutely terrible defender, and if he ends up in the game guarding Dre Hollins at any point Dre should be fined and suspended if he doesn't immediately drive to the rack.  Payne is a defensive and rebounding stud who's offensive game still hasn't come together in Year 3.  He shoots an incredibly high percentage because he pretty much does nothing but attempt lay-ups and dunks, but he's a great defender. Overall, this should be a pretty good game.  These teams are so similar it's going to come down to who can exploit their advantages.  The Gophers are at home, I believe they're the better team, and the Fargo-Moorehead Acro Team is in town....what could possibly go wrong? Gophers 65, Michigan State 62.   
Original Story:
http://feedproxy.google.com/~r/DownWi...
THE BACKYARD
BEST OF MAXIM
RELATED ARTICLES
EAST LANSING — While the timing is more of a shock than the act itself, Michigan State head coach Tom Izzo announced today after the Spartans practice that sophomore Brandan Kearney will transfer from MSU. The 6-foot-5 guard from Southeastern High School in Detroit said this in his statement to MSU: "I'm thankful to Michigan State and the basketball program for the opportunity...
EAST LANSING, Mich. Michigan State basketball coach Tom Izzo announced Friday afternoon that sophomore guard Brandan Kearney, an All-State selection at Detroit Southeastern High, has decided to leave the program and will transfer to another school. Brandan Kearney came back from Christmas break and informed me it was in his best interests to pursue other avenues in his basketball...
Michigan State guard Brandan Kearney has decided to transfer. Coach Tom Izzo says Kearney came back from Christmas break and told him he was going to try to find a place where he could play a larger role. Kearney says in a statement that he wishes his teammates the best and he's thankful for his opportunity with the Spartans. The 6-foot-5 Kearney is averaging 2.3 points per...
Michigan State quarterback coach Dave Warner knows the Spartans will see a little different defensive scheme when they face off against TCU in the Buffalo Wild Wings Bowl.
The bowl game in Tempe will be a last chance to build any sort of momentum for both Michigan State and TCU into 2013. The Buffalo Wild Wings Bowl...
HornedFrogBlitz.com breaks down the Michigan State Spartans.
Michigan State running back Le'Veon Bell is headed to the NFL draft after a tireless junior season in which he carried the ball 382 times. Bell said Thursday he will skip his senior year following a terrific performance as the focal point of the Spartans' offense. He ran for 1,793 yards this season and also caught 32 passes. ''This was the hardest decision of my...
(Eds: Updates. With AP Photos.) By NOAH TRISTER AP Sports Writer Le'Veon Bell's 2012 season really began last January, when fellow running back Edwin Baker announced he was skipping his senior year to enter the NFL draft. Suddenly, Bell's carry-splitting arrangement in Michigan State's backfield was a thing of the past. There was no doubt about whom the Spartans...
Michigan State defensive backs coach Harlon Barnett had the following to say about TCU and some of his players prior to the Spartans taking the practice field on Thursday.
Butler (Kansas) Community College defensive tackle Stephon Hall just spoke to Michigan State recently, and the Spartans are still keeping a close eye on him.
TCU and Michigan State are 48 hours away from battling in the Buffalo Wild Wings Bowl.
College Basketball News

Delivered to your inbox

You'll also receive Yardbarker's daily Top 10, featuring the best sports stories from around the web. Customize your newsletter to get articles on your favorite sports and teams. And the best part? It's free!
THE COLLEGE BASKETBALL HOT 10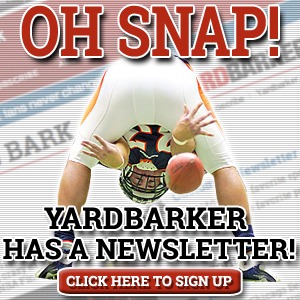 Latest Rumors
Best of Yardbarker

Today's Best Stuff

For Bloggers

Join the Yardbarker Network for more promotion, traffic, and money.

Company Info

Help

What is Yardbarker?

Yardbarker is the largest network of sports blogs and pro athlete blogs on the web. This site is the hub of the Yardbarker Network, where our editors and algorithms curate the best sports content from our network and beyond.