Found March 27, 2013 on Comedic Prose:
  I still can't belive what I saw at the end of Ohio States' game against Iowa State. You could have told me that Aaron Craft would step up at the end of the game to make a big shot. However if you told me that shot would be a 3 pointer after he had waived off the leading scorer in the Big Ten (Deshaun Thomas). I woukd have said, "My boy Aaron Craft must have been feeling it. On a Rick James in the 80s type of level. He must have been slapping the other team around (MEAT style)."   Aaron Craft against Iowa State While I didn't believe that Aaron Craft had a bad game, I must admit that the egg was in the building. And when I say in the building I mean on the sideline about to take his warm ups off, and saddle up next to Craft on the free throw line. Wow!! Aaron Craft was terrible on the free throw line at the end of that game. I know Nick Anderson was watching that scared, thinking that Craft would take his title of, "I'm missing all these free throws, because and I can't stop spitting up on my shirt." At one point I was praying the referee confused him with someone else and let them take the free throws. In addition to the missed free throws, he made some illadvised ball handling mistakes that some people said (everyone that was watching the game on twitter) was a sign that he was choking. To that I would say, it's  little presumptuous to call a couple bad plays choking. Yes, he made some errors, but it's not like he was throwing the ball to the other team. He made bad plays while being aggressive, which is forgivable. But none of that matters now, because Aaron Craft went Sam Cassell at the end of the game. The only thing that could have made it better was if he ripped off his shirt and started doing the testicle dance.   Ohio State Must Make the Final Four Usually I don't heap pressure on Ohio State, because I believe in sports jinxes ( My most recent jinx was when I called my grandmother during halftime of the Cavaliers – Heat game to celebrate breaking Miami's streak. Only to be reminded a quarter later that the Cavs are playing a D-League roster). However when the brackets came out I noticed that the west region had the weakest of all the at-large teams outside of Wisconsin. Now that Wisconsin is gone and Gonzaga has done their Gonzaga impersonation. The Ohio State Buckeyes have a clear path to the Final Four in which they will be favored in every game. So while I don't think they are one of the best four teams left in the tournament, if they don't make the Final Four this will be a choke. Now lets see if they can Aaron Craft their way out of it.   Kortney Shane Williams Editor-in-Chief of Comedic Prose Follow Kortney Williams on Twitter @kortneyshane
Original Story:
http://comedicprose.com/2013/03/27/if...
THE BACKYARD
BEST OF MAXIM
RELATED ARTICLES
Ohio State's Aaron Craft and Arizona's Nick Johnson are among the rarest type of college basketball players. They're defensive stoppers - and they'll be on the same court together Thursday night. That's when Craft and the Buckeyes meet Johnson and the Wildcats in the NCAA tournament's West Region semifinals at Staples Center in Los Angeles. Craft's...
HOW ANNOYING
Aaron Craft has a lot of the characteristics that former Duke guards J.J. Redick, Jon Scheyer, Greg Paulus, Steve Wojciechowski and Chris Collins exhibited.  He's a scrappy white guard who isn't the biggest, strongest, fastest or most talented player, but he does what it takes to will his team to win.  Some appreciate them.  Others find them incredibly annoying. ESPN's Rick...
Ohio State has another postseason hero. After Aaron Craft made the game-winning three-pointer to defeat Iowa State in the round of 32, LaQuinton...
Most kids who have big dreams picture themselves hitting the winning shot in the big game, doing an imaginary countdown before hoisting toward the backyard basket. Ohio State guard Aaron Craft's countdown had an alternative slant. "I think we know I'm a defensive guy," Craft said after his last-second shot against Iowa State sent the Buckeyes to the West Region...
Welcome back to BracketRacket, the one-stop shop for all your NCAA tournament needs. Today, we see what happens when Ohio State hits a buzzer beater, ride shotgun with NASCAR driver Elliott Sadler and see why the cool kids are referring to Fort Myers, Fla., as ''Dunk City.'' But first, let's acquaint ourselves with the Sweet 16, shall we? --- REGIONAL SEMIS...
You've seen the narrative develop during this year's tournament, haven't you?   Aaron Craft is annoying. Why is he annoying?  Why is he hated as this generation's Christian Laettner?  Is it because he's a defensively oriented player and the fact that he supposedly gets away with calls?  Because he's just so darn "scrappy" and loved by...
The demise of ESPN's Rick Reilly has been well documented. There is the infamous "I had it first on Twitter" incident, the inordinate amount of time defending Lance Armstrong, and the trite. Now Reilly is curious whether 22-year-old Ohio State gaurd Aaron Craft thinks other people see him as "annoying." During a recent press conference he asked Craft, "Can you see how...
LOS ANGELES Aaron Craft was joking about a tweet referencing him the other day from a former Ohio State teammate. It was a riff on the popular Chuck Norris tough-guy theme. I believe it said I would kick Chuck Norris butt, Craft said. Then he would shave his head to look more like me. Norris will not coverBuckeyes junior guard Craft in the NCAA West regional game Thursday. Nick...
So apparently Ohio State has a flair for the dramatic. In its third-round matchup against Iowa State, Aaron Craft hit a three-pointer at the buzzer to put away the Cyclones. Tonight in the Sweet 16, Craft was playing the role of distributor — on the Buckeyes' last possession, he dished the ball to LaQuinton Ross, who was way behind the three-point arc — but that didn't stop...
For a good part of Sunday afternoon, Khalif Wyatt was trending hard on Twitter. The senior guard from Temple got shout-outs from a wide range of followers, from Nets guard Joe Johnson to Raiders fullback Marcel Reece. Wyatt scored 31 points against Indiana, and although the Owls lost, he boosted himself from anonymity to a household name among hoops fans. Yet it did not amount to...
Can you point out the error in this assessment of Ohio State's Final Four chances? I'll give you a hint in bold. Ohio State Region: West Who they beat: No. 15 Iona, No. 10 Iowa State Odds of getting to the Final Four: 8/1 Why they can do it: They're now the favorite in this region after other high seeds such as No. 1 Gonzaga and No. 3 New Mexico lost during the first...
LOS ANGELES (AP) -- Ohio State needed another last-second shot, and Aaron Craft had the ball at the top of the key again. But last week's hero gave it up to the hottest hand on the floor, and LaQuinton Ross sent the Buckeyes to the brink of their second straight Final Four. Ross hit the tiebreaking 3-pointer with 2 seconds to play, and Ohio State advanced to the West Regional...
Buckeyes News

Delivered to your inbox

You'll also receive Yardbarker's daily Top 10, featuring the best sports stories from around the web. Customize your newsletter to get articles on your favorite sports and teams. And the best part? It's free!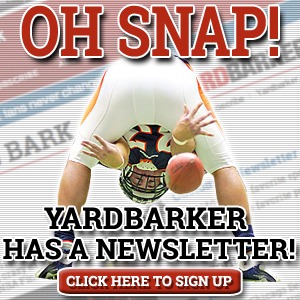 Latest Rumors
The Backyard

Today's Best Stuff

For Bloggers

Join the Yardbarker Network for more promotion, traffic, and money.

Company Info

Help

What is Yardbarker?

Yardbarker is the largest network of sports blogs and pro athlete blogs on the web. This site is the hub of the Yardbarker Network, where our editors and algorithms curate the best sports content from our network and beyond.