Found February 14, 2013 on Run the Floor:
TEAMS:

Louisville has lost four of seven, and this has taken a lot of the focus off what was once the No. 1 team. What is being lost in the shuffle is that they're defending as well as anyone. We all knew that Pitino's defense was going to be good - they did have the best defensive efficiency in the nation last year - but I'm not sure we knew exactly how good. The Cardinals are once again leading the nation in defense. They allow just 81.9 points per 100 possessions (adjusted for strength of schedule), compared to the national average of 100.0. It's slipped a bit in conference only play but that's primarily due to two games where Syracuse and Notre Dame lit them up with bizarre numbers. Even with those two games they still have the No. 1 defensive efficiency in conference only games. The primary difference between this year and last year is that they're turning teams over at a higher rate, and they're doing a better job on the defensive glass. Last season Louisville ranked No. 37 and No. 230 in those two categories nationally, and this year they've improved to No. 2 and No. 173. I looked at every team in the past decade to see where the Cardinals overall defensive efficiency (81.9 per 100 possessions) stood. They've still got games to go, but as of today they have the best efficiency in that time period. Here are the teams:   team year dEff 1 Louisville 2013 81.9 2 Kansas 2007 82.2 3 Memphis 2009 82.5 4 Florida 2013 82.6 t5 Kansas 2008 82.8 t5 Wisconsin 2008 82.8 t7 UCLA 2008 83.9 t7 Memphis 2008 83.9 t7 Louisville 2004 83.9 10 UCLA 2007 84.0 There have been eight previous teams to finish the season below 84 points per 100, and Louisville appears to be pushing to become No. 9. The problem is that the average basketball team isn't scoring as much per possession as they have in the past. Offense is down (or defense is up, depending on your perspective). The 100 points per 100 possessions is the worst offense in the past decade, which takes a bit of the shine off of what Louisville is doing. To find out how much of that shine is missing I compared those same ten defenses to the average defense within each of their respective seasons. That changes things:   team year dEff avg % dif 1 Kansas 2007 82.2 101.8 23.8% t2 Kansas 2008 82.8 101.9 23.1% t2 Wisconsin 2008 82.8 101.9 23.1% 4 Memphis 2009 82.5 101.1 22.5% 5 Louisville 2013 81.9 100.0 22.1% t6 UCLA 2008 83.9 101.9 21.5% t6 Memphis 2008 83.9 101.9 21.5% 8 UCLA 2007 84.0 101.8 21.2% 9 Florida 2013 82.6 100.0 21.1% 10 Louisville 2004 83.9 100.8 20.1% Since the average scoring is down, Louisville drops to 5th in the past decade. The 2007 Kansas team, which won the Big 12 regular season and tourney titles, moves to the top. That Kansas team came up short in the NCAA Tournament and got knocked out in the elite eight in a game where they struggled to score against UCLA (No. 8 on the above list). The Jayhawks' offense that year was ranked No. 17 in the nation. Louisville's offense this year? No. 17.
Original Story:
http://www.bloguin.com/runthefloor/20...
THE BACKYARD
BEST OF MAXIM
RELATED ARTICLES
Gorgui Dieng has said more than once that his primary objective at the University of Louisville is getting a college degree. The sheepskin is what his Mom and Dad want, too, first and foremost. Presumably within four years after enrollment and before he would even consider professional basketball. Now we get word, however, that Coach Rick Pitino wants Gorgui, along with Chane Behanan...
Rick Pitino was set to travel to Evansville, IN., tonight to see Jaquan Lyle, a 6-foot-5 190-pound combo guard from Bosse High School. Lyle has been one of Louisville's top targets in the 2014 class for over a year. He has taken multiple unofficial visits to Louisville and has the Cards in his most recently updated list along with Illinois, Indiana, Texas, Georgetown, NC State...
On his radio show Wednesday night at Buffalo Wild Wings, Rick Pitino made a statement that seems to have caught a lot of people by surprise. Pitino said that after the season he will encourage juniors Russ Smith and Gorgui Dieng along with sophomore Chane Behanan to test the NBA waters. Pitino says he insists that all three players enter their name in the NBA draft to be evaluated...
The Louisville basketball office informed media members yesterday evening that Rick Pitino would not be made available to take questions on Wednesday afternoon. Pitino was initially scheduled to have a press conference today, but it has been cancelled.  Instead, Pitino will speak to the media for a few minutes prior to his radio show tonight at Buffalo Wild Wings. This means that...
From all indications, Russ Smith isn't comfortable as a team player. More comfortable in a lead role. Russ will continue to dazzle at times, scoring plenty of points, making awe-inspiring dunks, creating chaos for opposing guards on defense, with a few steals here and there, causing his fans to rant and rave. But he will also continue to be a ball hog, taking contested shots while...
Despite losing four of their last seven games, Rick Pitino remains optimistic about the remainder of the regular season. During his radio show last night Pitino said his team has learned from their previous mistakes and he expects to win the rest of their games this season. "We don't worry about the past, we learn from the past," says Pitino. "Our goal is to win the next...
Wayne Blackshear went down in the second half last night holding his surgically repaired shoulder. Judging from Blackshear's grimace, it looked as if he was in some serious pain. Fortunately for Louisville, it sounds like it was just a minor tweak. The post Video: Wayne Blackshear Says His Shoulder Is Fine appeared first on The Cardinal Connect.
Russ Smith scored 21 second-half points, including 12 straight over a 3:03 stretch that put No. 12 Louisville ahead for good and helped the Cardinals beat St. John's 72-58 on Thursday night.
Last year Rick Pitino was selected as a finalist to get the nod into the Naismith Basketball Hall of Fame and was turned away by the committee.  This year he has been selected as a finalist again and hopes to get in on round 2. Pitino was the first coach in the NCAA to take 3 different teams to the Final Four (Providence, Kentucky, Louisville).  When you look at Pitino's stats...
Some healing was in order for a team questioning itself, looking for answers, needing to get past the disbelief, the uncertainty, and the disappointment. Needing a home game, needing some love, the warm embrace of fans at the KFC Yum! Center. Equally important is that there is no more taking anybody for granted for this University of Louisville basketball team, not following the...
Louisville and Saint John's played in a game of runs for the first 30 minutes but Louisville had the last laugh as they improved to 20-5 on the season.  Russ Smith's 12 straight points in the second half propelled Louisville to a 72-58 win. Peyton Siva played one of the best games in recent memory after struggling in the overtime loss to Notre Dame.  It was released before...
University of Louisville basketball coach Rick Pitino met with the media on Wednesday night prior to his radio show at Buffalo Wild Wings. Pitino was previewing Thursday's game against St. John's but – obviously – answered more question's about last Saturday's historic five-overtime loss at Notre Dame. Cardinal Authority was there with this story and video:
University of Louisville basketball coach Rick Pitino said his goal was seven in a row heading into the Big East Tournament. The Cardinals picked up the first one on Thursday night, using a huge second half by Russ Smith to run past St. John's 72-58 at the KFC Yum! Center. The Cardinals now play at South Florida on Sunday. Here are a few thoughts on the win over the Red Storm:
Cardinals News

Delivered to your inbox

You'll also receive Yardbarker's daily Top 10, featuring the best sports stories from around the web. Customize your newsletter to get articles on your favorite sports and teams. And the best part? It's free!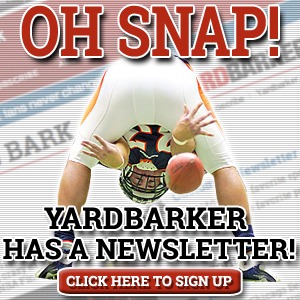 Latest Rumors
The Backyard

Today's Best Stuff

For Bloggers

Join the Yardbarker Network for more promotion, traffic, and money.

Company Info

Help

What is Yardbarker?

Yardbarker is the largest network of sports blogs and pro athlete blogs on the web. This site is the hub of the Yardbarker Network, where our editors and algorithms curate the best sports content from our network and beyond.