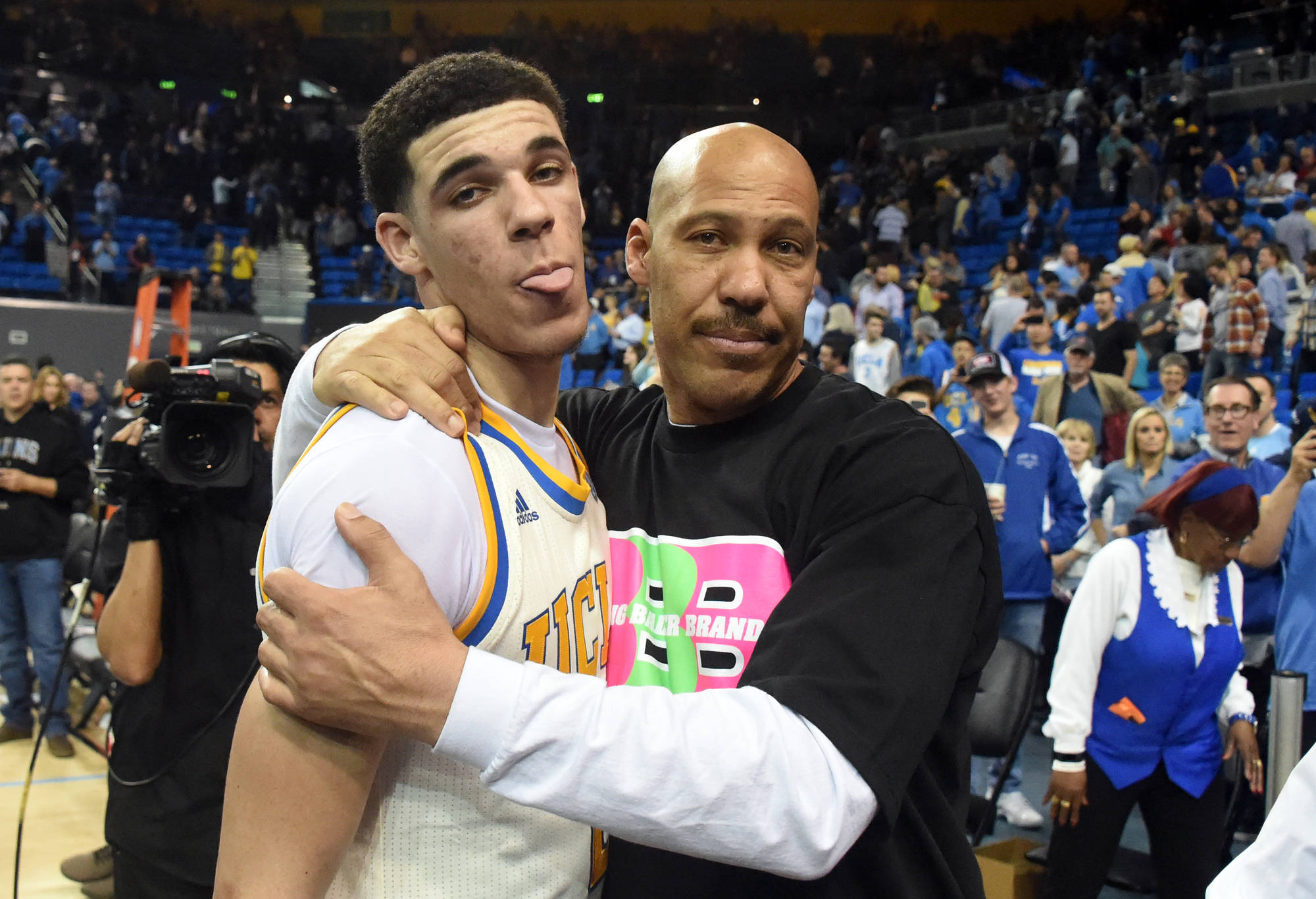 LaVar Ball is chugging along with his unapologetic ways.
Richard Mackson-USA TODAY Sports
LaVar Ball is at it again, and this time the father of UCLA superstar Lonzo Ball has made headlines for some remarks he made about his sons "white guy" teammates.
On Thursday, LaVar said there are two reasons the Bruins were eliminated in the NCAA Tournament — Lonzo's hamstring injury and a lack of foot speed from his teammates.
"Realistically you can't win no championship with three white guys because the foot speed is too slow," LaVar Ball said, per Clay Fowler of the Daily Bulletin. "I told Lonzo – 'One of these games you might need to go for 30 or 40 points.' It turned out that was the one game (against Kentucky). Then once they get to the Elite 8, they're right there."
When given a chance to clarify in an interview with "Tiki and Tierney" on CBS Sports Radio Friday, Ball insisted his comments were rooted in fact — not racism.
"I'm just stating a fact. Here's the thing. People keep thinking that I blame the white guys. No, no. Every time we lose, I only blame one person – and that's my son," Ball said. "That's my son. I don't blame anybody (else). But I said prove me wrong that you can't win nowadays with three white guys on the floor at the same time.
"I'm not saying I don't like white people and white people can't win or nothing like that. I'm just saying when you have more athleticism (on the floor), it's kind of hard when you don't have the foot speed. That's just a realistic fact."
Ball may be right about it being difficult to win with players who lack foot speed, but it's the implication that all white players lack that ability that is the issue. He doesn't seem to care.
"It's not racial. I can't be racial," Ball added. "Some people just take it the wrong way and that's okay – because that's how the media (is). They try to twist it around because it's more interesting when (they) say LaVar is racist. Like I said, I stated my opinion of what I thought. The foot speed is just too slow to catch up with all the athleticism on the court."
Ball is a business man, or so he thinks. He'll say just about anything for attention, and that makes perfect sense when you consider some of the money-making avenues he is reportedly exploring for his family. As long as he remains in the news, LaVar is happy.
MORE FROM YARDBARKER
Bruins News

Delivered to your inbox

You'll also receive Yardbarker's daily Top 10, featuring the best sports stories from around the web. Customize your newsletter to get articles on your favorite sports and teams. And the best part? It's free!