Found April 10, 2013 on Fox Sports Kansas City:
LAWRENCE, Kan. The knock on Ben McLemore is that he's too "nice" for the NBA, and just because that statement sounds a bit absurd doesn't make it any less well, true. "Ben's the most talented kid I've ever worked with," Kansas coach Bill Self said Tuesday, as he watched his best player, McLemore, declare for the NBA Draft after a remarkable redshirt freshman season with the Jayhawks. "And he might be the nicest kid I've ever worked with. I don't say that strictly as a positive." He'll learn. He'll have to. McLemore will be running with grown men from now on, cynical, hardened professionals who won't stand and watch with awe as he soars above them like a pterodactyl in high-tops. "Growing up, I wasn't that kid, to be a fighter like that," McLemore said. His coach's quip was a backhanded compliment, in a way, but a fitting assessment of perhaps the most gifted first-year player and most unfulfilled potential in recent Jayhawk basketball history. Self respects talent. But he values toughness. McLemore, who averaged a team-high 15.9 points and broke the KU freshman single-season scoring record held by Danny Manning, has oodles of the former. In truth, it's not so much the ceiling as the fact that the kid's head seems to be constantly scraping it. The NBA drafts on potential, historically, on raw materials that, with the right spark, could ignite into something epic. In a weak draft, few collegiate prospects push as many buttons as the 6-foot-5 wing from St. Louis does. Air Ben doesn't jump. He glides. He elevates. He consistently makes a 23-foot jumper from the corner look like a 3-foot set shot. He has long reach, quick hands, and enough hang time to break down all of his potential options, mid-flight, before deciding on the most fun way to throw it down at the rim. "I don't even think he's scratched the surface of what he can be," Self said. "Which I think is an All-Star, eventually." The burn of McLemore's Kansas career ran hot, bright, and, ultimately, brief. He'd redshirted because of academics in 2011-12, practicing during the second half of the season about the time the Jayhawks kicked it to another level, extending a so-called rebuilding campaign into a berth in the national title game. Michigan's Trey Burke stuck a dagger in the back of KU's season at the NCAA Tourney's South regional semifinal in Texas, but not before McLemore had dropped 20 points on the Wolverines at JerryWorld. "I'll remember this place," McLemore said during the short news conference, "for the rest of my life." And they'll remember him. Soaring. Rising up to drain the 3-point bank shot that doomed Iowa State. The sick dunk against Texas at The Phog. "This is not bittersweet at all," Self said. "This is sweet-sweet." You could debate McLemore's readiness for the pro game until you're as blue in the face. Yes, he had a habit of vanishing in big games, especially on the road. Yes, he had to be prodded by Self and other coaches to be assertive with the rock. Yes, there are questions as to whether he can create his own shot at the next level, or put up with the relentless physical pounding of the NBA grind. But you don't slot the market; the market slots you. There isn't a reasonable projection from the four corners of the Internet that doesn't have McLemore off the board by the fifth pick, at the worst. Considering that last year's No. 5 selection, former Jayhawk Thomas Robinson, wound up signing with Sacramento for two years at 6.9 million, that's nuts money as in, you'd be nuts to turn it down. It's a risk to go, a risk if you stay. If Kevin Ware's gruesome injury during the Midwest regional finals taught us anything, it's that nothing is promised, nothing is guaranteed. Strike while you can, kid. No, this was a logical, reasoned, business decision. While No. 23 was delighting the Allen Fieldhouse crowds with his aerial show, his mother, Sonya Reid, has been scrapping back in St. Louis, the sole bread-winner trying to keep the ship afloat. His older brother and mentor, Keith Scott, is doing time in a nearby prison. By all accounts, McLemore has a family to support, and if basketball is a means to that end, you give your blessings. In eight months, McLemore will be a wealthy young man and Kansas will be chasing a 10th straight Big 12 title. The college hoops circle of life isn't perfect, but keeps rolling on. "Growing up, you just think about (how) you want to provide for your family," McLemore said. "I got the opportunity to do that, and I took it." But it wasn't easy. You could see in the young man's face as he greeted reporters, hear it as he answered questions in tones more hushed than usual. Following the news conference, McLemore strode through a wave of media and over to Reid and some family members who were waiting for him in the back of the fieldhouse media room. They walked out in a group hug, packed tightly as television and still cameras followed, clicking as they walked. After 25 feet or so, the young man suddenly stopped. The family circle closed in tighter, forming an arc of protection. As he turned back to reporters who had followed at a distance, McLemore had tears in his eyes. His mother embraced him, warmly. The circle got tighter still, and a Kansas staffer led the family back to the team's locker room, away from the public eye. Whether the tears were of joy or sadness or, more likely, both the nice young man with the golden jumper left the stage in his mother's arms. In a way, the exit felt a bit ironic, too. Because in his last defining moment as a Jayhawk in Allen Fieldhouse, Ben McLemore proved to be the most grounded person in the building. You can follow Sean Keeler on Twitter @seankeeler or email him at seanmkeeler@gmail.com
Original Story:
http://www.foxsportskansascity.com/co...
THE BACKYARD
BEST OF MAXIM
RELATED ARTICLES
Kansas guard Ben McLemore is entering the NBA draft after arguably the most successful freshman season in school history. The 6-foot-6 star from St. Louis broke Danny Manning's freshman scoring record by averaging nearly 16 points, and helped Kansas win a share of its ninth straight Big 12 title. McLemore, a second-team All-American, announced his intentions while accompanied...
Kansas Jayhawks guard Ben McLemore has a press conference scheduled for Tuesday.
Kansas athletic officials are reviewing allegations that the former AAU basketball coach of Ben McLemore received cash payments aimed at steering the star freshman to a sports agent. AAU coach Darius Cobb told USA Today he received $10,000 in two payments from Rodney Blackstock, the founder and CEO of Hooplife Academy in Greensboro, N.C. Kansas athletic director Sheahon Zenger...
In a decision that shocked literally no one, Ben McLemore announced Tuesday that he would leave the University of Kansas to enter the NBA Draft, departing KU after one year of eligibility
After one superstar season with the Kansas Jayhawks, guard Ben McLemore has declared that he will enter the 2013 NBA Draft.
Ben McLemore is one and done at Kansas. Ricky Ledo is none and done with Providence. McLemore, Kansas' talented freshman guard, was among several underclassmen who wasted little time in declaring for the NBA draft on Tuesday, the day after the college season ended. Ledo, Providence, R.I., native, practiced with the Friars this season but never played because he failed to qualify...
Russ Smith and Ben McLemore are taking their explosive talents to the NBA. Smith, who is also referred to as "Russdiculous," confirmed his father's comments about moving on from Louisville to the NBA on SiriusXM Radio with Bruce Pearl and Mark Packer following Monday's championship victory. The all-around player averaged 18.7 points, 2.9 assists and 3.3 rebounds in his second...
LAWRENCE, Kan. (AP) -- The hardest decision of Ben McLemore's life turned out to be no question at all. Kansas coach Bill Self made sure of it. The talented guard announced Tuesday that he will enter the NBA draft after perhaps the most successful season by a freshman in the school's proud basketball history. And just in case he thought twice about passing up professional...
When the Kansas Jayhawks take the field for Saturday's Spring Game, it will give everyone a chance to see the strides the team has made since completing their difficult 2012.
There may be a lot of questions surrounding the Kansas Jayhawks offense going into the 2013 season, but as the Spring Game approaches next Saturday, there's one certainty. The Jayhawks will bring to the table one of the best backfields, if not the best in the Big 12.
The NCAA Tournament ended Monday with Louisville's victory over Michigan in an extremely entertaining basketball game. For NBA fans that may not mean much. But Tuesday, the dominoes for the NBA Draft started to fall. Indiana's Victor Oladipo and Kansas' Ben McLemore announced they will enter the NBA Draft. Both are expected to be among the top five picks in this...
College Basketball News

Delivered to your inbox

You'll also receive Yardbarker's daily Top 10, featuring the best sports stories from around the web. Customize your newsletter to get articles on your favorite sports and teams. And the best part? It's free!
THE COLLEGE BASKETBALL HOT 10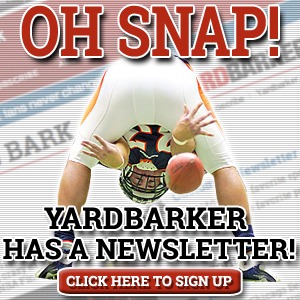 Latest Rumors
The Backyard

Today's Best Stuff

For Bloggers

Join the Yardbarker Network for more promotion, traffic, and money.

Company Info

Help

What is Yardbarker?

Yardbarker is the largest network of sports blogs and pro athlete blogs on the web. This site is the hub of the Yardbarker Network, where our editors and algorithms curate the best sports content from our network and beyond.