Found November 13, 2012 on isportsweb.com:
ATLANTA — With 16 seconds left, MSU guard Keith Appling drove past Kansas big man Jeff Withey and finished with a dazzling left handed lay-up to give the No. 21 Michigan State Spartans a 67-64 victory over the No. 7 Kansas Jayhawks. Appling finished the game with a game-high 19 points, eight of which came in the final seven minutes of the second half. Freshman Gary Harris put on an offensive clinic for the Spartans as he went 7-of-12 from the field for 18 points, and showed that he can put the ball in the bucket in more ways than one. Harris scored two back-to-back buckets with just over four minutes to play that cut the Kansas lead to 59-58 and jump started an 8-0 run by the Spartans. Kansas guard Elijah Johnson buried two free throws after a Harris foul to end the Spartans 8-0 run and cut the MSU lead to 62-61 with 1:47 left in the game. On the next possession, Appling came off a pick and drilled a three-pointer to give MSU a 65-61 lead with 1:38 left. The junior point guard finished the game shooting 3-of-3 from deep, and those that follow the program closely know how huge that this shooting performance is for him. Appling and Valentine celebrating after Appling's late three-point shot. (Photo by Kevin C. Cox/Getty Images) Appling told isportsweb.com that he made 500 three-pointers a day during the summer, and with a three-point shooting percentage of nearly 63 percent in two games, it's evident that hard work pays off. While MSU sophomore back-up point guard Travis Trice sat out of today's game with concussion symptoms, many were watching 6-5  freshman guard Denzel Valentine closely. The freshman continued to show that he is the best passer on the team with some eye-popping passes into the post, and he even improved his defense tremendously from the first game. Still, the Spartans are struggling to not turn the ball over, as they've had two games of 15 turnovers this season, many of which are unforced. The Kansas Jayhawks did a good job of doubling in the post, and it caused a total of nine turnovers from the MSU big men. Derrick Nix led the Spartans in turnovers with four, and Adreian Payne added three. Both Nix and Payne have struggled thus far in the season, and if the Spartans plan on having success come March they need these two to play smarter. Nix looked lost at times on offense whether it was handling the ball at the top of the key or not knowing where to pass when the double team came. Payne has been the Spartans best interior defender in their first two games, but only played 17 minutes tonight due to foul trouble. This win was a victory that the Spartans needed, badly. For years, Tom Izzo has tested his team with early season match ups against college basketball's elite on the biggest of stages, and for the most part they haven't prevailed. In 2008, the Spartans lost big to North Carolina, but were able to beat a very good Texas team in Houston. In '09, they lost to North Carolina, Florida, and Texas. 2010, they lost to UConn, Syracuse, Duke, and Texas. Last year, they fell to North Carolina and Duke. Sorry to bring up the past, but we need to dwell on it a little to realize how important this victory could potentially be. This Michigan State team is young, and a victory against a No. 7 Kansas team after a dog fight against a good UConn team in Germany four days earlier shows the character that this team possesses. As the clock was winding down it was clear that the MSU players were getting very excited and jumping around, as they should be, but if you looked at Appling you would've seen him give his teammates a calm down signal as if he was saying, "Act like you belong here." That act of leadership by Appling continues to show that he put in a lot of work this summer, and not just on the court, but as a leader. Izzo has this team going in the right direction early, which is important. Games like this are tremendous confidence boosters, and with a victory of this magnitude on a national scale this early in the season, the future is looking very bright for a young Michigan State basketball team.  
Original Story:
http://feedproxy.google.com/~r/isport...
THE BACKYARD
BEST OF MAXIM
RELATED ARTICLES
Hoop heads following the Michigan State Spartans had been patiently waiting for this day to come for some time. Tuesday night, with two cold blooded plays, Keith Appling finally grew up before our very eyes and slickly buried a major … Continue reading →
Four days after playing in the season opener against Connecticut overseas in Germany, the Michigan State basketball team will be right back at it again, this time flying down to Atlanta, Georgia to take on the Kansas Jayhawks on Tuesday night at 7:00 PM. Kansas comes into this game with a 1-0 record, coming off a 74-55 victory against Southeast Missouri State while Michigan State...
Keith Appling scored 19 points, including a brilliant drive with 13.5 seconds left, and No. 21 Michigan State rebounded from a season-opening loss with a 67-64 upset of No. 7 Kansas on Tuesday night. The Jayhawks (1-1) led 59-54 with 5 minutes remaining, showing signs of taking control in a game that was tight all the way. But Michigan State (1-1) rebounded behind its brilliant...
Keith Appling scored 19 points, freshman Gary Harris added 18 and the Michigan State Spartans bounced back from a loss to UConn by upsetting Kansas. Continue reading →
I personally am more of a fan of Daniel Tosh's standup than his show, but this skit seemed pretty funny.  Some of you are probably wondering why Delvon Roe is no longer playing basketball somewhere, and it's because he was a suffering from degenerative knee pain that ended his career at Michigan State after three years.  Now, Roe is currently in California pursuing an acting...
ATLANTA (AP) Keith Appling scored 19 points, including a brilliant drive with 13.5 seconds left, and No. 21 Michigan State rebounded from a season-opening loss with a 67-64 upset of No. 7 Kansas on Tuesday night. The Jayhawks (1-1) led 59-54 with 5 minutes remaining, showing signs of taking control in a game that was tight all the way. But Michigan State (1-1) rebounded behind its...
What a difference one game can make! The Spartans did indeed carry their inspired second half play over to this game and even added some pleasant surprises to the mix. Alex Gauna  played meaningful minutes and actually contributed(albeit not much defensively), Payne played with attitude(4 blocks, 8 boards), and Denzel Valentine led the team in assists coming off the bench(4). In...
ATLANTA (AP) -- Keith Appling scored 19 points and took command down the stretch, scoring off a brilliant drive with 13.5 seconds left that carried No. 21 Michigan State to a 67-64 upset of No. 7 Kansas on Tuesday night. The Spartans (1-1) rebounded from a season-opening loss on the other side of the Atlantic to Connecticut. They kept up their road show with a doubleheader at the...
ATLANTA Bill Selfs team learned at least one thing Tuesday night. Michigan States not the best team to be finesse with, Self said after his No. 7 Kansas squad fell, 67-64, to the Spartans. In a game molded directly from the NCAA Tournament, the first game of the Champions Classic held at the Georgia Dome in Atlanta the site of this seasons Final Four the Jayhawks were unable...
Looking to bounce back from a season-opening loss, Michigan State turned to its top returning scorer from last season. Keith Appling came through. Big time. Hitting a pair of huge shots down the stretch - one from beyond the 3-point arc, the other on an acrobatic drive - Appling carried the No. 21 Spartans to a 67-64 upset of No. 7 Kansas on Tuesday night. ''The offense...
After seeing Keith Appling make this beautiful move around Jeff Withey and Kevin Young, switching hands and kissing the ball of the glass to seal the Spartans win over the Kansas Jayhawks, many MSU fans thought: Hey, this reminds me of Kalin Lucas. It reminded me of Kalin Lucas, too, this clutch offensive skill. I knew Appling wasn't at the level of Lucas, offensively, so I decided...
Spartans News

Delivered to your inbox

You'll also receive Yardbarker's daily Top 10, featuring the best sports stories from around the web. Customize your newsletter to get articles on your favorite sports and teams. And the best part? It's free!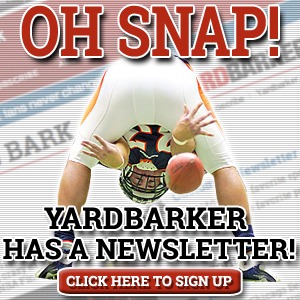 Latest Rumors
Best of Yardbarker

Today's Best Stuff

For Bloggers

Join the Yardbarker Network for more promotion, traffic, and money.

Company Info

Help

What is Yardbarker?

Yardbarker is the largest network of sports blogs and pro athlete blogs on the web. This site is the hub of the Yardbarker Network, where our editors and algorithms curate the best sports content from our network and beyond.