Found March 18, 2012 on Sons of Old Massachusetts:
PLAYERS:
Chaz Williams
,
Dee Bost
,
Jordan Theodore
,
Terrell Vinson
,
Sean Carter
,
Herb Pope
,
Maxie Esho
,
Raphiael Putney
TEAMS:
Seton Hall Pirates
,
Massachusetts Minutemen
,
Mississippi State Bulldogs
,
Drexel Dragons
Heading into the NIT tournament your Massachusetts Minutemen had lost 7 true road games, 2 "home" games at the Atlantis Resort in the Bahamas and 1 "home" game at the Boardwalk Hall in Atlantic City. Of the 11 losses the Minutemen had this season, 10 of them came away from the confines of the Mullins Center. UMass only won 4 true road games this season heading into the NIT -- think about that for a second, this team was essentially 4-10 on the road, and 15-1 at home (beat Utah in Bahamas, Siena in Springfield and Temple in Atlantic City). So it wasn't out of the ordinary for UMass fans to think that our teams trip to the NIT may be a short one when the schedule was announced and the first game was on the road, in Starkville, against an SEC team that was on the NCAA Tournament bubble until Selection Sunday.
We all know how that went down, but surely with a second consecutive road game against a power conference team in the second round of the NIT there was no way that the Minutemen would survive until the NIT's second week.
As it turns out the old addage appears to be true -- when the post season starts you can throw the regular season statistics out the window because your terrible road Minutemen went to South Orange, New Jersey on Saturday morning and knocked off the top seeded, 20 win, Seton Hall Pirates on their home campus by a score of 77-67 behind an second consecutive transcendent performance by Chaz Williams.
Who is playing better then Chaz Williams right now?
I hate (read: love) to toot my own horn for a moment here but let's just recap what I said in my preview of this game last week:
basically you have a better chance of beating Seton Hall if you score over 70 points, though that point likely seems obvious.
I guess the point was completely true because while the Pirates never gave up after the Minutemen jumped on them in the first half, even whittling the halftime score down to a 6 point Minutemen lead (36-30), the game felt like a race to 70, and when the Minutemen got there the game was for all intents and purposes, over. As I did for the Mississippi State game, I am going to give you a quick four pack of points to wrap up the Seton Hall game before I preview the Drexel Dragons and the return of Bruiser Flint for tomorrow.
Chaz Williams -- For the second consecutive game Chaz Williams went on national television and out played his more highly touted counter part. In Starkville it was Dee Bost, and in South Orange it was Jordan Theodore, and both times Chaz Williams came out looking like the premier player on the court. How's this for a stat line, 40 minutes, 4-8 FG, 10-14 FT, 20 points, 7 rebounds, 6 assists and 3 turnovers. For awhile not only was Chaz the best player on the floor, but he was the most tenacious rebounder on the block, a fact that should not ever happen when you're no bigger then 5'7 (and most likely even smaller then that). Much like the Mississippi State game Chaz stuck the dagger in the heart of the Pirates with a three pointer (thought in this case it was an assist on a Terrell Vinson three pointer) with the clock winding down, and like the Mississippi State game Chaz was on the floor to celebrate his team advancing to the next round of the NIT. I'm starting to run out of superlatives to describe Chaz Williams but it is obvious that he is on a mission to get this team to New York City, and when you take into account the fact that he's only a sophmore, there should be nobody wearing maroon and white that has anything but happy thoughts floating through their heads as it concerns Chaz Williams.
Sean Carter -- S dot Carter played 40 minutes (after playing 48 against the Bulldogs) and put up  11 points and 11 rebounds, but even more important then that Carter was a force on the low block leaving Herb Pope almost invisible in the second half and helping contribute to the senior Pirates, 9 points, 15 rebound performance over 34 minutes. I would set out that this was not Sean's best performance by a long shot and even though the stat line says he was 5-9, those misses couldn't have come at a worse time. Carter can dunk the basketball but he can not lay the basketball in the hoop and that almost felt like it was going to cost the Minutemen the game when Seton Hall brought themselves back to take the lead. Fortunately Sean's mistakes were covered up (as they have been all season) by his teammates and all that will live on will be the stat line that highlights another great performance by the only senior who plays meaningful minutes for this team.
Derek Kellogg -- Coach Kellogg isn't getting the respect he deserves right now because of the accolades being heaped upon Chaz Williams but in both NIT games so far the Minutemen have come out hungrier then their opponents and the early jump that they've been getting has helped carry the team through those stretches where they just aren't scoring the basketball, and that credit should go to Derek Kellogg. It feels like both Seton Hall and Mississippi State had NCAA Tournament rejection hangovers, and the fact that both teams likely felt slighted and maybe a little less enthusiastic about being in the NIT is a direct criticism of their respective coaches. Derek Kellogg has these guys focused on not only performing well in the NIT, but winning the NIT. UMass is 3-1 in their last four games with road and/or neutral site wins over Temple, Mississippi State and Seton Hall - that's very likely the best stretch of Coach Kellogg's tenure as the head coach and the team is playing better basketball right now then they've ever played before. He has these guys buying in completely with his system and they're executing to a very high degree. I'm not sure if this run will continue but as it stands today I don't see many teams playing a higher brand of basketball than your Minutemen and the Coach deserves the credit for that.
Maxie Esho -- Seriously how much do we love Maxie Esho? When the redshirt freshman who Derek Kellogg once described as "very good, if he ever figures out what he's doing" is on the court he's a whirlwind of activity. Maxie had a couple great put backs in this game and he is just all energy when he steps on the court. For whatever reason Raphiael Putney can't not get 2 quick fouls and luckily in this game when Put was playing fantastic, the Minutemen didn't even lose a beat when Maxie came into the game -- though I would suggest he stop taking corner three pointers, those are not his forte. In my book Maxie was the unsung hero of this game, playing 16 big minutes, hitting 5 of his 6 free throws and putting in 9 points in relief of Putney (mainly). 
So the improbable run of this UMass team continues with the Drexel Dragons on the hook Tuesday night at 7 PM. My hope is to have a full run down ready tomorrow so check back and I should have an update for you. I apologize for not having a more in depth recap of this game because it was such an amazing game, but I was at a wedding this weekend and watched the game in a hotel. Right now I am just thrilled with how this team is performing and I think it's a real testament to the character of the guys on the team, and the coaching staff that they've played at this high level and won these games when really nobody would've blamed them for dropping either of them on the road. While I think Bruiser Flint has a very good Drexel team, and Tuesday night will be a great night -- I honestly believe that the way the team is playing right now, Drexel simply isn't going to be good enough to beat the Minutemen. Drexel is a deep team and they won't get tired against UMass, but their size doesn't match up well with our own and that may be the difference in this one though I'll be back tomorrow with my thoughts on that game, for now just give me one more night to enjoy this win.
Original Story:
http://www.sonsofoldmassachusetts.com...
THE BACKYARD
BEST OF MAXIM
RELATED ARTICLES
Chaz Williams scored 20 points and hit a big 3-pointer with 2:26 to play to lead Massachusetts to a 77-67 victory over Seton Hall in the NIT's second round Saturday. Raphiael Putney added 15 points, Sean Carter had 11 points and 11 rebounds and Terrell Vinson added a backbreaking 3-pointer less than a minute after Williams' bomb for the Minutemen (24-11). Fuquan Edwin had...
College Basketball News

Delivered to your inbox

You'll also receive Yardbarker's daily Top 10, featuring the best sports stories from around the web. Customize your newsletter to get articles on your favorite sports and teams. And the best part? It's free!
THE COLLEGE BASKETBALL HOT 10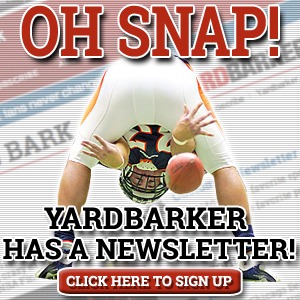 Latest Rumors
The Backyard

Today's Best Stuff

For Bloggers

Join the Yardbarker Network for more promotion, traffic, and money.

Company Info

Help

What is Yardbarker?

Yardbarker is the largest network of sports blogs and pro athlete blogs on the web. This site is the hub of the Yardbarker Network, where our editors and algorithms curate the best sports content from our network and beyond.