Found April 04, 2013 on Gamedayr:
Via Gamedayr:
For those of you who missed the College Baskeball Slam Dunk Contest, well, we don't feel bad for you, but we're worried about your health.
Everyone should be spoon-fed a dose of Doug Anderson highlight tapes on a nightly basis. The Detroit star was in Atlanta, the site of the 2013 Final Four, on Thursday night for the dunk contest festivities.
And he absolutely stole the show.
Anderson rocked a 360, through-the-legs slam on his very first attempt en route to winning the whole thing.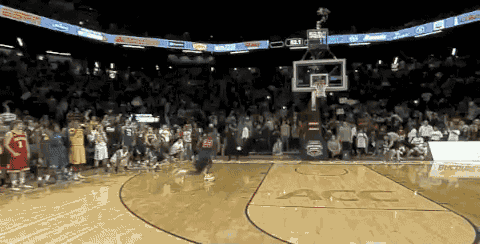 If you aren't impressed yet, here are all four of his dunks that won him the title belt. Simply put, Anderson has got some mad hops.
Top video via Big Lead Sports, GIF via Bleacher Report, Bottom video via ESPN YouTube
Read More:
http://gamedayr.com/gamedayr/video-of...
THE BACKYARD
RELATED ARTICLES
If you missed him on Sportscenter's Top 10 throughout the year, Detroit's Doug Anderson has some harsh feelings towards basketball rims. They stole his lunch money. They picked on him through his awkward years. They would yell "Kool-Aid!" when his momma walked by wearing red. And now he takes out his anger on each and every rim he comes across. Poor, poor rims. Four tremendous...
If you don't like the NBA Slam Dunk contest, you probably appreciated the college slam dunk contest where Detroit-Mercy Titan's Doug Anderson put on a show. It would be difficult to argue against him as being better than everyone else in the NBA with what he calls 'in game dunks.' Check out his final dunk that gave him the title: Unreal. You can checkout the rest of his dunks...
There are some people who can dunk, and then there are dunkers. Doug Anderson is a real man who came to the 2013 State Farm College Slam Dunk Contest with some simple intentions. I'm gonna dunk this basketball, real real hard. I'm gonna jump real real high. I'm going to do dunks that I could do [...]The post Detroit's Doug Anderson Put One Of The Better Slam Dunk Performances...
Doug Anderson of Detroit Mercy introduced himself to the world Thursday night during the College Dunk Contest in Atlanta. Anderson scored perfect scores on each of his attempts and capped it all off with this impressive 360-degree, between the legs dunk that brought home the crown.The post Doug Anderson went with a 360-degree, between the legs dunk to win the College Dunk Contest...
University of Detroit guard Doug Anderson wowed the crowd (and now the World Wide Web) with the insane dunk in the video below to win the College Slam Dunk Competition, one of the events in Atlanta leading up to this weekend's Final Four. After watching this what the NBA needs to do is clear. Take the million that Magic has offered and whatever anyone else want to throw in...
Detroit's Doug Anderson puts on a show during the College Slam Dunk competition en route to a runaway win. Shaming the NBA All-Star weekend single-handedly. **Follow us on Twitter or Facebook.... Full story at Bob's Blitz ~ http://www.bobsblitz.com
University of Detroit Mercy's Doug Anderson, Mott CC alum, knows how to dunk a basketball. That's to put it as boringly as possible. Because his dunks were not boring.  Here's his 4th dunk of the college slam dunk competition, which won him the competition quite easily:  For a look at his other three dunks, all perfect scores, head over to It's Always...
Wow. Just wow. Sorry LeBron but you have nothing on University of Detroit's Doug Anderson.
University of Detroit Mercy high-riser Doug Anderson wrecked the competition with four dunks on his way to winning the College Slam Dunk contest.  He received perfect 40′s straight through the competition and  - most impressively – only needed one try for each of his dunks. ESPN's Jimmy Dykes called him a "1-seed" going up against all "16-seeds" in comparison to his...
Doug Anderson played for the University of Detroit this season. You probably didn't know him before, but I bet you know him now.  Has this dunk ever been done before? Anderson has a reputation with hard-core college basketball fans, as one of the best dunkers in college and he surely didn't disappoint with this dunk. FYI, Dick Vitale use to be the head coach at the University of Detroit.
University of Detroit's Doug Anderson pulled off an amazing dunk at the college dunk contest this year:   [youtube]u6SUgFfiAA[/youtube]   Big up: Gamedayr
You know how LeBron James is always playing that worn out routine of "Maybe I should be in the Slam Dunk Contest this year…" and us basketball fans are like, "Please, oh, please LeBron, would ya do that, King? Would ya?" and he's like, "Wellllllllllllll maybe if someone paid me a million dollars…" and then you and I pull out our pockets and fight over who gets to...
RUMORS & GOSSIP
The man who tried to rip off athletes and celebrities by claiming he could hook them up with Miami Heat season tickets and partial ownership of the team is in big trouble. In fact, the man was recently slapped with 11 felonies, including grand theft, obtaining money by false pretenses, and identity theft.According to TMZ Sports, the scheme ran by George French Jones started to go...
While Kentucky is still a virtual lock for the NCAA Tournament, the Wildcats look anything like a team that can make a serious run for a national title. Fans have been panicking for weeks, as UK has dropped three of its past four games. Today, after Kentucky got smacked by Florida, 84-65, one former Wildcat made it known how he feels about the squad.  Doron Lamb, who starred for...
Phil Jackson doesn't seem willing to become an NBA head coach again, but the 11-time champion is considering a front office position with the New York Knicks, per ESPN. THIS JUST IN: Phil Jackson is leaning toward taking job with Knicks to become president of basketball operations. (via @stephenasmith)—   (@SportsCenter) March 08, 2014 The Knicks have been a disaster this season...
Squabbling between the Red Sox and the Marlins continues. Boston owner John Henry says Miami should apologize for its regular season lineup.
ESPN's Chris Mortensen, citing league sources, reports that Giants' free agent WR Hakeem Nicks is willing to consider one-year offers that will allow him to reestablish his value. Mortensen adds that Nicks is "receptive" to re-signing with the Giants this offseason. However, if a deal can't be reached, Nicks is expected to look for a team with a proven quarterback. This...
The Oakland Raiders have arguably more needs than any team in the league right now. While some of their holes can be addressed with their loads of cap space on the open market, it'll take more than just free agency signings to turn the Raiders into a contender in what is likely a make-or-break year for head coach Dennis Allen and general manager Reggie McKenzie. Photo Credit...
Well that didn't take long. Less than a week ago the Seattle Seahawks released defensive end Red Bryant. On Wednesday I wrote about the possibility of the team bringing Bryant back on a cheaper deal. I doubted it would happen because Bryant is still a quality player under 30 years old who could earn much more on the open market with a team that needs to shore up its defense. According...
Former NFL Network analyst Darren Sharper bragged about raping multiple women, according to a report from TMZ. The TMZ report is based off of the arrest warrant for Sharper's associate Erik Nunez from the New Orleans Police Department, alleging that both men raped "substantially impaired" women on September 23rd. The document also said that both Sharper and Nunez...
British golfer Ian Poulter went on an epic Twitter rant and called golf journalist Dale Concannon a "penis" and a "donut" Saturday morning at the WGC-Cadillac Championship in Doral, Florida. Here's a screenshot of the Twitter battle: Poulter's statements come just one day after he called Japanese golfer Hideki Matsuyama an "idiot" on Twitter for damaging a green with...
Tennessee Titans running back Chris Johnson is scheduled to make $8 million this year with his current contract, but his declining play makes it unlikely he will return to the field with the team he starred with. Johnson still believes himself to be an elite player, and if former teammate and self-proclaimed friend Keith Bullock […]Continue reading...
Latest Rumors
The Backyard

Today's Best Stuff

For Bloggers

Join the Yardbarker Network for more promotion, traffic, and money.

Company Info

Help

What is Yardbarker?

Yardbarker is the largest network of sports blogs and pro athlete blogs on the web. This site is the hub of the Yardbarker Network, where our editors and algorithms curate the best sports content from our network and beyond.