Found April 04, 2013 on Gamedayr:
Via Gamedayr:
For those of you who missed the College Baskeball Slam Dunk Contest, well, we don't feel bad for you, but we're worried about your health.
Everyone should be spoon-fed a dose of Doug Anderson highlight tapes on a nightly basis. The Detroit star was in Atlanta, the site of the 2013 Final Four, on Thursday night for the dunk contest festivities.
And he absolutely stole the show.
Anderson rocked a 360, through-the-legs slam on his very first attempt en route to winning the whole thing.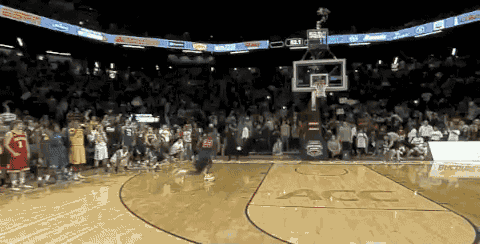 If you aren't impressed yet, here are all four of his dunks that won him the title belt. Simply put, Anderson has got some mad hops.
Top video via Big Lead Sports, GIF via Bleacher Report, Bottom video via ESPN YouTube
Original Story:
http://gamedayr.com/gamedayr/video-of...
THE BACKYARD
RELATED ARTICLES
If you missed him on Sportscenter's Top 10 throughout the year, Detroit's Doug Anderson has some harsh feelings towards basketball rims. They stole his lunch money. They picked on him through his awkward years. They would yell "Kool-Aid!" when his momma walked by wearing red. And now he takes out his anger on each and every rim he comes across. Poor, poor rims. Four tremendous...
If you don't like the NBA Slam Dunk contest, you probably appreciated the college slam dunk contest where Detroit-Mercy Titan's Doug Anderson put on a show. It would be difficult to argue against him as being better than everyone else in the NBA with what he calls 'in game dunks.' Check out his final dunk that gave him the title: Unreal. You can checkout the rest of his dunks...
There are some people who can dunk, and then there are dunkers. Doug Anderson is a real man who came to the 2013 State Farm College Slam Dunk Contest with some simple intentions. I'm gonna dunk this basketball, real real hard. I'm gonna jump real real high. I'm going to do dunks that I could do [...]The post Detroit's Doug Anderson Put One Of The Better Slam Dunk Performances...
Doug Anderson of Detroit Mercy introduced himself to the world Thursday night during the College Dunk Contest in Atlanta. Anderson scored perfect scores on each of his attempts and capped it all off with this impressive 360-degree, between the legs dunk that brought home the crown.The post Doug Anderson went with a 360-degree, between the legs dunk to win the College Dunk Contest...
Detroit's Doug Anderson puts on a show during the College Slam Dunk competition en route to a runaway win. Shaming the NBA All-Star weekend single-handedly. **Follow us on Twitter or Facebook.... Full story at Bob's Blitz ~ http://www.bobsblitz.com
University of Detroit guard Doug Anderson wowed the crowd (and now the World Wide Web) with the insane dunk in the video below to win the College Slam Dunk Competition, one of the events in Atlanta leading up to this weekend's Final Four. After watching this what the NBA needs to do is clear. Take the million that Magic has offered and whatever anyone else want to throw in...
University of Detroit Mercy's Doug Anderson, Mott CC alum, knows how to dunk a basketball. That's to put it as boringly as possible. Because his dunks were not boring.  Here's his 4th dunk of the college slam dunk competition, which won him the competition quite easily:  For a look at his other three dunks, all perfect scores, head over to It's Always...
Wow. Just wow. Sorry LeBron but you have nothing on University of Detroit's Doug Anderson.
University of Detroit Mercy high-riser Doug Anderson wrecked the competition with four dunks on his way to winning the College Slam Dunk contest.  He received perfect 40′s straight through the competition and  - most impressively – only needed one try for each of his dunks. ESPN's Jimmy Dykes called him a "1-seed" going up against all "16-seeds" in comparison to his...
Doug Anderson played for the University of Detroit this season. You probably didn't know him before, but I bet you know him now.  Has this dunk ever been done before? Anderson has a reputation with hard-core college basketball fans, as one of the best dunkers in college and he surely didn't disappoint with this dunk. FYI, Dick Vitale use to be the head coach at the University of Detroit.
University of Detroit's Doug Anderson pulled off an amazing dunk at the college dunk contest this year:   [youtube]u6SUgFfiAA[/youtube]   Big up: Gamedayr
You know how LeBron James is always playing that worn out routine of "Maybe I should be in the Slam Dunk Contest this year…" and us basketball fans are like, "Please, oh, please LeBron, would ya do that, King? Would ya?" and he's like, "Wellllllllllllll maybe if someone paid me a million dollars…" and then you and I pull out our pockets and fight over who gets to...
RUMORS & GOSSIP
Joe Torre is having a hell of a year. He will be a part of next summer's hall of fame class and now has something to look forward to in the future past that too. What is Joe Torre's legacy in New York?(credit: Al Bello/Getty Images) Torre is still one of the most recognizable names in Yankees lore for the last 20 years or so, despite having left the team at the end of the 2007...
Los Angeles Clippers coach Doc Rivers admitted Tuesday in a radio interview that he walked away from his former team the Boston Celtics. "I did at the end of the day," Rivers admitted to Felger & Mazz on CBS Rado Boston. "You make choices in your life, it happens… It was a very difficult decision for me to make; whether to walk away and sit a couple of years, which...
The Miami Dolphins are in the midst of a playoff race, so this is really the last thing I want to be writing about.  If you've noticed, we haven't written much about the Jonathan Martin, Richie Incognito saga over the past few weeks.  Why? Well, because the NFL's investigation is still ongoing AND I've had enough of the story.  Let's just get to the results of the investigation...
A Los Angeles Clippers fan is suing his beloved team to the tune of $5 million after claiming the Clippers are directly responsible for sending spam to his cell phone.The fan, Ari Friedman, recently went to a Clippers game at the Staples Center and engaged in an arena game which allows fans to send a text message in order to get their message posted on the stadium scoreboard.After...
At the very least, it seems obvious that Nick Saban is going to get more money from Alabama if he chooses to stay in Tuscaloosa. The impending coaching vacancy at Texas has placed the four-time national champion in an incredible position of strength, and ESPN.com's Paul Finebaum is reporting that Saban has had a contract […]
Mike Shanahan is getting his wish. Per Jay Glazer of Fox Sports and Ian Rapoport of NFL Network, the Washington Redskins are likely to move forward with Kirk Cousins at quarterback. Per to 2 people who have seen the gameplan, #Redskins appear to be moving forward with Kirk Cousins at QB. RGIII hasn't been told […]
Kobe Bryant was understandably rusty in his first game back with the Los Angeles Lakers on Sunday. And while Kobe's return was greeted with excitement and anticipation, anyone who thought he instantly would be the Kobe of old after so much time off following surgery and rehab after suffering on a torn Achilles tendon back […]The post Following his return to NBA action, Kobe Bryant...
If one Brooklyn man has his way with A-Rod at a charity lunch, the T-bone won't be the only beef getting grilled.Joe Schiff has saved up $3,500 with plans on bidding to have lunch with Alex Rodriguez as part of David Ortiz's Celebrity Golf Classic in order to ask the Yankees third baseman about the slugger's PED allegations, according to NJ.com. Schiff explained the dastardly...
Paul Pierce, who returned after 5 games missed with a broken bone in his hand, came off the bench (0-3, 4 points, 7 rebounds) Tuesday night for the Nets in their 104-96 win over the Celtics. Jason Kidd was happy with the result and is considering keeping Pierce as a reserve moving forward. According to Mike Mazzeo of ESPN NY: Nets coach Jason Kidd plans to talk to Pierce about the...
Latest Rumors
The Backyard
Going Viral

Today's Best Stuff

For Bloggers

Join the Yardbarker Network for more promotion, traffic, and money.

Company Info

Help

What is Yardbarker?

Yardbarker is the largest network of sports blogs and pro athlete blogs on the web. This site is the hub of the Yardbarker Network, where our editors and algorithms curate the best sports content from our network and beyond.