Found April 04, 2013 on Gamedayr:
Via Gamedayr:
For those of you who missed the College Baskeball Slam Dunk Contest, well, we don't feel bad for you, but we're worried about your health.
Everyone should be spoon-fed a dose of Doug Anderson highlight tapes on a nightly basis. The Detroit star was in Atlanta, the site of the 2013 Final Four, on Thursday night for the dunk contest festivities.
And he absolutely stole the show.
Anderson rocked a 360, through-the-legs slam on his very first attempt en route to winning the whole thing.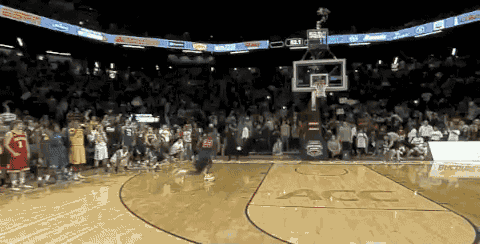 If you aren't impressed yet, here are all four of his dunks that won him the title belt. Simply put, Anderson has got some mad hops.
Top video via Big Lead Sports, GIF via Bleacher Report, Bottom video via ESPN YouTube
Read More:
http://gamedayr.com/gamedayr/video-of...
THE BACKYARD
RELATED ARTICLES
If you missed him on Sportscenter's Top 10 throughout the year, Detroit's Doug Anderson has some harsh feelings towards basketball rims. They stole his lunch money. They picked on him through his awkward years. They would yell "Kool-Aid!" when his momma walked by wearing red. And now he takes out his anger on each and every rim he comes across. Poor, poor rims. Four tremendous...
If you don't like the NBA Slam Dunk contest, you probably appreciated the college slam dunk contest where Detroit-Mercy Titan's Doug Anderson put on a show. It would be difficult to argue against him as being better than everyone else in the NBA with what he calls 'in game dunks.' Check out his final dunk that gave him the title: Unreal. You can checkout the rest of his dunks...
There are some people who can dunk, and then there are dunkers. Doug Anderson is a real man who came to the 2013 State Farm College Slam Dunk Contest with some simple intentions. I'm gonna dunk this basketball, real real hard. I'm gonna jump real real high. I'm going to do dunks that I could do [...]The post Detroit's Doug Anderson Put One Of The Better Slam Dunk Performances...
Doug Anderson of Detroit Mercy introduced himself to the world Thursday night during the College Dunk Contest in Atlanta. Anderson scored perfect scores on each of his attempts and capped it all off with this impressive 360-degree, between the legs dunk that brought home the crown.The post Doug Anderson went with a 360-degree, between the legs dunk to win the College Dunk Contest...
University of Detroit guard Doug Anderson wowed the crowd (and now the World Wide Web) with the insane dunk in the video below to win the College Slam Dunk Competition, one of the events in Atlanta leading up to this weekend's Final Four. After watching this what the NBA needs to do is clear. Take the million that Magic has offered and whatever anyone else want to throw in...
University of Detroit Mercy's Doug Anderson, Mott CC alum, knows how to dunk a basketball. That's to put it as boringly as possible. Because his dunks were not boring.  Here's his 4th dunk of the college slam dunk competition, which won him the competition quite easily:  For a look at his other three dunks, all perfect scores, head over to It's Always...
Detroit's Doug Anderson puts on a show during the College Slam Dunk competition en route to a runaway win. Shaming the NBA All-Star weekend single-handedly. **Follow us on Twitter or Facebook.... Full story at Bob's Blitz ~ http://www.bobsblitz.com
University of Detroit Mercy high-riser Doug Anderson wrecked the competition with four dunks on his way to winning the College Slam Dunk contest.  He received perfect 40′s straight through the competition and  - most impressively – only needed one try for each of his dunks. ESPN's Jimmy Dykes called him a "1-seed" going up against all "16-seeds" in comparison to his...
Doug Anderson played for the University of Detroit this season. You probably didn't know him before, but I bet you know him now.  Has this dunk ever been done before? Anderson has a reputation with hard-core college basketball fans, as one of the best dunkers in college and he surely didn't disappoint with this dunk. FYI, Dick Vitale use to be the head coach at the University of Detroit.
University of Detroit's Doug Anderson pulled off an amazing dunk at the college dunk contest this year:   [youtube]u6SUgFfiAA[/youtube]   Big up: Gamedayr
You know how LeBron James is always playing that worn out routine of "Maybe I should be in the Slam Dunk Contest this year…" and us basketball fans are like, "Please, oh, please LeBron, would ya do that, King? Would ya?" and he's like, "Wellllllllllllll maybe if someone paid me a million dollars…" and then you and I pull out our pockets and fight over who gets to...
Titans News

Delivered to your inbox

You'll also receive Yardbarker's daily Top 10, featuring the best sports stories from around the web. Customize your newsletter to get articles on your favorite sports and teams. And the best part? It's free!
RUMORS & GOSSIP
The Green Bay Packers may have just taken a huge hit on the defensive line.  The Milwaukee Journal Sentinel is reporting that defensive tackle B.J. Raji is believed to have torn his biceps muscle Friday night. New from JS: Report: B.J. Raji believed to have torn bicep http://t.co/XYiuClejdz #packers — Tom Silverstein (@TomSilverstein) August 23, 2014 Raji could miss most if not...
It is finally done. Kevin Love is gone from the T-Wolves and in return they are hoping Wiggins and Bennett become franchise players. Instead of going the Twitter, website or press conference route, they decided to announce the trade in the newspaper. They went old school. #twolves release trade details in ad, guessing in both papers. This from today's early @PioneerPress Sunday...
AP Photo The New York Jets announced today that Geno Smith will be the team's Week One Starter, and not Michael Vick. "This is no slight to Mike Vick, believe me," Jets head coach Rex Ryan said. "I wanted to come out of this knowing we had two really good quarterbacks that we think can win games. In my heart, I think we have two we can win games with." Smith said he always...
In some less-than-surprising news, Jacksonville Jaguars head coach Gus Bradley indicated Friday evening after their third preseason game that Chad Henne will be the starting quarterback Week 1 against the Philadelphia Eagles.  Gus says Henne week 1 starter. — Ryan O'Halloran (@ryanohalloran) August 23, 2014 The Jaguars have remained consistent throughout the entire summer...
Mike Ozanian of Forbes.com reported earlier in the day that all three of the nonbinding bids the Buffalo Bills have received from prospective buyers are all under $900 million. According to Ozanian, the three bidders are: Terry Pegula: $890 million. Toronto Group (Larry Tanenbaum, Jon Bon Jovi, Ed Rogers): $820 million. Donald Trump: $809 million. Ozanian mentions that the ownership...
Recently, Brandon Jennings made a completely misinformed statement that Kobe Bryant is the greatest player in NBA history.Brandon Jennings says Kobe is the GOAT & had less "help" than MJ. Agree or disagree? http://t.co/rxa2swNq1e pic.twitter.com/7heExg9UK4— Ballislife.com (@Ballislife) August 21, 2014Because there's nothing going on in the NBA right now this became...
Miami Central Senior High School football coach Roland Smith received a hate letter, containing the N-word, in advance of the team's nationally televised game on Saturday against the Hoover (Ala.) Bucs.  The letter, which allegedly came from a Hoover Bucs fan, also said, "Take up your chicken bones and red cups on the way back to Miami after we beat your ass," according to Al.com.
Matt Shoemaker is, by all accounts, having a pretty decent rookie season for the Los Angeles Angels. His beard game is tremendous, he's got that 12-4 record and, based on this tweet to Will Middlebrooks Thursday night…his wife, currently expecting their first child, is top notch. Shoemaker's wife Danielle sent out the "butthole" message shortly after her husband gave up...
The Baltimore Orioles are on track to win the AL East division for the first time since 1997, but they might have to embark on a World Series run without one of their best players. Third baseman Manny Machado, who's battled injuries throughout his brief MLB career, might not play again in 2014 because of a knee issue. Source: Manny Machado expected to have surgery on knee within...
Starting on February 14, 2014, Sam Quinn and The Sports Post have decided to run down the 52 Greatest What Ifs in NFL History, one per week, for the next year. For a list of published What Ifs, as well as the introductory piece, click here. I don't think Carolina is really complaining about Cam Newton, but in 2011 the Panthers desperately wanted Stanford quarterback Andrew...
Latest Rumors
Best of Yardbarker

Today's Best Stuff

For Bloggers

Join the Yardbarker Network for more promotion, traffic, and money.

Company Info

Help

What is Yardbarker?

Yardbarker is the largest network of sports blogs and pro athlete blogs on the web. This site is the hub of the Yardbarker Network, where our editors and algorithms curate the best sports content from our network and beyond.