Found April 04, 2013 on Gamedayr:
Via Gamedayr:
For those of you who missed the College Baskeball Slam Dunk Contest, well, we don't feel bad for you, but we're worried about your health.
Everyone should be spoon-fed a dose of Doug Anderson highlight tapes on a nightly basis. The Detroit star was in Atlanta, the site of the 2013 Final Four, on Thursday night for the dunk contest festivities.
And he absolutely stole the show.
Anderson rocked a 360, through-the-legs slam on his very first attempt en route to winning the whole thing.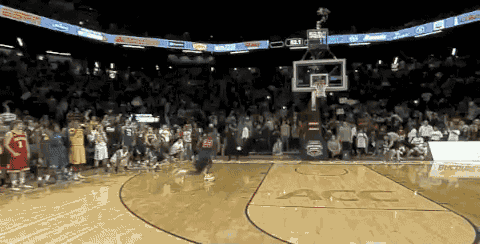 If you aren't impressed yet, here are all four of his dunks that won him the title belt. Simply put, Anderson has got some mad hops.
Top video via Big Lead Sports, GIF via Bleacher Report, Bottom video via ESPN YouTube
Read More:
http://gamedayr.com/gamedayr/video-of...
THE BACKYARD
RELATED ARTICLES
If you missed him on Sportscenter's Top 10 throughout the year, Detroit's Doug Anderson has some harsh feelings towards basketball rims. They stole his lunch money. They picked on him through his awkward years. They would yell "Kool-Aid!" when his momma walked by wearing red. And now he takes out his anger on each and every rim he comes across. Poor, poor rims. Four tremendous...
If you don't like the NBA Slam Dunk contest, you probably appreciated the college slam dunk contest where Detroit-Mercy Titan's Doug Anderson put on a show. It would be difficult to argue against him as being better than everyone else in the NBA with what he calls 'in game dunks.' Check out his final dunk that gave him the title: Unreal. You can checkout the rest of his dunks...
There are some people who can dunk, and then there are dunkers. Doug Anderson is a real man who came to the 2013 State Farm College Slam Dunk Contest with some simple intentions. I'm gonna dunk this basketball, real real hard. I'm gonna jump real real high. I'm going to do dunks that I could do [...]The post Detroit's Doug Anderson Put One Of The Better Slam Dunk Performances...
Doug Anderson of Detroit Mercy introduced himself to the world Thursday night during the College Dunk Contest in Atlanta. Anderson scored perfect scores on each of his attempts and capped it all off with this impressive 360-degree, between the legs dunk that brought home the crown.The post Doug Anderson went with a 360-degree, between the legs dunk to win the College Dunk Contest...
Detroit's Doug Anderson puts on a show during the College Slam Dunk competition en route to a runaway win. Shaming the NBA All-Star weekend single-handedly. **Follow us on Twitter or Facebook.... Full story at Bob's Blitz ~ http://www.bobsblitz.com
University of Detroit guard Doug Anderson wowed the crowd (and now the World Wide Web) with the insane dunk in the video below to win the College Slam Dunk Competition, one of the events in Atlanta leading up to this weekend's Final Four. After watching this what the NBA needs to do is clear. Take the million that Magic has offered and whatever anyone else want to throw in...
University of Detroit Mercy's Doug Anderson, Mott CC alum, knows how to dunk a basketball. That's to put it as boringly as possible. Because his dunks were not boring.  Here's his 4th dunk of the college slam dunk competition, which won him the competition quite easily:  For a look at his other three dunks, all perfect scores, head over to It's Always...
Wow. Just wow. Sorry LeBron but you have nothing on University of Detroit's Doug Anderson.
University of Detroit Mercy high-riser Doug Anderson wrecked the competition with four dunks on his way to winning the College Slam Dunk contest.  He received perfect 40′s straight through the competition and  - most impressively – only needed one try for each of his dunks. ESPN's Jimmy Dykes called him a "1-seed" going up against all "16-seeds" in comparison to his...
Doug Anderson played for the University of Detroit this season. You probably didn't know him before, but I bet you know him now.  Has this dunk ever been done before? Anderson has a reputation with hard-core college basketball fans, as one of the best dunkers in college and he surely didn't disappoint with this dunk. FYI, Dick Vitale use to be the head coach at the University of Detroit.
University of Detroit's Doug Anderson pulled off an amazing dunk at the college dunk contest this year:   [youtube]u6SUgFfiAA[/youtube]   Big up: Gamedayr
You know how LeBron James is always playing that worn out routine of "Maybe I should be in the Slam Dunk Contest this year…" and us basketball fans are like, "Please, oh, please LeBron, would ya do that, King? Would ya?" and he's like, "Wellllllllllllll maybe if someone paid me a million dollars…" and then you and I pull out our pockets and fight over who gets to...
Titans News

Delivered to your inbox

You'll also receive Yardbarker's daily Top 10, featuring the best sports stories from around the web. Customize your newsletter to get articles on your favorite sports and teams. And the best part? It's free!
RUMORS & GOSSIP
Florida State wide receiver Jesus Wilson was arrested on Monday after he admitted to stealing a motor scooter and crashing it last month. Court documents that were obtained by the Tallahassee Democrat on Thursday said that Wilson, 19, is facing a charge of grand theft of a motor vehicle. We like to call it grand […]
The long national nightmare might be over. LeBron James may be making his announcement as early as Thursday night. Akron Beacon Journal reporter Phil Trexler reported that James' announcement is expected at some point Thursday evening. Trexler even went as far to report that police in Bath Township, Ohio, have been told to "be prepared." James has a home in Bath Township. Bath...
After Argentina's 4-2 shootout win over the Netherlands to advance to the World Cup final on Sunday against Germany, Lionel Messi  wasn't able to celebrate the win with his teammates. Messi was stuck taking a mandatory drug test. Messi posted this on his Instagram profile: "Me toco el doping y no puedo estar viviendo este momento en el vestuario. Me siento orgulloso de ser...
The Boston Red Sox designated catcher A.J. Pierzynski for assignment on Wednesday, and now according to a report from WEEI there may be clubhouse reasons as to why the move was made. Rob Bradford of WEEI reported on Thursday that Pierzynski's negative influence led to the decision to designate him for assignment. According to multiple […]
Charles Barkley has some sage advice for Johnny Manziel.On Wednesday, the former NBA player appeared on the Bull and Fox Show on WKRK-FM in Cleveland where he said that Manziel is too immature to handle fame. Barkley also urged Manziel to tone it down with the selfies."You should never take selfies of yourself doing anything that can be considered stupid," Barkley said...
Argentina defender Javier Mascherano laid it all on the line for his country on Wednesday. No, I mean he really, really went all out. Mascherano may have saved the game with a tremendous tackle on Netherlands forward Arjen Robben in the 90th minute to keep the score 0-0. And you know what else happened? He […]
As the speculation over LeBron James' possible future home continues to swirl and different reporters handicap the race for his services, the most interesting report of all surfaced Wednesday night. David Aldridge of NBA.com is reporting that James has all the information he needs and will no longer take meetings with teams. The report has since been confirmed by Sam Amick, Marc...
Will Andre Johnson force the Texans to trade him before the season starts? (Credit: Therichest.com) Houston Texans Pro Bowl wide receiver Andre Johnson is not too happy about the moves the team has made this off-season. In May, Johnson refused to show up to voluntary team workouts. With some media outlets questioning whether or not Johnson will demand a trade, he is telling NFL.com...
While the Cleveland Browns prepare for a season without Josh Gordon, and Gordon prepares for the NFL's ruling after his latest run-in with the law, some of Gordon's teammates have already moved on. Bleacher Report's Mike Freeman reported on Wednesday that while some Browns teammates do realize that Gordon is sick, some of them "want […]
In the land of the obvious, the Utah Jazz will reportedly match the $63 million offer sheet Gordon Hayward received from the Charlotte Hornets earlier this month.  Jazz will match Gordon Hayward's $63M sheet, but wouldn't be a surprise to see them take full 3 days to notify Hornets, sources tell Yahoo. — Adrian Wojnarowski (@WojYahooNBA) July 10, 2014 It has long been...
Latest Rumors
The Backyard

Today's Best Stuff

For Bloggers

Join the Yardbarker Network for more promotion, traffic, and money.

Company Info

Help

What is Yardbarker?

Yardbarker is the largest network of sports blogs and pro athlete blogs on the web. This site is the hub of the Yardbarker Network, where our editors and algorithms curate the best sports content from our network and beyond.