Found April 04, 2013 on Gamedayr:
Via Gamedayr:
For those of you who missed the College Baskeball Slam Dunk Contest, well, we don't feel bad for you, but we're worried about your health.
Everyone should be spoon-fed a dose of Doug Anderson highlight tapes on a nightly basis. The Detroit star was in Atlanta, the site of the 2013 Final Four, on Thursday night for the dunk contest festivities.
And he absolutely stole the show.
Anderson rocked a 360, through-the-legs slam on his very first attempt en route to winning the whole thing.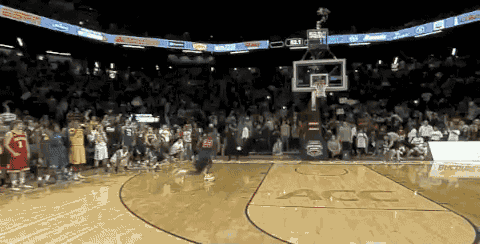 If you aren't impressed yet, here are all four of his dunks that won him the title belt. Simply put, Anderson has got some mad hops.
Top video via Big Lead Sports, GIF via Bleacher Report, Bottom video via ESPN YouTube
Read More:
http://gamedayr.com/gamedayr/video-of...
THE BACKYARD
RELATED ARTICLES
If you missed him on Sportscenter's Top 10 throughout the year, Detroit's Doug Anderson has some harsh feelings towards basketball rims. They stole his lunch money. They picked on him through his awkward years. They would yell "Kool-Aid!" when his momma walked by wearing red. And now he takes out his anger on each and every rim he comes across. Poor, poor rims. Four tremendous...
If you don't like the NBA Slam Dunk contest, you probably appreciated the college slam dunk contest where Detroit-Mercy Titan's Doug Anderson put on a show. It would be difficult to argue against him as being better than everyone else in the NBA with what he calls 'in game dunks.' Check out his final dunk that gave him the title: Unreal. You can checkout the rest of his dunks...
There are some people who can dunk, and then there are dunkers. Doug Anderson is a real man who came to the 2013 State Farm College Slam Dunk Contest with some simple intentions. I'm gonna dunk this basketball, real real hard. I'm gonna jump real real high. I'm going to do dunks that I could do [...]The post Detroit's Doug Anderson Put One Of The Better Slam Dunk Performances...
Doug Anderson of Detroit Mercy introduced himself to the world Thursday night during the College Dunk Contest in Atlanta. Anderson scored perfect scores on each of his attempts and capped it all off with this impressive 360-degree, between the legs dunk that brought home the crown.The post Doug Anderson went with a 360-degree, between the legs dunk to win the College Dunk Contest...
Detroit's Doug Anderson puts on a show during the College Slam Dunk competition en route to a runaway win. Shaming the NBA All-Star weekend single-handedly. **Follow us on Twitter or Facebook.... Full story at Bob's Blitz ~ http://www.bobsblitz.com
University of Detroit guard Doug Anderson wowed the crowd (and now the World Wide Web) with the insane dunk in the video below to win the College Slam Dunk Competition, one of the events in Atlanta leading up to this weekend's Final Four. After watching this what the NBA needs to do is clear. Take the million that Magic has offered and whatever anyone else want to throw in...
University of Detroit Mercy's Doug Anderson, Mott CC alum, knows how to dunk a basketball. That's to put it as boringly as possible. Because his dunks were not boring.  Here's his 4th dunk of the college slam dunk competition, which won him the competition quite easily:  For a look at his other three dunks, all perfect scores, head over to It's Always...
Wow. Just wow. Sorry LeBron but you have nothing on University of Detroit's Doug Anderson.
University of Detroit Mercy high-riser Doug Anderson wrecked the competition with four dunks on his way to winning the College Slam Dunk contest.  He received perfect 40′s straight through the competition and  - most impressively – only needed one try for each of his dunks. ESPN's Jimmy Dykes called him a "1-seed" going up against all "16-seeds" in comparison to his...
Doug Anderson played for the University of Detroit this season. You probably didn't know him before, but I bet you know him now.  Has this dunk ever been done before? Anderson has a reputation with hard-core college basketball fans, as one of the best dunkers in college and he surely didn't disappoint with this dunk. FYI, Dick Vitale use to be the head coach at the University of Detroit.
University of Detroit's Doug Anderson pulled off an amazing dunk at the college dunk contest this year:   [youtube]u6SUgFfiAA[/youtube]   Big up: Gamedayr
You know how LeBron James is always playing that worn out routine of "Maybe I should be in the Slam Dunk Contest this year…" and us basketball fans are like, "Please, oh, please LeBron, would ya do that, King? Would ya?" and he's like, "Wellllllllllllll maybe if someone paid me a million dollars…" and then you and I pull out our pockets and fight over who gets to...
Titans News

Delivered to your inbox

You'll also receive Yardbarker's daily Top 10, featuring the best sports stories from around the web. Customize your newsletter to get articles on your favorite sports and teams. And the best part? It's free!
RUMORS & GOSSIP
With the pending playing status of Cleveland Browns wide receiver Josh Gordon up in the air, head coach Mike Pettine says the team has no plans to cut the troubled receiver. Speaking with the Akron Beacon-Journal Pettine had plenty to say about Gordon, insisting that the team will stand behind Gordon as he faces a year-long ban. […]
Twitter/Lealaimatafao We've got some unfortunate news tonight out of LSU. Freshman defensive tackle Trey Lealaimatafao suffered a gruesome arm injury after punching a window in the team's weight room after he was reportedly upset about a disagreement with his girlfriend. It was originally reported by NOLA.com that Lealaimatafao might have to have his arm amputated – thankfully...
Via YouTube If you watched Monday's episode of Raw, you'll know that Paul Heyman's Plan C for the WWE World Heavyweight Championship match at SummerSlam was … not CM Punk. I mean, nobody thought it would be, but in the back of our heads, wrestling fans are still doing that maybe now's the time Punk comes back thing. Any and every excuse. That is never, ever going to...
It had been rumored that former Green Bay Packers QB Brett Favre was staying away from Lambeau Field for fear of being booed by his old fans. Favre's exit from Green Bay was less than memorable. He was eventually shunned by his team for the younger Aaron Rodgers and eventually ended up playing for their arch rivals Minnesota Vikings. The news of Favre's fear came from his long...
The San Francisco Giants lost starting pitcher Matt Cain to the 15-day disabled list earlier today due to right elbow inflammation. Before they placed him on the DL, the Giants were already on the lookout for another starting pitcher.As I reported late last week on Twitter, the Giants are interested in acquiring Jake Peavy from the Boston Red Sox, a league source said.#452071106...
Police arrested Philadelphia Eagles safety Keelan Johnson after he allegedly shoved an officer into a tree outside a Tempe, Ariz., bar. A probable cause statement said Johnson "violently pushed" an officer in the chest, causing him to strike his head against a tree," according to Philly.com. Police say the officer tried to prevent Johnson from interfering with an investigation...
Marc Gasol's 2013 Defensive Player of the Year award has been hailed as a breakthrough for advanced ways of thinking about basketball. Gasol averaged just 7.8 rebounds, 1.7 blocks and 1.0 steals per game that season – hardly the typical per-game defensive numbers that catch the eye of award voters. But Gasol impressed so much through his subtle contributions, he won the award...
Celtics finishing deal for FA Evan Turner, sources tell Herald. He will get a portion of their mid-level exception. — Steve Bulpett (@SteveBHoop) July 21, 2014 Well, I'll be damned. A week ago when Jeff Goodman first reported the Celtics interest in Turner, I didn't think there was room on the roster for another wing. While we await specifics on Turner's salary, we know the...
On June 17th, the Royals took sole possession of first place in the American League Central, as they stood a half game up on Detroit in the division race. Since that date, the Royals have gone 10-17, while the Tigers have gone 18-10, and Kansas City now finds themselves in third place, seven games behind […]
Zach Mettenberger is no longer the starting quarterback at LSU, but that does not mean he is free from the psychotic nature with which some SEC fans worship their football teams. Over the weekend, Mettenberger was reportedly sucker punched by an Alabama fan at a bar in Nashville. Steve Ford, the owner of Losers Most […]
Latest Rumors
The Backyard

Today's Best Stuff

For Bloggers

Join the Yardbarker Network for more promotion, traffic, and money.

Company Info

Help

What is Yardbarker?

Yardbarker is the largest network of sports blogs and pro athlete blogs on the web. This site is the hub of the Yardbarker Network, where our editors and algorithms curate the best sports content from our network and beyond.