Found April 04, 2013 on Gamedayr:
Via Gamedayr:
For those of you who missed the College Baskeball Slam Dunk Contest, well, we don't feel bad for you, but we're worried about your health.
Everyone should be spoon-fed a dose of Doug Anderson highlight tapes on a nightly basis. The Detroit star was in Atlanta, the site of the 2013 Final Four, on Thursday night for the dunk contest festivities.
And he absolutely stole the show.
Anderson rocked a 360, through-the-legs slam on his very first attempt en route to winning the whole thing.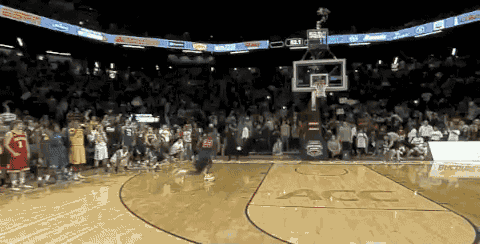 If you aren't impressed yet, here are all four of his dunks that won him the title belt. Simply put, Anderson has got some mad hops.
Top video via Big Lead Sports, GIF via Bleacher Report, Bottom video via ESPN YouTube
Read More:
http://gamedayr.com/gamedayr/video-of...
THE BACKYARD
RELATED ARTICLES
If you missed him on Sportscenter's Top 10 throughout the year, Detroit's Doug Anderson has some harsh feelings towards basketball rims. They stole his lunch money. They picked on him through his awkward years. They would yell "Kool-Aid!" when his momma walked by wearing red. And now he takes out his anger on each and every rim he comes across. Poor, poor rims. Four tremendous...
If you don't like the NBA Slam Dunk contest, you probably appreciated the college slam dunk contest where Detroit-Mercy Titan's Doug Anderson put on a show. It would be difficult to argue against him as being better than everyone else in the NBA with what he calls 'in game dunks.' Check out his final dunk that gave him the title: Unreal. You can checkout the rest of his dunks...
There are some people who can dunk, and then there are dunkers. Doug Anderson is a real man who came to the 2013 State Farm College Slam Dunk Contest with some simple intentions. I'm gonna dunk this basketball, real real hard. I'm gonna jump real real high. I'm going to do dunks that I could do [...]The post Detroit's Doug Anderson Put One Of The Better Slam Dunk Performances...
Doug Anderson of Detroit Mercy introduced himself to the world Thursday night during the College Dunk Contest in Atlanta. Anderson scored perfect scores on each of his attempts and capped it all off with this impressive 360-degree, between the legs dunk that brought home the crown.The post Doug Anderson went with a 360-degree, between the legs dunk to win the College Dunk Contest...
Detroit's Doug Anderson puts on a show during the College Slam Dunk competition en route to a runaway win. Shaming the NBA All-Star weekend single-handedly. **Follow us on Twitter or Facebook.... Full story at Bob's Blitz ~ http://www.bobsblitz.com
University of Detroit guard Doug Anderson wowed the crowd (and now the World Wide Web) with the insane dunk in the video below to win the College Slam Dunk Competition, one of the events in Atlanta leading up to this weekend's Final Four. After watching this what the NBA needs to do is clear. Take the million that Magic has offered and whatever anyone else want to throw in...
University of Detroit Mercy's Doug Anderson, Mott CC alum, knows how to dunk a basketball. That's to put it as boringly as possible. Because his dunks were not boring.  Here's his 4th dunk of the college slam dunk competition, which won him the competition quite easily:  For a look at his other three dunks, all perfect scores, head over to It's Always...
Wow. Just wow. Sorry LeBron but you have nothing on University of Detroit's Doug Anderson.
University of Detroit Mercy high-riser Doug Anderson wrecked the competition with four dunks on his way to winning the College Slam Dunk contest.  He received perfect 40′s straight through the competition and  - most impressively – only needed one try for each of his dunks. ESPN's Jimmy Dykes called him a "1-seed" going up against all "16-seeds" in comparison to his...
Doug Anderson played for the University of Detroit this season. You probably didn't know him before, but I bet you know him now.  Has this dunk ever been done before? Anderson has a reputation with hard-core college basketball fans, as one of the best dunkers in college and he surely didn't disappoint with this dunk. FYI, Dick Vitale use to be the head coach at the University of Detroit.
University of Detroit's Doug Anderson pulled off an amazing dunk at the college dunk contest this year:   [youtube]u6SUgFfiAA[/youtube]   Big up: Gamedayr
You know how LeBron James is always playing that worn out routine of "Maybe I should be in the Slam Dunk Contest this year…" and us basketball fans are like, "Please, oh, please LeBron, would ya do that, King? Would ya?" and he's like, "Wellllllllllllll maybe if someone paid me a million dollars…" and then you and I pull out our pockets and fight over who gets to...
RUMORS & GOSSIP
Brittney Griner's career as a Baylor Bear will go down as one of the greatest in the history of college sports. She dominated women's college basketball in a way that was previously unseen.Now, Griner has moved on to the WNBA with the Phoenix Mercury, but she hasn't forgotten about her time in college. In her new memoir entitled In My Skin, Griner reveals how she didn...
If the Los Angeles Lakers's team photo wasn't enough to convince you of Kobe Bryant's feelings towards the 2013-14 NBA season, news of his early vacation surely will. The Lakers tip off against the San Antonio Spurs Wednesday night for the final game of the regular season, the outcome of which is inconsequential, as their final record will officially become the worst record...
The New York Times published an article on Wednesday that blasts the lack of any real investigation done by Florida State and the Tallahassee Police Department into the rape allegations leveled at Seminoles quarterback Jameis Winston. The article states that "there was virtually no investigation at all, either by the police or the university." State Attorney Willie Meggs is quoted...
Over the years, Spurs coach Gregg Popovich has been equally as known for his in-game and post-game demeanor as his is for his coaching prowess. Craig Sager can attest. On Wednesday night, the Spurs hosted the Lakers in a meaningless […]
DeSean Jackson is a rich man after getting $16 million guaranteed from the Redskins, so I'm sure he'll take the sting of an arbitrators ruling in stride. Rand Getlin of Yahoo Sports is reporting that an NFLPA arbitrator ruled in favor of Jackson's former agent, Drew Rosenhaus, in a lawsuit brought against the wide receiver. Rosenhaus filed a grievance against the Jaccpot records...
So Tracy McGrady's baseball career is still a thing, as the former NBA All-Star pitched one inning in his debut with the Sugar Land Skeeters in an exhibition game Wednesday against Alvin Community College. In T-Mac's lone inning of work he threw 15 pitches (9 strikes, 6 balls), giving up one run on three hits. @blksportsonline Tmac got his first start tonight. Gave up 1 run on...
Nick Bhardwaj, the CEO and co-founder of Beyond Games, a gaming studio in California, won a creative fundraiser by Arkansas State University to be the team's head coach for their Spring Game. Bhardwaj, who has no affiliation to ASU, won the Red Wolves' eBay auctioned "Head Coach Experience" over 15 other potential coaches with a bid of $11,700. The auction, which was...
Granted it's only two days in, but former NFL receiver Chad Johnson has been impressing the Montreal Alouettes during the team's mini-camp in Vero Beach, Florida. Montreal (CFL) brass has been quite impressed with @ochocinco in the first 2 days of their minicamp. He's back on the field w/them Thur… — Jason La Canfora (@JasonLaCanfora) April 17, 2014 "He seems really...
Stop if you've heard this before: Tennessee is looking for a high-profile coach. Since 2008, the Volunteers have needed to hire seven football...
The NHL playoffs can bring players that are on the fringe of stardom right to center stage. Here are some names to watch up for as the league prepares to drop the puck on its season season. Ryan Johansen, Columbus The leading scorer for the Blue Jackets has had a breakout season and he could really make a name for himself in the playoffs.  Going up against the Penguins won't...
Latest Rumors
The Backyard

Today's Best Stuff

For Bloggers

Join the Yardbarker Network for more promotion, traffic, and money.

Company Info

Help

What is Yardbarker?

Yardbarker is the largest network of sports blogs and pro athlete blogs on the web. This site is the hub of the Yardbarker Network, where our editors and algorithms curate the best sports content from our network and beyond.