Found April 04, 2013 on Gamedayr:
Via Gamedayr:
For those of you who missed the College Baskeball Slam Dunk Contest, well, we don't feel bad for you, but we're worried about your health.
Everyone should be spoon-fed a dose of Doug Anderson highlight tapes on a nightly basis. The Detroit star was in Atlanta, the site of the 2013 Final Four, on Thursday night for the dunk contest festivities.
And he absolutely stole the show.
Anderson rocked a 360, through-the-legs slam on his very first attempt en route to winning the whole thing.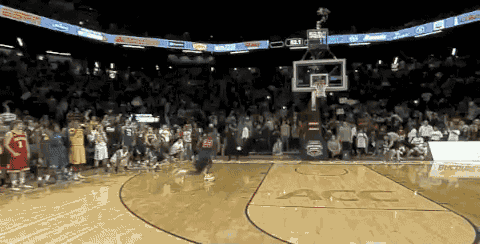 If you aren't impressed yet, here are all four of his dunks that won him the title belt. Simply put, Anderson has got some mad hops.
Top video via Big Lead Sports, GIF via Bleacher Report, Bottom video via ESPN YouTube
Original Story:
http://gamedayr.com/gamedayr/video-of...
THE BACKYARD
RELATED ARTICLES
If you missed him on Sportscenter's Top 10 throughout the year, Detroit's Doug Anderson has some harsh feelings towards basketball rims. They stole his lunch money. They picked on him through his awkward years. They would yell "Kool-Aid!" when his momma walked by wearing red. And now he takes out his anger on each and every rim he comes across. Poor, poor rims. Four tremendous...
If you don't like the NBA Slam Dunk contest, you probably appreciated the college slam dunk contest where Detroit-Mercy Titan's Doug Anderson put on a show. It would be difficult to argue against him as being better than everyone else in the NBA with what he calls 'in game dunks.' Check out his final dunk that gave him the title: Unreal. You can checkout the rest of his dunks...
There are some people who can dunk, and then there are dunkers. Doug Anderson is a real man who came to the 2013 State Farm College Slam Dunk Contest with some simple intentions. I'm gonna dunk this basketball, real real hard. I'm gonna jump real real high. I'm going to do dunks that I could do [...]The post Detroit's Doug Anderson Put One Of The Better Slam Dunk Performances...
Doug Anderson of Detroit Mercy introduced himself to the world Thursday night during the College Dunk Contest in Atlanta. Anderson scored perfect scores on each of his attempts and capped it all off with this impressive 360-degree, between the legs dunk that brought home the crown.The post Doug Anderson went with a 360-degree, between the legs dunk to win the College Dunk Contest...
Detroit's Doug Anderson puts on a show during the College Slam Dunk competition en route to a runaway win. Shaming the NBA All-Star weekend single-handedly. **Follow us on Twitter or Facebook.... Full story at Bob's Blitz ~ http://www.bobsblitz.com
University of Detroit guard Doug Anderson wowed the crowd (and now the World Wide Web) with the insane dunk in the video below to win the College Slam Dunk Competition, one of the events in Atlanta leading up to this weekend's Final Four. After watching this what the NBA needs to do is clear. Take the million that Magic has offered and whatever anyone else want to throw in...
University of Detroit Mercy's Doug Anderson, Mott CC alum, knows how to dunk a basketball. That's to put it as boringly as possible. Because his dunks were not boring.  Here's his 4th dunk of the college slam dunk competition, which won him the competition quite easily:  For a look at his other three dunks, all perfect scores, head over to It's Always...
Wow. Just wow. Sorry LeBron but you have nothing on University of Detroit's Doug Anderson.
University of Detroit Mercy high-riser Doug Anderson wrecked the competition with four dunks on his way to winning the College Slam Dunk contest.  He received perfect 40′s straight through the competition and  - most impressively – only needed one try for each of his dunks. ESPN's Jimmy Dykes called him a "1-seed" going up against all "16-seeds" in comparison to his...
Doug Anderson played for the University of Detroit this season. You probably didn't know him before, but I bet you know him now.  Has this dunk ever been done before? Anderson has a reputation with hard-core college basketball fans, as one of the best dunkers in college and he surely didn't disappoint with this dunk. FYI, Dick Vitale use to be the head coach at the University of Detroit.
University of Detroit's Doug Anderson pulled off an amazing dunk at the college dunk contest this year:   [youtube]u6SUgFfiAA[/youtube]   Big up: Gamedayr
You know how LeBron James is always playing that worn out routine of "Maybe I should be in the Slam Dunk Contest this year…" and us basketball fans are like, "Please, oh, please LeBron, would ya do that, King? Would ya?" and he's like, "Wellllllllllllll maybe if someone paid me a million dollars…" and then you and I pull out our pockets and fight over who gets to...
RUMORS & GOSSIP
Well, this isn't good. Following the Broncos' 27-20 loss to the Chargers, there were several unhappy fans leaving the stadium. A scene that reportedly turned chaotic, and there are reports of several "serious" stabbings according to the Denver Post.   BREAKING: Denver police say there is a possible stabbing at Mile High stadium. #Broncos game letting out. Multiple fights...
Kobe Bryant has played all of two games this season, and he hasn't looked particularly impressive in either. Yet it shouldn't surprise anybody that the Lakers guard leads all Western Conference backcourt players in early All-Star voting results released Thursday. Bryant's 501,215 votes are more than 100,000 more than Chris Paul, who is second among West guards and one of the...
For some bizarre reason, San Francisco 49ers head coach Jim Harbaugh's name is being bandied about as a possible replacement for Mack Brown as the head football coach of the Texas Longhorns. The speculation about the Longhorns job already was odd given that it isn't vacant and Brown appears to have no inclination of giving […]The post Jim Harbaugh to reporters asking about...
Most of the big offseason baseball transactions took place last week, rendering the 2013 winter meetings in Lake Buena Vista, Fla., pretty disappointing. But a scrap between a couple of agents on Wednesday sure livened things up. Yahoo! Sports' Jeff Passan reports that two agents fought and hurled confrontational words at each other in the […]
Kevin Sumlin has signed a contract extension with Texas A&M. Here are the details on his new deal with the Aggies.
On Thursday, United States soccer coach Jurgen Klinsmann agreed to a four-year contract extension that will keep him with the U.S. team through the 2018 World Cup, while also making him the team's technical director. The deal was a no-brainer for the U.S. Soccer Federation after Klinsmann turned around a lackluster team into arguably the deepest, most talented and most entertaining...
In a difficult football season the most popular player is always the backup quarterback.I guess that means Kirk Cousins is the most popular guy in the eyes of Washington Redskins fans. With Robert Griffin III struggling with coming back from a knee injury that he suffered last season, the Redskins have plummeted to last place in the NFC East with a 3-10 record.Coach Mike Shanahan...
Miles away from his hometown of Washington, D.C., Kevin Durant has to put in some effort to get a home-cooked meal. So he's doing what any person rich enough would do in such a situation: He's opening his own restaurant. Kd's Southern Cuisine opened in the lower Bricktown section of Oklahoma City, the Miami Herald reports, featuring southern-style food like fried catfish, barbecued...
The Chicago Bears have officially named Jay Cutler their starting quarterback for the team's Week 15 matchup against the Cleveland Browns. That decision will end Josh McCown's run as the team's signal-caller. McCown had averaged 352 yards and threw eight touchdowns against just one interceptions over his past three starts, but he'll head back to the bench as Cutler has been...
New England Patriots Coach Bill Belichick and defensive coordinator Matt Patricia have done their best at keeping the team's defense together, but it's becoming increasingly hard at the rate the injuries are happening. Ranked 24th in total defense and having allowed 4,840 yards, the Patriots defense have come up with key stops, however, how long can they hold together and...
Latest Rumors
The Backyard
Going Viral

Today's Best Stuff

For Bloggers

Join the Yardbarker Network for more promotion, traffic, and money.

Company Info

Help

What is Yardbarker?

Yardbarker is the largest network of sports blogs and pro athlete blogs on the web. This site is the hub of the Yardbarker Network, where our editors and algorithms curate the best sports content from our network and beyond.