Found April 04, 2013 on Gamedayr:
Via Gamedayr:
For those of you who missed the College Baskeball Slam Dunk Contest, well, we don't feel bad for you, but we're worried about your health.
Everyone should be spoon-fed a dose of Doug Anderson highlight tapes on a nightly basis. The Detroit star was in Atlanta, the site of the 2013 Final Four, on Thursday night for the dunk contest festivities.
And he absolutely stole the show.
Anderson rocked a 360, through-the-legs slam on his very first attempt en route to winning the whole thing.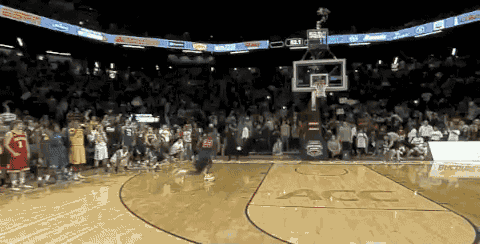 If you aren't impressed yet, here are all four of his dunks that won him the title belt. Simply put, Anderson has got some mad hops.
Top video via Big Lead Sports, GIF via Bleacher Report, Bottom video via ESPN YouTube
Read More:
http://gamedayr.com/gamedayr/video-of...
THE BACKYARD
RELATED ARTICLES
If you missed him on Sportscenter's Top 10 throughout the year, Detroit's Doug Anderson has some harsh feelings towards basketball rims. They stole his lunch money. They picked on him through his awkward years. They would yell "Kool-Aid!" when his momma walked by wearing red. And now he takes out his anger on each and every rim he comes across. Poor, poor rims. Four tremendous...
If you don't like the NBA Slam Dunk contest, you probably appreciated the college slam dunk contest where Detroit-Mercy Titan's Doug Anderson put on a show. It would be difficult to argue against him as being better than everyone else in the NBA with what he calls 'in game dunks.' Check out his final dunk that gave him the title: Unreal. You can checkout the rest of his dunks...
There are some people who can dunk, and then there are dunkers. Doug Anderson is a real man who came to the 2013 State Farm College Slam Dunk Contest with some simple intentions. I'm gonna dunk this basketball, real real hard. I'm gonna jump real real high. I'm going to do dunks that I could do [...]The post Detroit's Doug Anderson Put One Of The Better Slam Dunk Performances...
Doug Anderson of Detroit Mercy introduced himself to the world Thursday night during the College Dunk Contest in Atlanta. Anderson scored perfect scores on each of his attempts and capped it all off with this impressive 360-degree, between the legs dunk that brought home the crown.The post Doug Anderson went with a 360-degree, between the legs dunk to win the College Dunk Contest...
Detroit's Doug Anderson puts on a show during the College Slam Dunk competition en route to a runaway win. Shaming the NBA All-Star weekend single-handedly. **Follow us on Twitter or Facebook.... Full story at Bob's Blitz ~ http://www.bobsblitz.com
University of Detroit guard Doug Anderson wowed the crowd (and now the World Wide Web) with the insane dunk in the video below to win the College Slam Dunk Competition, one of the events in Atlanta leading up to this weekend's Final Four. After watching this what the NBA needs to do is clear. Take the million that Magic has offered and whatever anyone else want to throw in...
University of Detroit Mercy's Doug Anderson, Mott CC alum, knows how to dunk a basketball. That's to put it as boringly as possible. Because his dunks were not boring.  Here's his 4th dunk of the college slam dunk competition, which won him the competition quite easily:  For a look at his other three dunks, all perfect scores, head over to It's Always...
Wow. Just wow. Sorry LeBron but you have nothing on University of Detroit's Doug Anderson.
University of Detroit Mercy high-riser Doug Anderson wrecked the competition with four dunks on his way to winning the College Slam Dunk contest.  He received perfect 40′s straight through the competition and  - most impressively – only needed one try for each of his dunks. ESPN's Jimmy Dykes called him a "1-seed" going up against all "16-seeds" in comparison to his...
Doug Anderson played for the University of Detroit this season. You probably didn't know him before, but I bet you know him now.  Has this dunk ever been done before? Anderson has a reputation with hard-core college basketball fans, as one of the best dunkers in college and he surely didn't disappoint with this dunk. FYI, Dick Vitale use to be the head coach at the University of Detroit.
University of Detroit's Doug Anderson pulled off an amazing dunk at the college dunk contest this year:   [youtube]u6SUgFfiAA[/youtube]   Big up: Gamedayr
You know how LeBron James is always playing that worn out routine of "Maybe I should be in the Slam Dunk Contest this year…" and us basketball fans are like, "Please, oh, please LeBron, would ya do that, King? Would ya?" and he's like, "Wellllllllllllll maybe if someone paid me a million dollars…" and then you and I pull out our pockets and fight over who gets to...
Titans News

Delivered to your inbox

You'll also receive Yardbarker's daily Top 10, featuring the best sports stories from around the web. Customize your newsletter to get articles on your favorite sports and teams. And the best part? It's free!
RUMORS & GOSSIP
Ohio State Marching Band director Jonathan Waters has been fired for the Buckeyes' "sexual" culture.
Chuck Knoblauch was arrested Wednesday night…accused of assaulting his ex-wife. The former Major Leaguer was charged with misdemeanor assault on a family member after allegedly grabbing his ex-wife Cheri by the arm, smashing her head into a wall and throwing a humidifier at her before she ran from the room.  According to police, Cheri had a large bruise on her arm, a large...
You may have heard once or twice in recent weeks, months and years the the Big Ten is expanding, adding Rutgers and Maryland to their now 14-team conference. That means that the conference will slowly integrate them in to the league's media offerings, which includes Big Ten Network. They announced hirings specific to both schools on Wednesday. The biggest news is that Eric LeGrand...
Baltimore Ravens QB Joe Flacco has always been known to have a laid back demeanor. Now with Flacco's big contract and Super Bowl ring, some people question his love for the game. Terrell Suggs, on the other hand,  is more outspoken than his teammate, and he wants to see a change in Flacco. As the Ravens report for training camp, Suggs revealed that he wants Flacco to be more aggressive...
TweetLast season Washington Redskins QB Robert Griffin III endured a lot of adversity, both on the field and off the field. RGIII struggled to regain his form after suffering a torn ACL late in his rookie season, then had to deal with speculation whether or not former head coach Mike Shanahan and offensive coordinator Kyle — Mike's son — wanted Griffin as his clear starter...
Geno Smith will have the honor of guiding the New York Jets to last place in the AFC East this season as long as he doesn't screw things up. Though the Jets signed Mike Vick in the offseason to compete for the starting quarterback job, the New York Daily News' Manish Mehta wrote Thursday that […]
It should come as no surprise that the Houston Rockets struck out big time (so far) in this year's NBA Free Agency. The Rockets not only failed to land targeted players such as Chris Bosh and Carmelo Anthony, but also managed to let budding prospect, Chandler Parsons, sign and offer sheet with the Dallas Mavericks, without matching the three-year, $46 million offer. Sure, the Rockets...
A few years ago Ryan Howard was one of the most feared hitters in baseball, and now he's on the verge of being out of the game altogether. On Wednesday a report surfaced claiming that the Philadelphia Phillies were considering paying the rest of Howard's contract and releasing him after the season. Howard is owed $25 million this season and a total of $60 million over the next...
Cleveland Browns wide receiver Josh Gordon will appeal his one-year suspension in a meeting with NFL officials on Aug. 1, reports ESPN's Adam Schefter. Browns WR Josh Gordon is scheduled to meet in NYC with NFL officials regarding 1-year suspension he faces on Fri, Aug. 1, per league source. — Adam Schefter (@AdamSchefter) July 24, 2014 Gordon is facing a yearlong ban following...
The NFL has finally come out with a decision regarding Baltimore Ravens running back Ray Rice. According to ESPN's Adam Schefter, Rice will be suspended two games by the NFL for his off-season arrest involving aggravated assault against his now wife. NFL is suspending Ravens RB Ray Rice for the first two games this season, […]
Latest Rumors
The Backyard

Today's Best Stuff

For Bloggers

Join the Yardbarker Network for more promotion, traffic, and money.

Company Info

Help

What is Yardbarker?

Yardbarker is the largest network of sports blogs and pro athlete blogs on the web. This site is the hub of the Yardbarker Network, where our editors and algorithms curate the best sports content from our network and beyond.