Found April 04, 2013 on Gamedayr:
Via Gamedayr:
For those of you who missed the College Baskeball Slam Dunk Contest, well, we don't feel bad for you, but we're worried about your health.
Everyone should be spoon-fed a dose of Doug Anderson highlight tapes on a nightly basis. The Detroit star was in Atlanta, the site of the 2013 Final Four, on Thursday night for the dunk contest festivities.
And he absolutely stole the show.
Anderson rocked a 360, through-the-legs slam on his very first attempt en route to winning the whole thing.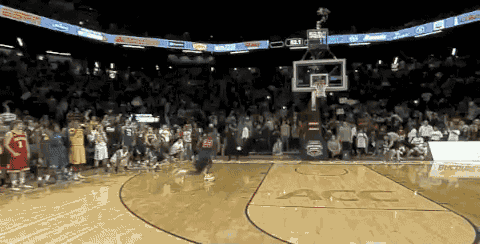 If you aren't impressed yet, here are all four of his dunks that won him the title belt. Simply put, Anderson has got some mad hops.
Top video via Big Lead Sports, GIF via Bleacher Report, Bottom video via ESPN YouTube
Original Story:
http://gamedayr.com/gamedayr/video-of...
THE BACKYARD
RELATED ARTICLES
If you missed him on Sportscenter's Top 10 throughout the year, Detroit's Doug Anderson has some harsh feelings towards basketball rims. They stole his lunch money. They picked on him through his awkward years. They would yell "Kool-Aid!" when his momma walked by wearing red. And now he takes out his anger on each and every rim he comes across. Poor, poor rims. Four tremendous...
If you don't like the NBA Slam Dunk contest, you probably appreciated the college slam dunk contest where Detroit-Mercy Titan's Doug Anderson put on a show. It would be difficult to argue against him as being better than everyone else in the NBA with what he calls 'in game dunks.' Check out his final dunk that gave him the title: Unreal. You can checkout the rest of his dunks...
There are some people who can dunk, and then there are dunkers. Doug Anderson is a real man who came to the 2013 State Farm College Slam Dunk Contest with some simple intentions. I'm gonna dunk this basketball, real real hard. I'm gonna jump real real high. I'm going to do dunks that I could do [...]The post Detroit's Doug Anderson Put One Of The Better Slam Dunk Performances...
Doug Anderson of Detroit Mercy introduced himself to the world Thursday night during the College Dunk Contest in Atlanta. Anderson scored perfect scores on each of his attempts and capped it all off with this impressive 360-degree, between the legs dunk that brought home the crown.The post Doug Anderson went with a 360-degree, between the legs dunk to win the College Dunk Contest...
Detroit's Doug Anderson puts on a show during the College Slam Dunk competition en route to a runaway win. Shaming the NBA All-Star weekend single-handedly. **Follow us on Twitter or Facebook.... Full story at Bob's Blitz ~ http://www.bobsblitz.com
University of Detroit guard Doug Anderson wowed the crowd (and now the World Wide Web) with the insane dunk in the video below to win the College Slam Dunk Competition, one of the events in Atlanta leading up to this weekend's Final Four. After watching this what the NBA needs to do is clear. Take the million that Magic has offered and whatever anyone else want to throw in...
University of Detroit Mercy's Doug Anderson, Mott CC alum, knows how to dunk a basketball. That's to put it as boringly as possible. Because his dunks were not boring.  Here's his 4th dunk of the college slam dunk competition, which won him the competition quite easily:  For a look at his other three dunks, all perfect scores, head over to It's Always...
Wow. Just wow. Sorry LeBron but you have nothing on University of Detroit's Doug Anderson.
University of Detroit Mercy high-riser Doug Anderson wrecked the competition with four dunks on his way to winning the College Slam Dunk contest.  He received perfect 40′s straight through the competition and  - most impressively – only needed one try for each of his dunks. ESPN's Jimmy Dykes called him a "1-seed" going up against all "16-seeds" in comparison to his...
Doug Anderson played for the University of Detroit this season. You probably didn't know him before, but I bet you know him now.  Has this dunk ever been done before? Anderson has a reputation with hard-core college basketball fans, as one of the best dunkers in college and he surely didn't disappoint with this dunk. FYI, Dick Vitale use to be the head coach at the University of Detroit.
University of Detroit's Doug Anderson pulled off an amazing dunk at the college dunk contest this year:   [youtube]u6SUgFfiAA[/youtube]   Big up: Gamedayr
You know how LeBron James is always playing that worn out routine of "Maybe I should be in the Slam Dunk Contest this year…" and us basketball fans are like, "Please, oh, please LeBron, would ya do that, King? Would ya?" and he's like, "Wellllllllllllll maybe if someone paid me a million dollars…" and then you and I pull out our pockets and fight over who gets to...
RUMORS & GOSSIP
Recently, the Denver Nuggets haven't exactly been off to good offensive starts in the first quarter of their last five games and Nuggets head coach Brian Shaw figured that the team's pre-game snacking habits were to blame. Thanks to Tom Schad of the Denver Post, we learned that Shaw has decided to remove pizza and nachos from the Nuggets locker room before games: Shaw has searched...
A.B. The throat slash gesture has been banned in the NFL since 1999. The rule states nothing about the discrepancy between throat slashes on the field vs. the sidelines. A throat slash is unacceptable to the NFL, period. Note 4: Violations of (c) will be penalized if any of the acts occur anywhere on the field. These acts include but are not limited to: throat slash; machine-gun...
Someone in the Phoenix Suns social media department must know someone in the Portland Trail Blazers' social media department, or they both just have a great sense of humor. Check out their latest back and forth which happened on Twitter Tuesday night.   [Twitter] More Articles You May Enjoy… Sports Fans Getting Their Minds Blown Ranking the Best Sports Movie Endings Ever...
#yankees turned down a brandon phillips for brett gardner offer. #reds— Jon Heyman (@JonHeymanCBS) December 12, 2013According to Jon Heyman of CBS Sports, the New York Yankees were reportedly offered second basemen Brandon Phillips from the Reds in exchange for outfielder Brett Gardner, which the Yankees kindly declined, most likely due in part to the remaining $50 million left...
The guy already had Metallica play at his retirement ceremony, but if you ask Mariano Rivera, having a street named after you is probably one of the coolest things you could ever. Tuesday, according to Dan Salogub, the cat who has been behind the Rivera Avenue movement from the start, the tribute was very close to getting the "okay" from the New York City Council and...
Late Wednesday night news broke that Notre Dame defensive coordinator Bob Diaco had been hired as the new head football coach at UConn. The 40-year-old Diaco and Connecticut reportedly reached a five-year contract that will start at $1.5 million per year. Diaco has been at Notre Dame since 2010, arriving with head coach Brian Kelly from Cincinnati. He won the 2012 Broyles Award,...
The New York Mets have reached an agreement with Bartolo Colon on a two-year deal worth $20 million  according to Ken Rosenthal of Fox Sports. Colon was drawing interest from several teams including the Minnesota Twins, Texas Rangers, and Baltimore Orioles. The Cleveland Indians also had interest in reuniting with the veteran right-hander but were unwilling to go beyond a one-year...
In a recent interview Dwight Howard said that he is advising his Rockets teammates to stay away from candy and other sugary treats. You may think he's just saying it because it's common sense for a professional athlete, but he's speaking from experience. Reportedly while with the Lakers, Howard consumed the equivalent of 24 Hershey bars a day. H/T: The Bleacher Report It turned...
OWINGS MILLS, Md. (AP) -- Ravens safety Matt Elam has plenty of words to describe wide receiver Calvin Johnson, the main object of focus for Baltimore's defensive backfield Monday night in Detroit. Those words include "big, fast, athletic, unstoppable, freak." Curiously, Elam went in another direction when asked how best to cover the 28-year-old Johnson, who's...
MLB has now decided to eliminate home-plate collisions at home plate, meaning, players must slide going into home.— Bob Nightengale (@BNightengale) December 11, 2013In a motion approved Wednesday afternoon, Major League Baseball has outlawed collisions at home plate in a measure to ensure player safety. The new ban will take effect in 2014.Runners will now be required to slide...
Latest Rumors
The Backyard
Going Viral

Today's Best Stuff

For Bloggers

Join the Yardbarker Network for more promotion, traffic, and money.

Company Info

Help

What is Yardbarker?

Yardbarker is the largest network of sports blogs and pro athlete blogs on the web. This site is the hub of the Yardbarker Network, where our editors and algorithms curate the best sports content from our network and beyond.