Found April 04, 2013 on Gamedayr:
Via Gamedayr:
For those of you who missed the College Baskeball Slam Dunk Contest, well, we don't feel bad for you, but we're worried about your health.
Everyone should be spoon-fed a dose of Doug Anderson highlight tapes on a nightly basis. The Detroit star was in Atlanta, the site of the 2013 Final Four, on Thursday night for the dunk contest festivities.
And he absolutely stole the show.
Anderson rocked a 360, through-the-legs slam on his very first attempt en route to winning the whole thing.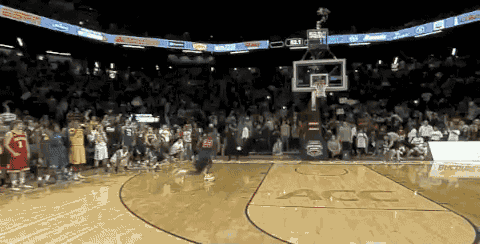 If you aren't impressed yet, here are all four of his dunks that won him the title belt. Simply put, Anderson has got some mad hops.
Top video via Big Lead Sports, GIF via Bleacher Report, Bottom video via ESPN YouTube
Original Story:
http://gamedayr.com/gamedayr/video-of...
THE BACKYARD
RELATED ARTICLES
If you missed him on Sportscenter's Top 10 throughout the year, Detroit's Doug Anderson has some harsh feelings towards basketball rims. They stole his lunch money. They picked on him through his awkward years. They would yell "Kool-Aid!" when his momma walked by wearing red. And now he takes out his anger on each and every rim he comes across. Poor, poor rims. Four tremendous...
If you don't like the NBA Slam Dunk contest, you probably appreciated the college slam dunk contest where Detroit-Mercy Titan's Doug Anderson put on a show. It would be difficult to argue against him as being better than everyone else in the NBA with what he calls 'in game dunks.' Check out his final dunk that gave him the title: Unreal. You can checkout the rest of his dunks...
There are some people who can dunk, and then there are dunkers. Doug Anderson is a real man who came to the 2013 State Farm College Slam Dunk Contest with some simple intentions. I'm gonna dunk this basketball, real real hard. I'm gonna jump real real high. I'm going to do dunks that I could do [...]The post Detroit's Doug Anderson Put One Of The Better Slam Dunk Performances...
Doug Anderson of Detroit Mercy introduced himself to the world Thursday night during the College Dunk Contest in Atlanta. Anderson scored perfect scores on each of his attempts and capped it all off with this impressive 360-degree, between the legs dunk that brought home the crown.The post Doug Anderson went with a 360-degree, between the legs dunk to win the College Dunk Contest...
Detroit's Doug Anderson puts on a show during the College Slam Dunk competition en route to a runaway win. Shaming the NBA All-Star weekend single-handedly. **Follow us on Twitter or Facebook.... Full story at Bob's Blitz ~ http://www.bobsblitz.com
University of Detroit guard Doug Anderson wowed the crowd (and now the World Wide Web) with the insane dunk in the video below to win the College Slam Dunk Competition, one of the events in Atlanta leading up to this weekend's Final Four. After watching this what the NBA needs to do is clear. Take the million that Magic has offered and whatever anyone else want to throw in...
University of Detroit Mercy's Doug Anderson, Mott CC alum, knows how to dunk a basketball. That's to put it as boringly as possible. Because his dunks were not boring.  Here's his 4th dunk of the college slam dunk competition, which won him the competition quite easily:  For a look at his other three dunks, all perfect scores, head over to It's Always...
Wow. Just wow. Sorry LeBron but you have nothing on University of Detroit's Doug Anderson.
University of Detroit Mercy high-riser Doug Anderson wrecked the competition with four dunks on his way to winning the College Slam Dunk contest.  He received perfect 40′s straight through the competition and  - most impressively – only needed one try for each of his dunks. ESPN's Jimmy Dykes called him a "1-seed" going up against all "16-seeds" in comparison to his...
Doug Anderson played for the University of Detroit this season. You probably didn't know him before, but I bet you know him now.  Has this dunk ever been done before? Anderson has a reputation with hard-core college basketball fans, as one of the best dunkers in college and he surely didn't disappoint with this dunk. FYI, Dick Vitale use to be the head coach at the University of Detroit.
University of Detroit's Doug Anderson pulled off an amazing dunk at the college dunk contest this year:   [youtube]u6SUgFfiAA[/youtube]   Big up: Gamedayr
You know how LeBron James is always playing that worn out routine of "Maybe I should be in the Slam Dunk Contest this year…" and us basketball fans are like, "Please, oh, please LeBron, would ya do that, King? Would ya?" and he's like, "Wellllllllllllll maybe if someone paid me a million dollars…" and then you and I pull out our pockets and fight over who gets to...
RUMORS & GOSSIP
Here's some words of advice that can apply to anyone: if you're going to get the day off of work, it's probably not a good idea to post a photo on social media of you appearing to hold a blunt in some sort of Bob Marley tribute. Someone needs to pass that advice along to […]
Perhaps the free Dr. Pepper or the buzz obtained from his epic kicking performance is to blame, but Justin Tucker is feeling extremely good and confident about himself at the moment.Just days removed from kicking one of the longest field goals of the season, a clutch 61 yard bomb that lifted the Ravens over the host Lions on Monday, Tucker now claims that his 6-for-6 showing was...
The Texas Rangers were the favorites to land Shin-Soo Choo, but were thought to be slowing their pursuit of him in order to have a chance to land Japanese pitcher Masahiro Tanaka. With doubts about Tanaka coming to MLB, the Rangers picked up their pursuit of Choo and have agreed to a deal with him.The Rangers agreed to a seven-year, $130 million deal with free agent outfielder Shin...
Darnell Dockett the entrepreneur fired up Twitter on Friday night. Folks were not happy with his iOpener joke or that he steals wifi.
According to Stefan Bondy of the New York Daily News, Nets center Brook Lopez will miss the remainder season with a broken foot. Confirming report that Brook Lopez broke his foot and is out for the season. — Stefan Bondy (@NYDNInterNets) December 21, 2013   The post Brook Lopez Out For Season With Broken Foot appeared first on Beyond The Buzzer.
I lost my fantasy playoff game by four damn points. That's four bullets for each of you ******* @Bigplaycj @Staff_9 — Joséf Ronaldo (@RoiJosef) December 17, 2013 In yet another irresponsible demonstration of the disturbing trend of Twitter users making threats against a pro athlete, a guy who goes by @RoiJosef not only posted the […]The post Fantasy football owner threatens...
No A.I. say it isn't so. Allen Iverson is one of the most beloved sports figures in Philadelphia history, but he may be in a little trouble with Eagles fans over a tweet he sent out Thursday. Iverson, who was an high school All American in football, and truly loves the sport, sent out a tweet imploring his beloved Dallas Cowboys to show up on Sunday, because it's a big game....
It's been a less than stellar season for Ed Reed.After 11 glorious years with the Baltimore Ravens, which was capped by a Super Bowl ring in January, the 35-year-old mulled retirement before deciding to come back with the Houston Texans. Last month, he was released and immediately picked up by the New York Jets.Now, Reed is trying to salvage what is left of an otherwise disappointing...
If you missed Sunday Night Football last week, you missed the shot heard around the world.  Following a punt by Bengals' Kevin Huber, he was viciously blocked during the Steelers return and landed on Cincinnati's IR list.  Huber suffered a broken jaw and a cracked vertebrae on the play. It turns out Huber has quite the sense of humor and is keeping in good spirits while being...
In light of two epic stink bombs the New York Knicks have coughed up on Sunday matinee games this season — their two worst losses of the season — head coach Mike Woodson is instituting a curfew for all players the night before 12 pm games at Madison Square Garden. How will Woodson enforce the curfew? By forcing players to sleep in a Manhattan hotel the night before, of course...
Latest Rumors
The Backyard
Going Viral

Today's Best Stuff

For Bloggers

Join the Yardbarker Network for more promotion, traffic, and money.

Company Info

Help

What is Yardbarker?

Yardbarker is the largest network of sports blogs and pro athlete blogs on the web. This site is the hub of the Yardbarker Network, where our editors and algorithms curate the best sports content from our network and beyond.