Found February 13, 2013 on College Chalktalk:
You may recall that I picked Florida State's Michael Snaer to be this season's ACC Player of the Year. When I get it wrong, I get it wrong. But the bulk of the ACC media picked NC State's C.J. Leslie to win that award and that's not going to happen, either.  If post-season voting were to take place now, neither would make first-team All-ACC. Plumlee is averaging 18.2 points and 10.7 boards per game for the Blue Devils. (Credit: Duke Photography) Instead, the prohibitive favorite as the ACC enters its stretch run is Duke center Mason Plumlee.  This isn't a total shocker.  Plumlee was picked to be first-team All-ACC.  But Plumlee has put an enormous amount of sweat equity into his senior year and has emerged as a short-list candidate for national player of the year. Plumlee came to Duke as a superb run-jump athlete, with an unrefined skill-set.  As a freshman, he was a key reserve on Duke's 2010 NCAA champions and led the 2011 and 2012 Duke teams in rebounds and blocked shots. Plumlee could be unstoppable at times, 25 points and 12 rebounds as a sophomore against Marquette, 23 points and 12 rebounds against Maryland last season.  But he was just as likely to score in the low single-digits and couldn't make a foul shot to save his metaphorical life. Plumlee projected as a late first-round draft pick following last season but came back, but the Academic All-American—he's majoring in Psychology and Cultural Anthropology—came back both to improve on his draft status and to help wash away the taste of Duke's stunning loss to Lehigh that ended their season. The Duke coaches told Plumlee that he had only scratched his potential and he took that to heart.  At the beginning of fall practice, Mike Krzyzewski said unequivocally that Plumlee was one of the nation's best players. Plumlee made his coach look like a prophet from the get-go, scoring 18 points against Kentucky's much-hyped freshman Nerlens Noel and adding 53 points and 34 rebounds in three games, as Duke captured the Battle for Atlantis in the Bahamas. Plumlee hasn't looked back.  He's scored at least eight points in every game this season and has tallied 20 or more points seven times. What's changed?  Plumlee has discovered a few go-to moves and is making quicker and better decisions with the ball.  His efficiency is off the charts.  He's shooting 61 percent from the field. Plumlee also has improved his foul shooting from appalling to competent.  A 50.5 percent shooter coming into this season, Plumlee has shot 65.3 from the line this season, making 27-of-his-last 36. That new-found ability came in handy last Sunday at Boston College, a trap game for Duke, coming between NC State and North Carolina and aggravated by Nemo, which kept Duke from flying into Boston until the day of the game. Plumlee went to the line with Duke trailing 61-59 in the game's final minute.  He nailed them both, grabbed a defensive rebound, was fouled and made the second of two foul shots to provide the winning margin. "It's huge for Mason to step up to the line," Mike Krzyzewski said. "He's had some struggles from the line.  Now it's 61-59 and you have two free throws.  For that kid to hit two swishes at that time is just great.  Then, it's tied and he misses the first one.  For me, his hitting that second one is unbelievable, that he responded to that level of pressure.  I love that." Plumlee also has benefited from Duke's improved point-guard play.  Sophomore Quinn Cook is averaging six assists per game; Seth Curry led Duke last season, with 2.4 assists per game. Plumlee says this has enabled him to play through slow starts. "A lot of it is knowing that I'm still going to get opportunities.  In the past, when I started out slow, the guys might not throw me the ball the rest of the game.  I know that's not going to happen.  Quinn and Rasheed (Sulaimon) and those guys are still going to have confidence in me whether I start five-for-five or oh-for-five.  They'll keep feeding me." Cook says that the coaches made it clear that feeding Plumlee early and often was a high priority this season.  "A big emphasis has been going to Mase consistently.  When he gets the ball on the blocks, he looks to create, either for himself or us.  When we get him the ball, good things happen." Plumlee's responsibilities have increased with the ankle injury that has sidelined classmate Ryan Kelly since January 8.  Part of it is leadership of a suddenly younger team.  "My preparation is as good as it's been since I've been here," he says.  "I have to make sure the freshmen are doing what they need to, so a lot of my preparation is their preparation." An even bigger component is the absence of Kelly's perimeter skills.  He and Plumlee had a good thing going, Kelly's 3-point threat creating space for Plumlee inside.  With Kelly out, Plumlee is faced with constant double-teams. "I think I've gotten better at playing against that. The more experience you get, the more comfortable you become." Staying on the court has become imperative.  Plumlee is averaging 35 minutes per game and has fouled out only once, back in November.  Playing with four fouls, he stuffed Leslie to sew up Duke's win over NC State. Plumlee has learned to balance aggression with intelligence on the defensive end. (Credit: Duke Photography) "I still have to be aggressive but I have to be on the floor at the same time," Plumlee says.  "There can't be a major breakdown, when your guy just scores every time.  That has happened a couple of times. I have to be smarter." Krzyzewski says Plumlee is starting to impose his will on close games. "He's invested so much and thought about it so much that he won't let a time—we all have a time when it's not as right as others—a lot of us just go through that moment and accept the consequences, we're willing to lose.  But if you've invested all this in preparation and you're in it and you're reminded what you've done, you can turn it around during the event.  That's what he's been able to do. "All of his improvement is all on Mason.  We help him as a staff and the players try to get him the ball.  Mason's had a great year and he's prepared since last spring, mentally, emotionally and physically to have this year. He sat down and mapped out his goals, the price he would have to pay to do that that.  Working with someone who wants that is amazingly exciting and refreshing, especially at the collegiate level."   Related Posts:Duke guards take center stage in win over DavidsonPreseason ACC favorite N.C. State eager to prove doubters…Emerging Cook adds element to dangerous Duke attackSneak peek: Sumner's ACC predictions and…State of the ACC: Blue Devils point the way, others follow
Original Story:
http://collegechalktalk.com/?p=5854&u...
THE BACKYARD
BEST OF MAXIM
RELATED ARTICLES
The Duke Blue Devils mounted a second half comeback to beat rival North Carolina 73-68 in the first of two meetings between the schools. And though Duke, who is ranked #4 in the country and at home, was expected to beat an unranked UNC squad, Duke students still felt that the win warranted them storming the court. Unfortunately for them, Mike Krzyzewski had other ideas and stopped...
The Duke Blue Devils beat the the North Carolina Tar Heels by the score of 73-68 in a rivalry week matchup at Cameron Indoor Stadium in Durham on Wednesday night. While the outcome wasn't surprising given the state of the respective programs, anything can and often does happen when rivals square off on the hardwood. But on this night, the superior team came out on top and thanks...
Duke's Mason Plumlee said that Quinn Cook was the team's rock in the first half.
DURHAM, N.C. (AP) -- With its star big man on the bench with foul trouble, Duke went small to beat its top rival -- and one of its smallest players came up big. The run that propelled the second-ranked Blue Devils to a 73-68 victory over North Carolina on Wednesday night started when Mason Plumlee sat down and backup guard Tyler Thornton warmed up. "I think the hero for us...
Quinn Cook and Mason Plumlee scored 18 points each as Duke moved to 22-2 on the season with a five point victory over North Carolina on Wednesday night.
Miami and Duke further moved away from the rest of the ACC pack by continuing to get excellent performances from their best players, while Virginia made a move thanks to the terrific play of Joe Harris. North Carolina State creatively won at Clemson and Erick Green finally ran out of gas. So, with respect to Wake Forests Devin Thomas, North Carolinas James Michael McAdoo and Reggie...
North Carolina and Duke will go at it for the first time this season Wednesday night in Durham, NC. And while the Tar Heels aren't having a typical season, they are still talented enough to make things interesting against the second-ranked Blue Devils. UNC enters the game at 16-7 overall and 6-4 in the ACC while Duke is 21-2 and 8-2. But, UNC won last year's meeting at fabled...
Three good basketball games around the ACC last night.  Duke's win over UNC was the featured game of the night, but Miami and Boston College both picked up solid wins as well. UNC missed a chance for a big win last night.  The Blue Devils came out of the game not shooting well and the Heels had Cook, Curry, and Mason Plumlee in foul trouble in the first half.  Yet at halftime...
No one said it was going to be easy, well with the exception of the odds makers who had Duke as a 10.5 point favorite over their arch rivals, North Carolina. Duke didn't play its best game but most fans will always take a win over arch rival North Carolina. What we ended up getting wasn't a classic but a rather typical, hard fought, close game between the two bitter rivals...
There is a fair amount of resignation within the Tar Heel fan base concerning how this game will go. Much of that is founded in the much talked about manner in which UNC has started games lately. The feeling is Duke will come out of the gate red-hot, can a few threes, get a couple of Mason Plumlee dunks and the Cameron crowd will go bonkers. The theory goes that UNC will be completely...
College Basketball News

Delivered to your inbox

You'll also receive Yardbarker's daily Top 10, featuring the best sports stories from around the web. Customize your newsletter to get articles on your favorite sports and teams. And the best part? It's free!
THE COLLEGE BASKETBALL HOT 10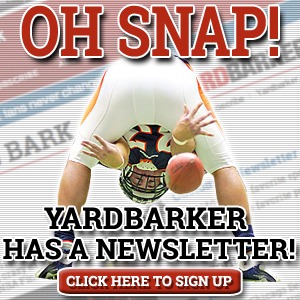 Latest Rumors
Best of Yardbarker

Today's Best Stuff

For Bloggers

Join the Yardbarker Network for more promotion, traffic, and money.

Company Info

Help

What is Yardbarker?

Yardbarker is the largest network of sports blogs and pro athlete blogs on the web. This site is the hub of the Yardbarker Network, where our editors and algorithms curate the best sports content from our network and beyond.