Found April 09, 2013 on StraitPinkie.com:
The day after arguably the greatest day in Louisville sports history, one of the saddest things to ever take place has happened.  Russ "Basedking" Smith has decided that he will forgo his senior season in Louisville and enter into the NBA Draft. If you have followed my post this year, you know how much I love and adore Russ Smith.  He is and always will be my favorite Louisville Cardinal.  I can remember the day that Russ first played for the Cards and he was one of the most reckless basketball players any of us have ever seen.  Over the last three years we have seen him evolve into one of the best college basketball players in the country and it has been a blessing. I wrote during senior day that even though it was hard to see Peyton and Gorgui go, seeing Russ Smith walk away will be one of the hardest things to endure.  I would have never imagined that us fans wouldn't get a senior day to say goodbye to Russ and his Russdiculous self.  *sigh* There will never be another Russ Smith and I say that with confidence.  Russ Smith related with fans and always wanted to have fun.  If you ever wanted a good laugh, all you had to do is go to his Instagram account and go through his pictures.  His ability to make "#GetLucky", "#ActAccordingly", and my personal favorite "#WooWooSwag" household terms for Louisville fans is nothing short of remarkable. Usually people get mad when players leave the team early and test their luck in the NBA.  But with everything that Russ has done for this fan base over the last 3 years, he deserves to go out as a loved figure.  Say what you want about him, but there is a place for him in the NBA somewhere.  There is no debating that he can put the ball in the basket, seemingly at will sometimes, and with the absence of actual defense in the NBA theres no reason Russ can't continue his success. Lets just face the facts, if Russ hustles than he will be successful in the league.  Look at Jeremy Lin for example, Lin peaked in the middle of the regular season last year solely because he hustled while nobody else did.  I would be willing to bet that Russ has more talent then Lin by a large margin.  Plus, I just have a hard time imagining Russ Smith playing in a basketball game and not giving 110% while on the floor. Russ Smith is a projected early second round pick, the 4th pick in the second round to be exact.  He has been compared to Allen Iverson by many people due to his lack of size, yet uncanny ability to score.  That's one comparison that Russ should gladly take…as long as he doesn't complain about practice…I mean practice. Well folks, let's not treat this like a goodbye for good to Russ Smith.  That is what L1C4 is all about, he may be done wearing the jersey but he will forever be with us.  No Louisville fan will ever forget this team and how much of a catalyst he was.  He will be a legend around the city for life and will be accepted with open arms whenever he wants to come back. Russ, thank you for everything you have done!!  The city of Louisville loves you and cannot thank you enough for the joy you have brought us over the last 3 years.  We all wish you the best in the NBA and will be following and cheering you on during your entire journey.  You will be missed Russ.
Original Story:
http://www.straitpinkie.com/louisvill...
THE BACKYARD
BEST OF MAXIM
RELATED ARTICLES
The father of Russ Smith says the Louisville junior guard will leave school to enter the NBA draft. Russ Smith Sr. said the Cardinals' leading scorer ''did it all'' during his college career that culminated with Louisville's 82-76 victory over Michigan Monday night for the NCAA championship. That title, two Big East and an all-conference first-team selection...
gocards.com Is Russ ready? His dad told AP's Gary Graves, "At this point, there's no other reason for him to come back. He's had two sound years and did it all. He could come back next year but it might jeopardize his health. You've got to strike while the iron is hot." Here is a little opinion of mine: His team has just won the National Championship, and the junior had...
Russ Smith had an awful Final Four, but it is yet to be seen, how that affects his NBA Draft Stock. He is a bit undersized, erratic and wild, but he can score from anywhere on the floor. His dad confirmed he would be forgoing his senior year at Louisville. The father of Russ Smith says the Louisville junior guard will leave school to enter the NBA draft. According to Sports Illustrated...
College basketball statistical guru Ken Pomeroy has named Russ Smith the 2013 kenpom.com Player of the Year award. This is the third year of the annual award. Michigan State's Draymond won the award in 2012 and Jared Sullinger of Ohio State was the award in 2011. Click here to read more about how the KenPom ratings are compiled. Here is an excerpt from KenPom.com. It is my honor...
What if Louisville Cardinals guard Russ Smith can actually convince President Obama to take a trip to Waffle House together?
Who to believe? Russ Smith, who says he is undecided about whether he will enter the NBA draft? His dad who says Russ is gone? Or Rick Pitino who says it is 50-50 whether Smith will return to play basketball at the University of Louisville next season? Gorgui Dieng, who doesn't seem at all to be infatuated by the NBA and its riches, and indicates that he is happy here? Or Pitino...
Russ Smith is staying at Louisville to chase another NCAA championship and a degree. The 6-foot-1 guard is passing on the NBA draft to return for his senior season, aiming to become his family's first college graduate and also win another title. Smith's decision contradicts father Russ Sr.'s declaration after the Cardinals' NCAA championship win over Michigan that...
Russ Smith and Ben McLemore are taking their explosive talents to the NBA. Smith, who is also referred to as "Russdiculous," confirmed his father's comments about moving on from Louisville to the NBA on SiriusXM Radio with Bruce Pearl and Mark Packer following Monday's championship victory. The all-around player averaged 18.7 points, 2.9 assists and 3.3 rebounds in his second...
Following Louisville's national championship victory over Michigan on Monday night, Russ Smith Sr. informed Michael Rosenberg of Sports Illustrated that his son will enter the NBA Draft and not return for his senior season. "I told him, 'Man, this is how you go out,'" Smith Sr. tells SI.com. "All the people who doubted you since high school, you proved them wrong. You...
Tweet   Michigan is up 38-37 over Louisville at halftime of the NCAA men's basketball national championship, thanks in large part to the hot shooting of freshman guard Spike Albrecht (6-7 FG, 4-4 3-pt, 17 pts). But this highlight is courtesy of classmate Mitch McGary, who blocked Cardinals guard Russ Smith at one end then [...]
Moments after Monday's national championship game, Russ Smith Sr. said that his son, Louisville guard Russ Smith Jr., will leave school early to enter the NBA Draft.
Cardinals News

Delivered to your inbox

You'll also receive Yardbarker's daily Top 10, featuring the best sports stories from around the web. Customize your newsletter to get articles on your favorite sports and teams. And the best part? It's free!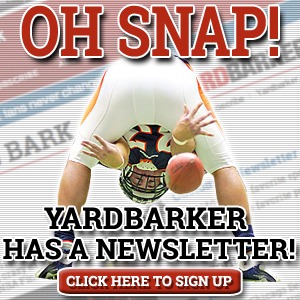 Latest Rumors
The Backyard

Today's Best Stuff

For Bloggers

Join the Yardbarker Network for more promotion, traffic, and money.

Company Info

Help

What is Yardbarker?

Yardbarker is the largest network of sports blogs and pro athlete blogs on the web. This site is the hub of the Yardbarker Network, where our editors and algorithms curate the best sports content from our network and beyond.