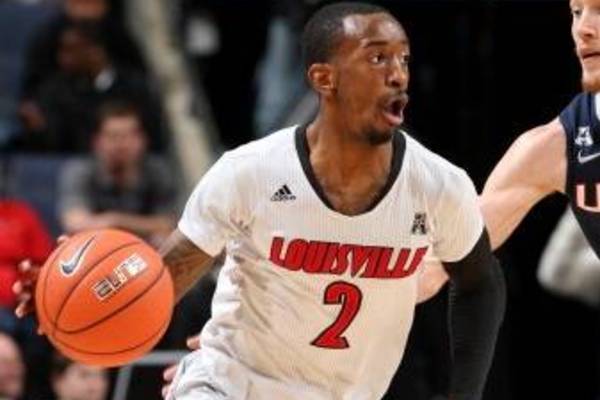 A jersey won by Russ Smith in the University of Louisville's 2013 NCAA basketball championship game has disappeared and some people at Federal Express are catching some heat. The jersey was in a frame delivered by Fed Ex to Russ Smith, Sr. in New York but the glass was broken. Smith filed a claim, and was told to return the frame, which he returned with the No. 2 jersey still inside, as requested by the company. A few days later Russ, Jr. is told by someone at Federal Express that that the jersey was thrown away. "So we comply only for them to throw my jersey away and say 'sorry,' he tweeted Friday. @FedEx There will be plenty of problems if I don't have my jersey. Same stains, same rips, same odor, same everything. Can't duplicate that. — Russ Smith (@Russdiculous_2) May 10, 2014 Anyone actually believe an NCAA championship jersey was thrown away? Well, if the item was processed in Memphis, home of the Federal Express headquarters and the University of Memphis Tigers, it is entirely possible. A Memphis fan throwing the jersey away out of spite. Not that difficult to comprehend.   But Jonathan Blue, a Louisville financial wizard and member of the University of Louisville Board of Trustees, apparently isn't buying either explanation, tweeting this late Friday: I am offering immediate, no questions asked $3000 reward to person who returns Russ Smith's nat'l champ jersey to my office @Russdiculous_2 — Jonathan Blue (@1CardsFan) May 10, 2014 An admirable gesture on Blue's part but it's doubtful he will have to make good on the offer. Memphis is a basketball town with more than its share of basketball junkies. NCAA championship jerseys don't just disappear. We suspect Federal Express, now acutely aware of the jersey's value, has launched a more serious investigation.  Someone at FedEx is in serious trouble.
Read the rest of this story...
MORE FROM YARDBARKER
Cardinals News

Delivered to your inbox

You'll also receive Yardbarker's daily Top 10, featuring the best sports stories from around the web. Customize your newsletter to get articles on your favorite sports and teams. And the best part? It's free!