Found March 21, 2012 on Fox Sports Midwest:
PLAYERS:
Harrison Barnes
,
Ethan Wragge
,
Kendall Marshall
,
Leslie McDonald
,
Dexter Strickland
,
Stilman White
,
Justin Watts
,
D.J Cooper
,
Bubu Palo
TEAMS:
North Carolina Tar Heels
,
Creighton Bluejays
,
Ohio Bobcats
,
Iowa State Cyclones
Somewhere, there's a quiet assassin, buried underneath all those layers of polish and nice. Vance Downs saw it several times when Harrison Barnes played for him at Ames High School, where they didn't lose a game for two seasons, where he was Chuck Norris in high-tops. In fact, Downs saw it so often, it was hard to come up with a favorite; Barnes could turn it on with the flick of a switch. There was the time in Marshalltown, with nearly a half-dozen Division I coaches in attendance including North Carolina's Roy Williams and Florida's Billy Donovan when the 6-foot-8 Iowan was given the ball on the wing, told to make something happen, and responded with a dunk that simultaneously scattered the opposition and crushed their spirit. There was the Class 4A state championship two years ago, against Southeast Polk, a powerhouse from suburban Des Moines, Barnes' last stand as a prep superstar. "And the run he made the first five minutes of the game pretty much put the game away," Downs, Barnes' old coach, told FOXSports.com when asked about the Tar Heel forward. "I remember that very distinctly. He just said, 'I'm going set the tone right now,' and the first five or six minutes of the game, it was over." There's a groundswell bubbling in North Carolina Nation at least, among those who aren't still busy crucifying Creighton's Ethan Wragge on Twitter that without point guard Kendall Marshall, the Midwest regional in St. Louis this weekend is Barnes' big moment; a chance to put the Heels on his back and carry them all the way to the promised land. To this point, he has shown the dominance expected of the nation's top high-school player, but only for stretches, snippets of pure silk. Barnes has shown the wherewithal to take over a half or even a game, depending on the circumstances. But can he take over a weekend in Bracketville? Or, better yet, two? "I think we do play well when the cards are stacked against us," Barnes, who heads into Friday night's game against Ohio averaging 17.4 points and 5.2 rebounds, told reporters Tuesday. "So maybe it's kind of a blessing in disguise." It's funny, really. As a player, Barnes is the complete package: Smart, poised, great range, massive wingspan, soft hands, sick hops, vision, the works. "He could play all five positions (on the floor), no question," Downs chuckled. "I couldn't doubt he could be anything that he wanted to be, including President." In fact, the worst thing said about the Ames native's game growing up was that he was well, too political, too polite. In 73 contests as a collegian, Barnes is averaging 13.5 shots per game, but has exceeded 19 attempts just twice, both coming during his freshman campaign. As a sophomore, Barnes has averaged 13.6 attempts; his hero, Michael Jordan, averaged 14.5 attempts when he was a sophomore at Chapel Hill. "He can be very unselfish, sometimes," Downs noted. "But, in the same respect, he's extremely driven and extremely competitive. "Sometimes, kids may need to hear, 'Hey, it's your game, take it.' He played with really talented kids, obviously. He was unselfish and he'd share the ball at times. He was the most explosive player I've ever coached, without a doubt in a heartbeat, he'd put 12 on you." The world wants to see what Selfish Harrison can do, especially with the Heels' depth at guard now painfully thin. Before Marshall broke a bone in his right, non-shooting wrist during last Sunday's win over Creighton, Carolina had already lost Leslie McDonald and Dexter Strickland to season-ending knee injuries. The Heels have two backup plans: Unproven or Unknown. Freshman Stilman White and senior Justin Watts, Marshall's two understudies, have yet to sniff life on the big stage. Life without Marshall makes the Heels weakest at a place where 13th-seeded Ohio is the toughest in the backcourt. Bobcats point guard D.J. Cooper is the Bobcats' engine, a cold-hearted bomber who dropped 21 on Michigan and 19 on South Florida. The 5-11 Chicago native averages 14.9 points, 5.7 assists and 2.3 steals per contest. So if there was ever a time for the quiet assassin to assert himself, brother, it's now. "(Harrison) was one of those players where if he felt he needed to get in there or the guys needed a little motivation or coaching tips (he'd offer them)," noted Iowa State guard Bubu Palo, one of Barnes' old Ames teammates. "He just picked and chose his moments." A moment such as Tuesday, maybe, when Barnes used a news conference to call out ESPN analyst Doug Gottleib one of several talking heads who've stuck their respective forks in the Tar Heels. "I mean, our confidence hasn't changed at all," Barnes said. "Doug Gottlieb, the person who knows everything, has his own statements. We are going to go out there and continue to play good basketball." When one reporter noted that Gottleib "couldn't shoot free throws," Barnes quipped: "Among other things." Later, a reporter said he had Gottleib's cell phone number and offered to text him a question. To that, the sophomore replied: "See if you can get the flight over to St. Louis. I'd love to meet him." Those who watched the kid grow up will also tell you it's not a good idea to make him angry. To paraphrase the old "Incredible Hulk" television show, you wouldn't like Harrison Barnes when he's angry. Unless, of course, you're a Carolina fan. You can follow Sean Keeler on Twitter @seankeeler or email him at seanmkeeler@gmail.com
Original Story:
http://www.foxsportsmidwest.com/03/21...
THE BACKYARD
BEST OF MAXIM
RELATED ARTICLES
This time last year, few in North Carolina were familiar with Stilman White. A point guard from Michael Jordan's hometown of Wilmington, N.C., White wasn't really on Carolina's recruiting radar until very late in the process and he didn't commit to UNC until the end of March. White wasn't highly recruited by a lot of schools because it was understood he would...
ST. LOUIS If North Carolina coach Roy Williams thinks there's a chance star point guard Kendall Marshall could play Friday night in the Tar Heels Sweet 16 matchup with Ohio, he's sure doing a good job of hiding it. Speaking to reporters at Thursday's media session at the Edward Jones Dome, Williams all but ruled out his point guard's participation just four days...
The North Carolina Tar Heels apparently are one step closer to getting back a key player. Kendall Marshall, the Tar Heels' sophomore point guard, who underwent surgery Monday on his fractured right wrist, tweeted Wednesday morning, "Cast off." Doctors inserted a screw into Marshall's wrist during the procedure Monday. North Carolina coach Roy Williams is preparing...
North Carolina Tar Heels Coach Roy Williams says Kendall Marshall's status remains uncertain for the Midwest Regional semifinal against Ohio Friday night in St. Louis. He also added that the mean is practicing/preparing for the next round as if he wasn't going to play. Marshall fractured his wrist last weekend in the win over Creighton, although he stayed in the game after suffering...
Since all have been waiting for anything and everything about the MidWest Region top seed North Carolina point guard Kendall Marshall, here is the one thing that comes from the player himself. Or better said, from his twitter feed… Cast off! — Kendall Marshall (@KButter5) March 21, 2012 Now, what does this mean? I truly do not know, aside that this has to be a positive thing...
Many pundits declared North Carolina's chances of winning the NCAA Tournament over when point guard Kendall Marshall got hurt in the team's second-round game last weekend. ESPN analyst Doug Gottlieb was as definitive as possible speaking about the Tar Heels' chances of winning the tournament. "They will not get out of St. Louis. They will not go to New Orleans," Gottlieb...
The father of North Carolina point guard Kendall Marshall says his son is ''doing much better'' and experiencing less pain a day after surgery on his broken right wrist. In a text message to The Associated Press, Dennis Marshall said his son was improving and had ''slept through the night.'' However, Kendall Marshall's playing status is still...
The father of North Carolina point guard Kendall Marshall says his son is ''doing much better'' and experiencing less pain a day after surgery on his broken right wrist. In a text message to The Associated Press, Dennis Marshall said his son was improving and had ''slept through the night.'' However, Kendall Marshall's playing status is still...
A two word tweet from Kendall Marshall around lunchtime set off a little buzz as to the possibility of the sophomore point guard getting on the floor for the Sweet Sixteen. "Cast off" According to Marshall's father Dennis via Robbi Pickeral at ESPN.com the case on the sophomore point guard's right wrist was removed in favor of a removable splint. North Carolina point guard...
While top seed North Carolina (31-5 ~ 14-2 in the ACC) awaits No. 13 Ohio (29-7 ~ 11-5 MAC) this Friday night in St. Louis, with tip off at 7:15 p.m. EST, televised on TBS, both the coaching staff, the team and of course the fan base are also waiting to see if Kendall Marshall will be able to play or not. On Sports Illustrated there is a video with a specialist, Dr. Tom Hackett of...
One of the favorites to win this year's NCAA men's basketball tournament was the University of North Carolina, which laid claim to being one of the best teams in all of college basketball with stars... [[ Read More ]]
CHAPEL HILL, N.C. --- Fans cheered on the Tar Heels as they exited the Smith Center and boarded the bus Wednesday en route to St. Louis for their NCAA Tournament Sweet 16 matchup. InsideCarolina.com's photographer was there ...
College Basketball News

Delivered to your inbox

You'll also receive Yardbarker's daily Top 10, featuring the best sports stories from around the web. Customize your newsletter to get articles on your favorite sports and teams. And the best part? It's free!
THE COLLEGE BASKETBALL HOT 10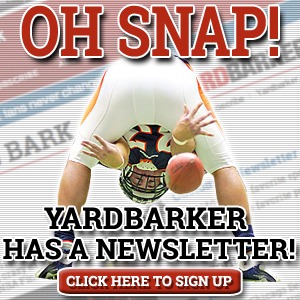 Latest Rumors
The Backyard

Today's Best Stuff

For Bloggers

Join the Yardbarker Network for more promotion, traffic, and money.

Company Info

Help

What is Yardbarker?

Yardbarker is the largest network of sports blogs and pro athlete blogs on the web. This site is the hub of the Yardbarker Network, where our editors and algorithms curate the best sports content from our network and beyond.