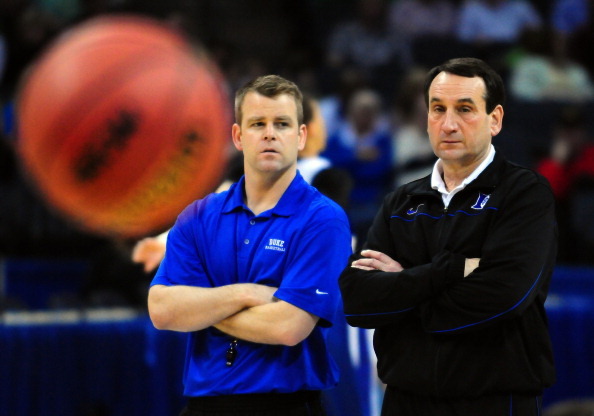 Duke associate head coach Steve Wojciechowski has agreed to become the next head coach of Marquette basketball, a source told CBSSports.com this morning. For many years Wojciechowski was deemed Mike Krzyzewski's successor. (Can you tell I got an 'A' in spelling class?) but now the man colloquially known as Wojo will fill the vacancy left by Buzz Williams, who mysteriously took a $700,000 pay cut to leave for Virginia Tech. A formal announcement from MU is expected soon. More from CBS: Tennessee's Cuonzo Martin had removed his name from consideration. This development means Duke coach and Hall of Famer Mike Krzyzewski, college basketball's all-time winningest coach, now has 12 former players or assistants who have become Division I head coaches. Of course, this makes us wonder…who is going to do Coach K's halftime sideline interviews now? Chris Collins had been doing this task, which is apparently so beneath Krzyzewski, for quite awhile, but when Collins left to take the Northwestern job. Wojciechowski filled the void. Now someone will have to step up to take Wojo's place. Paul M. Banks owns The Sports Bank.net, an affiliate of Fox Sports. An MBA and Fulbright scholar, he's also a frequent commentator on national talk radio. The former NBC Chicago and Washington Times contributor has also been featured on the History Channel. President Obama follows him on Twitter (@paulmbanks) Follow paulmbanks The post Wojo to Marquette, Duke Asst. Steve Wojciechowski takes MU job appeared first on The Sports Bank.Net.
Read the rest of this story...
MORE FROM YARDBARKER
Blue Devils News

Delivered to your inbox

You'll also receive Yardbarker's daily Top 10, featuring the best sports stories from around the web. Customize your newsletter to get articles on your favorite sports and teams. And the best part? It's free!