Remember the wayward free-throw attempt from Appalachian State forward Brian Okam a few months ago? Well, a recent women's game involving Georgia College and Columbus State produced a similarly infamous attempt from the charity stripe courtesy of GC guard Shanteona Keys. Keys explained to Deadspin that she brings the ball close to her face and sometimes her finger touches...
The ball is on the way down. Remember the horrible awful terrible free throw from Appalachian State's Brian Okam in December?  This may have topped it.  If it didn't, it certainly matched it.  A Georgia College (Division-II) player was eyeing a kiddie rim as she shot it about four feet high and four feet out.  My rough math says that she missed it by six feet and change high...
Appalachian State junior center Brian Okam had what has to be the worst free throw of all-time (from anybody that has ever played basketball competitively, anyway) on Saturday against Western Carolina. See it for yourself: Spectacularly awful. It should come as no surprise that Okam and Appalchian State lost the game, and are now 1-7 on the season.  Oh, and...
You know how people will break up sentences into one word sentences for emphasis?  For instance – worst.  Free. Throw. Ever.  This foul shot by Appalachian State junior center Kevin Okam deserves paragraphs of one-word sentences emphasizing how awesome/pathetic/hilarious this free throw is. It happened Saturday during App State's game against Western Carolina. This.  Is....
Appalachian State center Brian Okam attempted what can honestly be described as the worst looking free throw attempt ever by any NCAA college basketball player during Saturday's 70-64 loss to Western Carolina. It has to be seen to be believed, as Okam's foul shot, and we're not even sure we can even call it that, went straight up in the air and didn't even make...
Appalachian State center Brian Okam should be proud of himself for grabbing the attention of the Internet with his historically bad free throw attempt on Saturday. The 7-foot tall junior center from Nigeria looked like he had the right idea to use some backspin on his shot, but he just didn't give the ball quite enough of a push. I mean that ball had a beautiful arc, some nice...
Meet Appalachian State player Brian Okam.  Brian is a 7 foot junior center for the Mountaineers.  App State played Western Carolina yesterday and lost 70-64.  Brian played a total of 12 minutes in the game and shot 1-4 from the free throw line.  The video below might possibly make you pee your pants laughing.  Mr. Okam threw up one of the worst free throws in the history of...
Appalachian State center Brian Okam's balls may be heavy and filled with helium. Just might be. And Jeff G. knows heavy balls. **Follow us on Twitter. Subscribe, or Return to... Full story at Bob's Blitz ~ http://www.bobsblitz.com
Brian Okam plays center for Appalachian State and in a loss to Western Carolina on Saturday shot the worst free throw I have ever seen. This has been a rough season for the Mountaineers, as they are now 1–7 and we will be seeing this horrendous shot for a long time. (h/t Lost Lettermen)The post Video: Appalachian State's Brian Okam Shoots Worst Free Throw Ever appeared first...
Welcome to Airball City, population that guy. It's hard not to cut Appalachian State center Brian Okam's some slack on his free throw shooting—he is 7-fooy tall junior and big men are notoriously bad shooters—but this attempt from the charity line is beyond horrible.  Airballing a free throw takes some serious lack of talent, but Okam's attempt nearly goes straight up...
MORE STORIES >>
College Basketball News

Delivered to your inbox

You'll also receive Yardbarker's daily Top 10, featuring the best sports stories from around the web. Customize your newsletter to get articles on your favorite sports and teams. And the best part? It's free!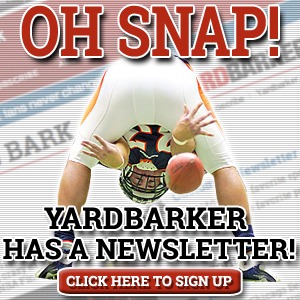 THE COLLEGE BASKETBALL HOT 10