((HT: Campus Insiders)) There's a certain sense of obvious irony here with the act in the headline and the benefactor of the program, but the HQ digresses for the moment... But our friends over at Campus Insiders have details on the University of Oregon dropping the hammer on three former players who sold team shoes along with current players Dominic Artis and Ben Carter...
SAN JOSE, Calif. (AP) -- Oregon is riding its much-debated No. 12 seed all the way to the round of 16. Damyean Dotson scored 23 points, Carlos Emory added 14 points and the hot-shooting Ducks sprinted past fourth-seeded Saint Louis 74-57 in the NCAA tournament Saturday night. Dotson made his first five 3-pointers to carry Oregon (28-8) into the second weekend for the first time...
LAS VEGAS (AP) -- Carlos Emory scored 20 points, Johnathan Loyd added 19 and Oregon pulled away from No. 21 UCLA 78-69 to win the Pac-12 tournament championship Saturday night at MGM Grand Garden Arena. Oregon (26-8) shook off a shaky start with superb perimeter shooting, pulling away in the second half after the Bruins made a run. Arsalan Kazemi had 12 points and 12 rebounds,...
Carlos Emory scored 21 points and No. 24 Oregon completed the season sweep of the Civil War series with an 85-75 victory over Oregon State on Thursday night. Arsalan Kazemi had 17 points and 12 rebounds, Tony Woods added 16 points, and Johnathan Loyd scored 12 points for the Ducks (23-6, 12-4 Pac-12), who took one-half game lead in the conference over idle UCLA. Oregon trailed...
Stanford's second string did well enough to keep it closer than Oregon had at Maples, thanks to a 19-6 closing spurt. Your final is 77-66, Oregon. Carlos Emory led all scorers with 17, while Powell added 16 for the Cardinal.
Carlos Emory and Tony Woods had 13 points each for Oregon, which will take a perfect home record into the new year following a 56-43 win against Nevada on Monday night. Dominic Artis scored 10 for Oregon (11-2), which has won all 10 games at Matthew Knight Arena this season. Emory, who started the second half in place of injured forward Arsalan Kazemi, scored nine of his 13 points...
Carlos Emory led five double-figures scorers with 16 points for Oregon in an 80-59 win against Arkansas-Pine Bluff on Saturday. Arsalan Kazemi and Daymean Dotson scored 11 each for the Ducks (7-1), who are off to their best start since opening 8-1 in 2007, and Dominic Artis and E.J. Singler had 10 points each. Kazemi also had a game-high 13 rebounds and five steals. Mitchell Anderson...
Freshman point guard Dominic Artis scored 16 points to lead Oregon over Portland State 80-69 Monday night. Carlos Emory added 15 points and Damyean Dotson had 12 points and six rebounds for Oregon, which made 8 of its first 11 3-point attempts to build a big lead and never trailed in the game. Artis was 6 for 13 from the field and made four of Oregon's nine 3-pointers. It was...
The Oregon Ducks (17-7, 8-4) seeks a season sweep of the Washington State Cougars (13-11, 5-7) on Saturday afternoon at Matthew Knight Arena in Eugene with tipoff scheduled for 3:00 p.m., Pacific Time. Oregon had an impressive win on Thursday night against the conference leader, Washington in a 82-57 win in a game led by junior Carlos Emory's career high 16 points.
The 2011-2012 men's college basketball season has only been in progress for mere weeks, but Oregon has already lost two of the five members of its 2011 recruiting class. The Ducks signed five players for this season, in a class that was good enough to rank #24 in the final Hoopniks recruiting class rankings. The [...] Related posts: Dominic Artis Ducks UCLA, Commits to Oregon...
MORE STORIES >>
College Basketball News

Delivered to your inbox

You'll also receive Yardbarker's daily Top 10, featuring the best sports stories from around the web. Customize your newsletter to get articles on your favorite sports and teams. And the best part? It's free!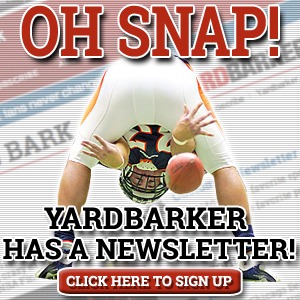 THE COLLEGE BASKETBALL HOT 10