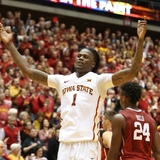 Oklahoma State took on Big 12 rival Iowa State in Ames last night, and Cyclones interior star Jameel McKay thought everything was gravy when he went up for a one-handed jam. Except, Cowboys senior seven-footer Anthony Allen Jr. had other ideas. As can be seen in the video below, his head was inside of the basket and thus blocked McKay's shot. Yes, ladies and gentlemen, Allen blocked...
Iowa State plans to have senior forward Jameel McKay back in the lineup on Saturday against Texas.According to Travis Hines of the Ames Tribune, Iowa State head coach Steve Prohm has reinstated McKay after he missed the past two games due to a suspension.The suspension occurred after a "practices-related incident", according to Hines.The Cyclones went 1-1 during that two-game stretch...
Iowa State center Jameel McKay is still suspended despite being able to practice with the team, coach Steve Prohm said to reporters today, including Travis Hines of The Ames Tribune. "He'll practice (Monday) because I want him in practice," Prohm said, "but game-wise, he's suspended." McKay did not play in the Cyclones' win over Oklahoma State in Stillwater on Saturday. No official...
DES MOINES, Iowa (AP) Iowa State star Jameel McKay has been suspended indefinitely for violating team rules. Cyclones spokesman Matt Shoultz told The Associated Press that the 6-foot-9 senior did not make the trip for Saturday's game at Oklahoma State. McKay is averaging 12.4 points and 9 rebounds a game. His absence will further stress a roster that's been thin all year. The 13th...
AMES, Iowa (AP) There were times this season when senior center Jameel McKay looked like Iowa State's best player. Now there are times when McKay seems like a liability for the 13th-ranked Cyclones. McKay has been playing through tendinitis in his left knee for weeks, and it's hardly a coincidence that he has been struggling. McKay is averaging 12.4 points a game, but he's failed...
Jameel McKay, Iowa State's starting center, was not on the floor down the stretch in the Cyclones' 85-72 win over No. 4 Kansas on Monday night.Following the game, the 6-foot-9 senior discussed the frustration he is having playing on an injured left knee. His status for Saturday's game against No. 5 Texas A&M is uncertain, according to Travis Hines of the Ames Tribune.McKay played...
The best offensive team in the Big 12 got defensive and put together its most lopsided conference victory of the season. Jameel McKay scored 17 points on 7-for-7 shooting in his first start and keyed a sterling effort on the defensive end that carried No. 11 Iowa State to a 75-38 rout of Texas Tech on Saturday. It was a sharp turnaround for the Cyclones (17-5, 7-3 Big 12) from their...
Jameel McKay dropped a career-high 17 points, and No. 11 Iowa State demolished Texas Tech 75-38 in Ames Saturday. McKay, who replaced Bryce Dejean-Jones in the starting five, was a perfect 7-7 from the floor, throwing down some high percentage dunks throughout the contest. McKay also grabbed down eight rebounds and added three blocks to cap off a dominant performance. Naz Long added...
Georges Niang may be the MVP of the Iowa State men's basketball team, but forward Jameel McKay is putting himself in that same conversation with his recent play. The Marquette transfer has been a phenomenal contributor off the bench for coach Fred Hoiberg. In 21 minutes against rival Kansas on Saturday, McKay posted 11 points, two rebounds and three blocks. He also had the dunk of...
It is the offseason for the Iowa State Cyclones men's basketball team, but some nuggets of news have revealed themselves. Some of it is disappointing, while some is exciting. Let's get the bad news out of the way (and maybe see how it can be molded into some good news). First, 6'9″ forward and Marquette transfer Jameel McKay will still be unavailable to play in Iowa State colors...
MORE STORIES >>
College Basketball News

Delivered to your inbox

You'll also receive Yardbarker's daily Top 10, featuring the best sports stories from around the web. Customize your newsletter to get articles on your favorite sports and teams. And the best part? It's free!
THE COLLEGE BASKETBALL HOT 10