Former Delaware guard Jarvis Threatt has signed with an agent and won't be returning to college, he told CBSSports.com on Friday. Threatt -- a distant cousin of former NBA guard Sedale Threatt -- had one year of eligibility remaining after being dismissed from the Blue Hens' program in June for a repeated violation of team rules.
The often spectacular but periodically interrupted University of Delaware basketball career of Jarvis Threatt has come to a premature end. Delaware announced Tuesday that Threatt has been dismissed from the basketball team prior to what would have been his senior season for more UD rules violations. UD offered no specifics in a short statement and would provide no comment, athletic...
Delaware defeated William & Mary by a final score of 75-74 to win the 2014 CAA Tournament. Jarvis Threatt was named tournament MVP and was joined on the All-Tournament Team by Carl Baptiste, Devon Saddler, Brandon Britt, Scott Eatherton and Marcus Thornton.
Delaware has been rolling since Devon Saddler returned from injury, jumping out to a 6-0 start in the CAA. And now the Blue Hens will deal with two more personnel losses. The school announced suspensions for all-conference guard Jarvis Threatt and starting forward Marvin King-Davis. The suspensions are for separate violations of athletic department policies, and will last at least...
Jarvis Threatt scored 25 points and Delaware got past Cal Poly 82-72 on Saturday in the last nonconference game for both schools. Delaware (8-7) built a 47-33 halftime lead behind 14 first-half points from Devon Saddler and Cal Poly (4-9) trailed by double digits in the second half until the final minute of the game. The Blue Hens found success at the free throw line, shooting...
Jarvis Threatt scored nine of his 29 points in overtime, and Delaware beat Bryant 108-107 on Saturday night at Madison Square Garden. Threatt's two free throws with 1:01 left in overtime gave the Blue Hens (6-6) the lead for good at 103-101. He and Davon Usher both made two more free throws to give Delaware a six-point lead with 19 seconds to play. Corey Maywood and Dyami Starks...
Delaware guards Devon Saddler and Jarvis Threatt combined for 42 points to lead the Blue Hens to a 69-54 victory over Hofstra in a Colonial Athletic Association game Wednesday night. Saddler, the league's leading scorer at 19.8 points per game, scored 23 on 9-of-14 shooting, while Threatt had 19 points, made 7 of 13 shots and came up with six steals. Kyle Anderson added 11 points...
NEW YORK CITY – It was a great situation to be in. At the same time it could, understandably so, have been a bit unnerving. Jarvis Threatt is averaging 12 points, five boards, and 2.5 assists on the young season for Coach Monte Ross (Credit: Mark Jordan) Delaware took the floor at Madison Square Garden. It was the Preseason NIT. It was the eve of Thanksgiving in New York City. ...
Jarvis Threatt set a Delaware freshman scoring record with 30 points and the Blue Hens overcame a 15-point first-half deficit to outlast Georgia State 77-74 in double overtime Saturday. The Panthers took a 14-0 lead as Delaware missed its first 14 shots. The Blue Hens (8-10, 4-4 Colonial Athletic Association) chipped away, making eight of their season-high 12 3-pointers, with Threatt...
MORE STORIES >>
College Basketball News

Delivered to your inbox

You'll also receive Yardbarker's daily Top 10, featuring the best sports stories from around the web. Customize your newsletter to get articles on your favorite sports and teams. And the best part? It's free!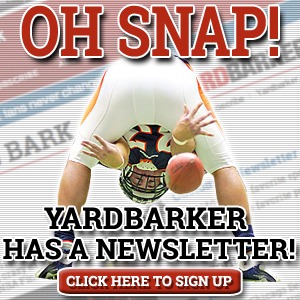 THE COLLEGE BASKETBALL HOT 10