With the 2014 NBA draft on the horizon, many Pitt Panthers basketball fans are wondering if Lamar Patterson will be drafted or if a career in Europe is more likely. The 6'6 small forward had a tremendous senior campaign for the Panthers and his play earned him a spot on the radar of numerous NBA teams. He averaged 17.9 ppg last season as he led the Panthers to the third round of...
A common theme when talking to players getting ready for the NBA Draft every year is development. For young players, how much works still has to go into their game; and with juniors and seniors, what kind of work did you do and how did you go about it. Often the improvement is steady, but sometimes, all of the hard work comes together and a player can take his game up another level...
The 2014-15 Pitt basketball team will look a lot different from last season. Seniors Lamar Patterson and Talib Zanna, both of whom started for the Panthers graduated leaving the team with big shoes to fill. Patterson and Zanna combined to score 30.1 ppg last season that is 41.8 percent of the Panthers total points per game. It will be difficult to expect anyone to join the starting...
The Pitt Panthers play the Colorado Buffaloes on Thursday at 1:40 pm. After what seemed like an eternity, the wait is finally over, the Panthers earned a spot in the NCAA tournament. Now many fans are eager to see what the team is able to do in the tournament. This Pitt basketball team looked impressive in Greensborough for the ACC tournament. They ultimately lost to Virginia by...
Pitt Basketball: Pitt looks to impress chancellor Nordenberg in final home gameThe North Carolina State Wolfpack are in Pittsburgh for a matchup with a streaking Pitt basketball team on Monday at 9:00 pm. The Panthers are winners of two straight games, and are looking to finish off the season strong. North Carolina State comes into the game at 17-12 and 7-9 in the ACC. The Wolfpack...
Lamar Patterson scored 25 points to help No. 25 Pittsburgh end a two-game losing streak with a 57-55 overtime victory over Miami on Wednesday night.
Have you met Lamar Patterson? Passionate followers of the Pitt Panthers, and there are more of those than there once were, found themselves a bit vexed by the release of a Wooden Award midseason top 25 list that omitted young Mr. Patterson. We have told you before the Wooden Award is the least trustworthy of the three major ballot-based player of the year awards — the Naismith...
Lamar Patterson scored 28 points, and No. 20 Pittsburgh beat Maryland 83-79 Saturday night to complete its first regular-season sweep as a member of the Atlantic Coast Conference. Pittsburgh (18-2, 6-1) never trailed in the second half against the struggling Terrapins, who lost by 20 to the Panthers on Jan. 6. Although this game was significantly closer than the first one, Maryland...
Pittsburgh's Lamar Patterson was whistled for a flagrant foul during his team's game against Wichita State on Thursday after he hit an opponent in the face with an elbow. The contact occurred as Patterson was driving to the basket and did not appear to be intentional. However, the call was correct in that even an unintentional elbow to an opponent is a Flagrant 1 by rule. The...
Lamar Patterson hit this sweet buzzer beating three to send Pitt to OT today but..... ...Marquette held off Pittsburgh 74-67 **Follow us on Twitter. Subscribe, or Return to... Full story at Bob's Blitz ~ http://www.bobsblitz.com
MORE STORIES >>
College Basketball News

Delivered to your inbox

You'll also receive Yardbarker's daily Top 10, featuring the best sports stories from around the web. Customize your newsletter to get articles on your favorite sports and teams. And the best part? It's free!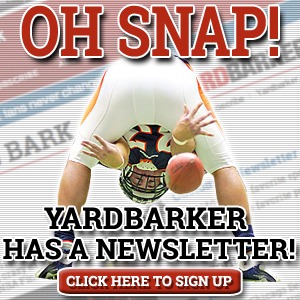 THE COLLEGE BASKETBALL HOT 10