On Feb. 18, Wyoming improved to 8-5 in the Mountain West Conference. The 72-66 win over Fresno State took a backseat to an injury Larry Nance Jr. suffered in the opening minutes of the second half. The team's top scorer tore was lost for the remainder of the season with a torn ACL. Wyoming's offense struggled with Nance in the lineup, but without him, the Cowboys dropped four...
Most folks outside of the Mountain West Conference do not know who Larry Nance Jr. is, but college basketball just lost a wonderful player. On Tuesday in a win against Fresno State, Nance, the Wyoming Cowboys' leading scorer and rebounder, tore his ACL and will miss the rest of the season. The news will have very little effect on the college basketball scene as a whole, but it...
Leading scorer Larry Nance Jr. tore his right ACL in Wyoming's victory against Fresno State on Tuesday night and will miss the rest of the season, a source with direct knowledge of the situation said. The Cowboys' coaching staff was informed of the severity of the injury Wednesday morning, the source said. Surgery for Nance is pending. Nance, son of the former All-Star...
Larry Nance Jr. hit a baseline jump shot with 1.6 seconds left, and Wyoming rallied from a nine-point deficit to stun Boise State 52-50 Saturday night. Nance finished with 16 points and 10 rebounds to help Wyoming (10-6, 1-2 Mountain West) win its first game on the road. Nance also blocked three shots, made two steals and had two assists in logging 39 minutes. The Cowboys trailed...
Larry Nance Jr.'s three-point play with two seconds remaining gave Wyoming a 67-66 overtime victory over South Dakota Saturday night. Tyler Flack hit a 3-pointer to give South Dakota (3-5) a 66-62 lead with 1:43 remaining in overtime. Nance answered with a dunk, and the game-winning three-point play. Nance scored a game-high 25 points and grabbed nine rebounds. Derek Cooke...
Larry Nance Jr. had 17 points and 15 rebounds, and Wyoming pulled away late for a 61-53 victory against Cal State Bakersfield on Wednesday night. Derek Cooke Jr. added 12 points and 13 rebounds Jason McManamen 10 points for the Cowboys (16-6), who have struggled in Mountain West play but went unbeaten against non-conference foes for the first time since 1987-88. Cal State Bakersfield...
Just a freshman at Wyoming right out of Revere High School in Richfield and still with plenty of growing to do, Larry Nance, Jr., the Cowboys' second-leading rebounder in just 16 minutes a game, is already showing up extremely impressively on tape. No real surprise, but still. Click here to go to Deadspin to watch the video. While we're here, an excellent piece on Fausto Roberto...
Wyoming Cowboys freshman Larry Nance Jr. threw down a huge dunk against San Diego State last night.  Most likely this Jordan impression will get Larry a new shoe deal.  Ha not quite, but we can give the man a little hype because the dunk was one of the best this year in college bball.  His pops would be proud. Like this post? Check out our Home Page for...
Michael Jordan's the name most people associate with the NBA Slam Dunk Contest, but few remember it was Larry Nance who won the 1984 inaugural edition of the competition. Nance's son (who had plenty of opportunities as a youth to watch Jordan style over his dad's Cavaliers) now plays for Wyoming and pulled off a pretty nifty impression of His Airness. [The mtn.] More »
The 6-7 Freshman for Wyoming slams it down with shades of his father and MJ. Now… he is just averaging 3 points per game in 16 minutes per, but this was an outstanding dunk. Despite this athletic play, SDSU defeated the Cowboys 42-52.
MORE STORIES >>
College Basketball News

Delivered to your inbox

You'll also receive Yardbarker's daily Top 10, featuring the best sports stories from around the web. Customize your newsletter to get articles on your favorite sports and teams. And the best part? It's free!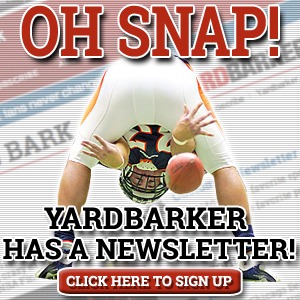 THE COLLEGE BASKETBALL HOT 10