Former Maryland guard Nick Faust (City) has reportedly found a new home at Long Beach State. Faust told ESPN.com that he has committed to play for the 49ers. He also tweeted "Bringin dat HEAT to TheBeach" with an Instagram photo of Long Beach State's court. Faust is one of five scholarship players to transfer from Maryland's program since last season. After initially...
Oregon State landed an impact transfer early Wednesday morning as a source confirmed to NBCSports.com that Maryland transfer Nick Faust has signed with the Beavers. The 6-foot-6 Faust averaged 9.4 points per game in each of his last two seasons for the Terrapins, but saw his shooting percentages drop in his junior year as he shot 38 percent from the field and 30 percent from the...
Maryland Terrapins junior guard Nick Faust threw down an awesome one-handed putback slam dunk in the first half of Saturday's ACC basketball game at Duke.Faust's fantastic play on the rebound on Jake Layman's missed three-point shot has him trending on Twitter. Faust scored 7 points off the bench in the first half, but Duke was winning 39-33 at halftime. This post appeared...
Maryland junior guard Nick Faust, regardless of whether the Terrapins actually pull off an upset against Duke, will be making the highlight reels later tonight. Faust skied on a rebound off of a Jake Layman missed 3-point attempt and threw down a ridiculous one-handed put-back dunk with authority. The Cameron Crazies were left speechless. Maryland is hanging around against the Blue...
Nick Faust scored 16 points, and Maryland launched the home portion of its final trip through the Atlantic Coast Conference by defeating Georgia Tech 77-61 Saturday. The Terrapins never trailed in their seventh-straight home win over the Yellow Jackets. Maryland (10-5, 2-0) built a double-digit lead in the opening four minutes, upped the margin to 20 early in the second half and...
Maryland Junior guard Nick Faust has thrown down some massive dunks in his career at College Park, but his throwdown against North Carolina Central just might be the best one of them all! The 6'6" shooting guard from Baltimore took a pass from sophomore Jake Layman, raced down the court in transition, and did his best impersonation of the Statue of Liberty before emphatically...
Nick Faust equaled his career high with 19 points and had a season-high nine rebounds to lead Maryland over North Carolina Central 70-56 on Tuesday. Maryland (9-5) began the second half with three 3-pointers, one by Seth Allen and two by Faust. The junior guard scored 14 of his 19 after halftime. The trio of 3-pointers gave the Terrapins a 37-26 lead with 16:47 to play. The Eagles...
Maryland assistant coach Dalonte Hill pulled Nick Faust to the side while the freshman made his way down the bench, presumably to offer mild words of encouragement following a dynamic blown dunk from the 6-foot-5 guard. Hill palmed Fausts neck, spoke briefly in his ear, then let him continue to his seat. Faust planted himself in the padded ACC chair and looked up, a grin fixed on...
The Terps played No. 15 Alabama down in Puerto Rico tonight and it did not go well. Like, really not well. As in, they only scored 42 points not well. That's fewer points than a Gary Williams-led Maryland team ever scored. And it's Mark Turgeon's second game. Impressive. Also impressive was top freshman (for the Terps at least) Nick Faust's new mohawk (@sunjeffbarker has...
With the start of the season a mere couple of days away, Terps Insider continues our player-by-player breakdown of the 2011-2012 Maryland Terrapins. Today: Nick Faust When Gary Williams retired abruptly in April, he had secured what most considered a solid three-man class, led by Baltimore star Nick Faust. But when new head coach Mark Turgeon was hired, all three players decided...
MORE STORIES >>
College Basketball News

Delivered to your inbox

You'll also receive Yardbarker's daily Top 10, featuring the best sports stories from around the web. Customize your newsletter to get articles on your favorite sports and teams. And the best part? It's free!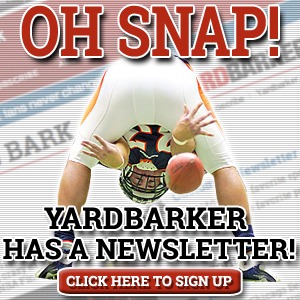 THE COLLEGE BASKETBALL HOT 10