Trey Burke: The Shot Michigan basketball has been known for great players, especially the Fab Five. But I am not addressing those players in this ranking. I am here to rank the Top 5 players in the Coach John Beilein Era and the Beilein era only. Now, I am not taking NBA career or draft stock into account. The Top 5 will be based upon collegiate success and performance. Coach Beilein...
Nik Stauskas Nik Stauskas had a sensational sophomore season in which he earned Big Ten Player of the Year honors and was named to seven different All-American teams. He also became just the eighth sophomore in Michigan lore to eclipse 1,000 career points. So when it came time to update our ranking of Michigan's all-time best shooting guards, Stauskas presented an interesting dilemma...
For years, University of Michigan basketball coaches and fans were simply worried about getting into the NCAA Tournament. Five berths in six years into March Madness, including a trip to the National Championship and Elite Eight the past two seasons, has presented new kinds of problems for the Wolverines: the early departure of talented players to the NBA. A year after Trey Burke...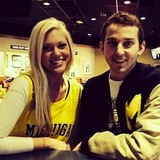 Has Michigan guard Nik Stauskas made up his mind about declaring for the NBA?  His girlfriend Taylor Anderson, a freshman at the University of Toledo, may have inadvertently divulged her dude's plans Wednesday night on Twitter. Twitter Now, why else would Miss Anderson be "so excited" about next year? She won't yet be of legal drinking age. Sophomore year of college only means one...
Nik Stauskas followed his coach on the teleconference on Wednesday to talk about the upcoming Big Ten Tournament. The sophomore discussed winning Big Ten Player of the Year, how he feels going into the weekend and much more. You can read notes and quotes from the teleconference below. (Photo: Dustin Johnston) On winning Big Ten Player of the Year: "I'm very excited. You know, I...
Michigan locked up the Big Ten regular season Championship with Tuesday's 31-point beat-down of Illinois. Nik Stauskas, the sophomore sharp-shooter from Canada, who likely will win Big Ten Player of the Year, has silenced opposing crowds all year. With Illinois' student section directing their "USA" chant at Stauskas, he let his game do all the talking with this buzzer-beater three...
For a while, it looked as though we'd seen the last of Nik Stauskas – at least the Nik Stauskas that dominated the Big Ten throughout the month of January. The scoring machine that Michigan enjoyed for most of the season had left, and in its place was something else. Not something particularly bad, just not as potent, and not quite as game-changing as what the Wolverines had relied...
Make no mistake, Nik Stauskas is a shooter. Search his name on YouTube and check out the insane displays he put on in his backyard. He once hit 45 out of 50 from beyond the arc. He shot 44% from three-point land last year, and has maintained that average this year while improving two-point percentage. Nik Stauskas still has swagger. His signature move is still the "three goggles...
MORE STORIES >>
College Basketball News

Delivered to your inbox

You'll also receive Yardbarker's daily Top 10, featuring the best sports stories from around the web. Customize your newsletter to get articles on your favorite sports and teams. And the best part? It's free!
THE COLLEGE BASKETBALL HOT 10