After the NCAA denied him eligibility this season at the University of Minnesota, former Louisville forward Rakeem Buckles appealed the ruling. Unfortunately, the NCAA stuck with their initial decision in denying Buckles a waiver to play this season for Richard Pitino. The Miami native is expected to return to Florida International for his final year of eligibility where he is expected...
MINNEAPOLIS -- Rakeem Buckles was hoping to follow Richard Pitino from Florida International to Minnesota. His plan has now hit a dead end. The Gophers men's basketball team announced Tuesday that Buckles' appeal for immediate eligibility has been denied by the NCAA. Minnesota's original transfer waiver request was denied Aug. 28. Buckles, a 6-foot-7, 215-pound forward...
The Big Ten seems to keep getting better and better, which means the conference schedule gets tougher and tougher.  Conference schedules were released for all Big Ten teams this afternoon, you can view the composite schedule here, Minnesota's schedule is below. 01/02/14 vs. Michigan * Williams Arena 6:00 p.m. CT 01/05/14 vs. Purdue * Williams […]
MINNEAPOLIS (AP) -- When Richard Pitino left Florida International to take the job at Minnesota, he planned to bring a couple of his players with him to help jumpstart the process of reshaping the Golden Gophers into the type of up-tempo, pressing team that he prefers. The list of players transferring to Minnesota with him just got a little bit shorter. The NCAA denied forward...
The NCAA has denied forward Rakeem Buckles' waiver request to play this season after following coach Richard Pitino from Florida International to Minnesota. Minnesota associate athletic director Chris Werle says the decision came Wednesday. Buckles played three seasons at Louisville under Pitino's father, Rick. But he suffered two torn ACLs and sat out last season after...
Jeff Goodman of ESPN.com is reporting that former Louisville forward Rakeem Buckles has been denied a waiver from the NCAA and will not be allowed play for Minnesota this season. Buckles' collegiate career at Louisville hit an unfortunate road block between 2011 and 2012 as he suffered two torn ACL's in less than a calendar year. He decided to head back home to Miami, FL., and...
I'd be lying if I said that I didn't wish former Louisville forward Rakeem Buckles was on the floor with the team when they won the 2013 national championship just a month ago. Buckles was a part of Louisville's 2009 recruiting class and had things gone the way we had hoped, he would have been a senior on this year's championship team. Buckles' collegiate career hit an...
UofL sent out a press release earlier this afternoon stating that forward Rakeem Buckles will transfer from Louisville to join the Florida International University men's basketball team. Buckles was expected to miss the entire 2012-13 season while recovering from his second torn ACL of his college career. "Rakeem is one of my favorites during my tenure at Louisville," said...
Louisville forward Rakeem Buckles tore a ligament in his left knee during the Cardinals' loss at Marquette and will miss the rest of the season as well as all of 2012-13 with the injury. Coach Rick Pitino says in a statement Tuesday that ''all of us are just crushed'' at Buckles' latest setback after he spent nearly nine months working to return from the...
Louisville forward Rakeem Buckles has been cleared to return to practice starting Thursday. The junior for the seventh-ranked Cardinals tore a ligament in his right knee on Feb. 27 and had surgery the following month. He participated in individual instruction on Nov. 9 and could return in a few weeks. Buckles averaged 6.8 points and 6.1 rebounds in 16 games last season and is one...
MORE STORIES >>
College Basketball News

Delivered to your inbox

You'll also receive Yardbarker's daily Top 10, featuring the best sports stories from around the web. Customize your newsletter to get articles on your favorite sports and teams. And the best part? It's free!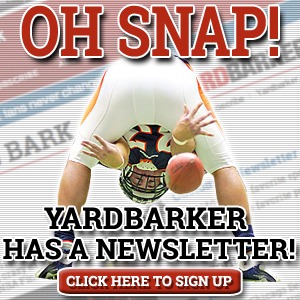 THE COLLEGE BASKETBALL HOT 10