Jordan Price (Photo Credit: Albert Cesare/Opelika Auburn New) La Salle has recently announced that sophomore Jordan Price is going to join the Explorers. Price will be transferring from Auburn University where he played for one season. According to Coach Dr. John Giannini, "Jordan is high in character and talent and comes from a great family." While at Auburn Price tied an SEC...
Early weekdays during mid-March remind me of several Griswold-type vacation trips my family embarked on while I was a kid. The oldest of four siblings, car rides were long, cramped and characterized by shouts of, "Make some room, I'm hungry, and I need to use the bathroom." LaSalle's Galloway has been a scoring machine through the NCAA tournament thus far. And, of course...
KANSAS CITY, Mo. Gerald called. If he can't be there in person, Gerald usually does. Be humble, he'd said. Be gracious. Share the love with those who helped carry the flag. "He just talked to me about life," La Salle guard Ramon Galloway says of his Saturday morning conversation with his father. "He congratulated me on the win (over Kansas State). He just...
Ramon Galloway scored a career-high 29 points as hot-shooting La Salle defeated George Washington 84-70 Wednesday night to clinch a first-round bye in the Atlantic 10 Conference tournament. Galloway made 11 of 17 field goals, including 4 of 7 3-pointers, for the Explorers (21-7, 11-4), who have won three straight and seven of their past eight games. La Salle made 10 of its first...
Parity, when participating teams have roughly equivalent levels of talent. In such a league, the "best" team is not significantly better than the "worst" team. This leads to more competitive contests where the winner cannot be easily predicted in advance.  This year college basketball is filled with parity and it's anyone's ball game come March Madness. Here are five unlikely team...
Butler had another shot at victory come down to a buzzer beater. Only this time, the Bulldogs were off the mark, their 13-game winning streak gone in a stunner. Out of timeouts, Ramon Galloway sprinted the length of the court for the winning basket with 2.7 seconds left to send La Salle to a 54-53 victory over No. 9 Butler on Wednesday night. Butler (16-3, 3-1) had lived on last...
Ramon Galloway went the length of the court for the winning basket with 2.7 seconds left to send La Salle to a 54-53 victory over No. 9 Butler on Wednesday night. Fans stormed the court in a wild celebration for the biggest win for La Salle (13-5, 3-2 Atlantic 10) in 33 years. There was some confusion after Galloway's basket and fans were ordered off the court. Butler had attempted...
Make sure you get a good look at this ESPN YouTube video cutline that was online last night for at least 40 minutes, according to @SportsTalkPhila. As ESPN editors write about La Salle's Ramon Galloway's father: "His father in the crowd, doesn't seem to be paying attention." Well, pops has a good reason. HE'S BLIND! Was shot in his early 20s. Of course the ESPN error...
MORE STORIES >>
College Basketball News

Delivered to your inbox

You'll also receive Yardbarker's daily Top 10, featuring the best sports stories from around the web. Customize your newsletter to get articles on your favorite sports and teams. And the best part? It's free!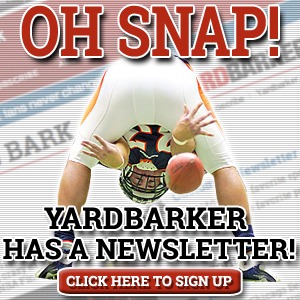 THE COLLEGE BASKETBALL HOT 10