Notre Dame headed to South Florida looking for answers. With sixth-year forward Scott Martin out indefinitely with a bad left knee - possibly even for the season - coach Mike Brey is opening competition for who will take his place. The competition will be between Tom Knight, who has seen more playing time lately, Garrick Sherman, who hasn't played the past two games and freshmen...
On the morning of March 22, 2008, Scott Martin was preparing for an NCAA Tournament game against Xavier when he received a call that would change his life forever. In a hotel room in Washington, Martin, then a freshman guard averaging 8.5 points per game for the Purdue Boilermakers, learned that his father, Scott Sr., had woken up and -- more inconveniently than anything -- couldn...
The Notre Dame basketball team returns all five starters from last year's squad including sixth year guard Scott Martin. Martin knows this has experience in its favor, but these players need to finish strong and avoid another early tournament exit. He shares his thoughts and expectations for the upcoming season and more right here.
Notre Dame was unable to get a sixth year of eligibility out of the NCAA for their oft-injured star Tim Abromaitis, but they were able to get the same situation approved for forward Scott Martin (Valparaiso, Ind.). The Purdue transfer will return to play for the Irish in 2012-13. Martin, who averaged 9.5 points and 5.7 rebounds per game in helping lead the Irish to a 22-12 record...
Notre Dame forward Scott Martin has been granted a sixth year of eligibility by the NCAA and will play again for the Irish next season. Martin, who averaged 9.5 points last season as the Irish went 22-12, transferred to Notre Dame in June of 2008 following his freshman year at Purdue. After sitting out the 2008-09 season as a transfer, Martin missed the entire 2009-10 season with...
The NCAA granted Irish forward Scott Martin a sixth-year of eligibility for the upcoming basketball season. With the captain's return, Notre Dame's starting lineup from last winter remains intact and (at least) a quartet of newcomers joining the fray.
Senior finds his touch, puts together consecutive double-doublesSOUTH BEND, Ind. — After the postgame television interview, Scott Martin jogged off the court Tuesday night, chased into the locker room by a small ovation from remaining Notre Dame fans. Martin, in turn, chased team spokeswoman Bernie Cafarelli up the tunnel.
Scott Martin recorded his second straight double-double to lead Notre Dame to a 60-49 victory over South Florida on Tuesday night. Martin scored 15 points and added 13 rebounds to lead the Fighting Irish (11-6, 3-1 Big East) to their 29th straight home win. Notre Dame's Jack Cooley was the game's leading scorer with 16 points, while Jerian Grant added 14. Augustus Gilchrist...
Mike Brey's Fighting Irish will enter tomorrow afternoon's game at the Yum Center with a 9-6 record overall and a 1-1 record in Big East play. I think it's fair to say that this might be Brey's worst team in his tenure at Notre Dame. Tim Abromitis, the top returning player from last year's team went down with an ACL injury just two games into the season. The Irish have...
Call me crazy, but that clearly looks like a draft beer to me. This instantly makes Bob Knight a lot less douchey. A slight buzz could only help Knight's performance as a broadcaster. He must have been about six deep last year when Kyle Kuric put Notre Dame's Scott Martin on a poster. Cheers to you, Bob!
MORE STORIES >>
College Basketball News

Delivered to your inbox

You'll also receive Yardbarker's daily Top 10, featuring the best sports stories from around the web. Customize your newsletter to get articles on your favorite sports and teams. And the best part? It's free!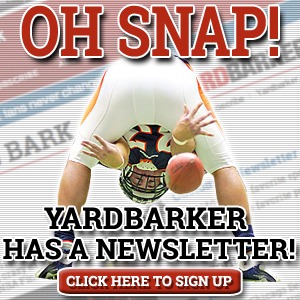 THE COLLEGE BASKETBALL HOT 10