KANSAS CITY, Mo. -- For years, it came and it went, silent as a sunset. It was Any Given Sunday, a line through the calendar on the wall. It was one of those far-away holidays in small type and parentheticals, observed in another country, another continent. And Travis Releford admits: He still struggles to get his arms completely around this whole "Father's Day" thing...
KANSAS CITY, Mo. Travis Releford was cool with being home. It was the idea of staying there that cheesed him off to no end. "These could be our last 20 minutes," Kansas' senior guard, a Kansas City native, told his teammates in the locker room, at halftime, trailing by nine to North Carolina. "We can go out and leave it all out on the court. Or we can let them...
Travis Releford and Jeff Withey both scored 15 points and No. 2 Kansas nearly relinquished a double-digit lead before beating West Virginia 61-56 on Monday night to extend the nation's longest winning streak to 18 games. Kansas (19-1, 7-0 Big 12) shot 54 percent from the field in the first-ever meeting between the schools. The Jayhawks have held their last six opponents under...
Kansas vs Colorado. This play needs no context. Just enjoy.
Courtesy: Big 12 Media Relations IRVING, Texas Kansas senior guard Travis Releford has been selected as the mens basketball Phillips 66 Big 12 Player of the Week for games from Nov. 19-25. The weekly honor is voted on by a media panel which covers the conference. Releford led No. 1211 Kansas to wins over Washington State (78-41) and Saint Louis (73-59) en route to the championship...
Known more for their defense last season, Travis Releford and Jeff Withey are making contributions at the other end of the floor for Kansas. The two will try to help the 12th-ranked Jayhawks secure a fourth consecutive win when they host San Jose State on Monday night. While maintaining his reputation as Kansas' top perimeter defender, Releford chipped in 8.5 points per game...
KANSAS CITY, Mo. -- He's Bill Wyman. Travis Releford prefers to stand in the back, unnoticed, given a choice. He's there to hold down the backbeat, to blend into the shadows, to be heard as opposed to being seen. "I have to be aggressive," Releford, Kansas' 6-foot-6 senior wing man, said after his Jayhawks stomped Washington State, 78-41, in the semifinals...
Before Kansas can get giddy about a newfound scoring star, the player providing the surprising punch provides a dose reality. "I come into games just trying to stop the opponent's offensive scorer, the best player on their team," junior guard Travis Releford said. "I don't really look to score." Call him a no-look threat if you will. After netting a...
Travis Releford scored 28 points to set a career best for the second straight game, Thomas Robinson added 18 points and No. 14 Kansas used a big surge just after halftime to beat Oklahoma 72-61 Saturday. The Jayhawks (12-3, 2-0 Big 12) scored the first seven points of the second half to take the lead, then never gave it back. Jeff Withey, Elijah Johnson and Robinson all had two...
MORE STORIES >>
College Basketball News

Delivered to your inbox

You'll also receive Yardbarker's daily Top 10, featuring the best sports stories from around the web. Customize your newsletter to get articles on your favorite sports and teams. And the best part? It's free!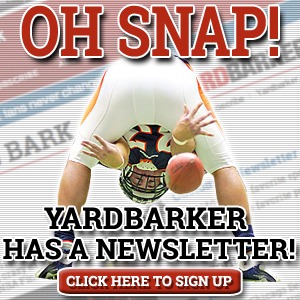 THE COLLEGE BASKETBALL HOT 10