Found August 03, 2012 on College Football Zealots:
PLAYERS:
Daytawion Lowe
,
Brodrick Brown
,
Shaun Lewis
,
Alex Elkins
,
Caleb Lavey
,
Justin Gilbert
,
Joseph Randle
,
Jeremy Smith
,
Tracy Moore
,
Lane Taylor
,
Michael Bowie
,
Brandon Weeden
,
Dana Holgorsen
,
Kendall Hunter
,
Justin Blackmon
,
Josh Cooper
TEAMS:
Oklahoma State Cowboys
,
Texas Tech Red Raiders
,
Kansas State Wildcats
,
West Virginia Mountaineers
,
Iowa State Cyclones
,
Boston College Eagles
,
Georgia Tech Yellow Jackets
,
Wake Forest Demon Deacons
,
Penn State Nittany Lions
,
Notre Dame Fighting Irish
,
Ball State Cardinals
,
Bowling Green Falcons
,
Air Force Falcons
,
Arizona State Sun Devils
,
Mississippi Rebels
,
Louisiana Tech Bulldogs
,
Texas State Bobcats
,
Utah State Aggies
2011 Record: 12-1 (8-1 in Big 12)
Head Coach: Mike Gundy (59-30 All-Time, 33-24 in Big 12)
Four Year Win Trend: 10.25 wins and 2.75 losses overall; 6.25 wins and 2 losses in conference
Last Bowl Game: 2011 season Fiesta Bowl: beat Stanford 41-38
Schedule Glimpse:
Must Win: 9/1 vs Savannah St, 9/15 vs Louisiana, 10/13 at Kansas, 11/17 vs Texas Tech, 12/1 at Baylor
Revenge: 10/20 vs Iowa St
Swing Games: 9/29 vs Texas, 10/27 vs TCU, 11/3 at Kansas St, 11/10 vs WVU, 11/24 at Oklahoma
Statistical Snapshot:
Stats to Cheer: gained 44 turnovers in 2011 (1st in Big 12, 1st in Nation)
Stats to Fear: gave up 222 plays of 10 or more yards (last in Big 12, 118th in Nation)
Personnel:
Phil Steele's Returning Starters: (Offense: 4; Defense: 8; Specialists: 2)
Key Defensive Returnees: S Daytawion Lowe (97 tackles, 2 sacks), CB Brodrick Brown (68 tackles, 5 INT), LB Shaun Lewis (61 tackles, 2 INT), LB Alex Elkins (90 tackles), LB Caleb Lavey (74 tackles), CB Justin Gilbert (59 tackles, 5 INT)
Key Offensive Returnees: RB Joseph Randle (1216 yds rush, 5.85 ypc, 24 TD), RB Jeremy Smith (646 yds rush, 7.1 ypc, 9 TD), WR Tracy Moore (45 rec), OL Lane Taylor, OL Michael Bowie
Top Recruits: OG Greg Brantley (Scout.com's #12 OG), WR Brandon Sheperd (#17 WR), OT Michael Wilson (#22 OT), OLB Seth Jacobs (#27 OLB), TE Blake Jackson (JUCO), QB Wes Lunt (#21 QB)
Inside Scoop with Pistols Firing:
CFBZ: Oklahoma State had one of the best offenses in the nation last year but this year they must replace their QB Brandon Weeden with a true freshman. Who will need to step up in order to help Wes Lunt's transition be successful?
Pistols Firing: Joseph Randle and Jeremy Smith need to have a Felix Jones-DMC type year this year for OSU to win the Big 12 title. Lunt is going to be good, but it's hard for a freshman in this league, in any league, to be great enough to win a title. Those two need to step up.
CFBZ: The Cowboys had one of the worst defenses in the nation from a statistical standpoint in 2011. What areas does the defense need to improve on in 2012?
Pistols Firing: Well that depends on what statistics you're looking at, but one thing they can definitely do better is get the heck off the field. They were 81st and 79th respectively in 3rd and 4th down conversion defense and if you're looking for an area where they can gain ground on the rest of the Big 12, I think that's it.
CFBZ: How do you think the Cowboys match up with the newest Big 12 teams, TCU and WVU?
Pistols Firing: I think OSU and WVU are going to play a lot of three-digit games in the next few years. You watched the Orange Bowl, right? The offense OSU runs was infamously (notoriously?) implemented by Dana Holgorsen and is being refined by Todd Monken which means they're pretty similar, at least on that side of the ball. TCU will be way different, they're going to be shellshocked the first time they have a team hang 5 TDs on them in a half. They probably didn't give up 5 TD in entire months in the Mountain West. I think OSU probably goes deeper than TCU but they're nasty on D, should be a good series for quite a while.
CFBZ: What is your gut feeling on the final record for the 2012 season and what makes the season successful in your eyes?
Pistols Firing: I'll go 9-3, I think anything less than 8-4 is disappointing and I also think that if you fail to develop Lunt this year, that's also a failed season. Gundy knows he probably isn't going back-to-back this year but with some senior standouts (Randle, Gilbert, Smith) in 2013 and a full slate under Lunt's belt, OSU sure could make it two out of three.
Verdict:
Let's take a look back at an interesting year in Oklahoma State football. Going into 2010, the Cowboys had lost a lot of talent and returned a QB (Brandon Weeden) who had only thrown for 248 yards the year before, a RB (Kendall Hunter) who had 382 yds rushing and their leading receiver was Hubert Aniyam. Athlon picked them 46th in their pre-season rankings, Sporting News tabbed them the 64th best team in the country and Pre-Snap Read had them 69th. Not to be outdone, Phil Steele picked them to finish 6th in the Big 12 South. Don't think we are just throwing those guys under the bus, we picked them to finish in a tie for fifth in the Big 12 South. What actually happened was Oklahoma State defied the odds and improved on their previous season to finish 11-2 and in a tie for their half of the Big 12.
This year expectations are for Oklahoma State to take a step back. It would be hard for the Cowboys not to take a little bit of a dip considering they only lost one game last year and lost their QB and their All-American WR. The difference between the 2010 team and this team is the QB position. Brandon Weeden was able to step in and take the helm and he was a very mature 26 years of ago when he took over as the starting QB. This year, true freshman Wes Lunt will be taking the snaps for the Cowboys. Lunt was an early enrollee so he has that going for him but it's going to take time to ease him into the swing of things. He does benefit from having two reliable running backs and Joseph Randle might be the best that the Big 12 has to offer. The Cowboys look like they have the answers at RB. How the Cowboys replace Justin Blackmon might be the difference in their season (they also lose second leading receiver Josh Cooper who finished with 71 rec). 
The defense for the Cowboys was an adventure last year. On one hand they led the nation in takeaways with an astounding 44. On the other hand they gave up 456 yards per game and gave up more plays of 10+ yards than just about anybody in the country. The Cowboys do return a lot of starters from last years defense as they only lose just three of their top thirteen tacklers. I would expect the Cowboys to be better on defense this year but I don't know how they can maintain their takeways at such a high level. They should be among the league leaders in takeaways but getting to 44 again is not going to happen.
The schedule sets up nicely for the Cowboys to get off to a good start. They do play on the road at Arizona and host a pesky Louisiana team in week three but they should be able to handle those games. They have an open date before and after their fourth game against Texas and then they play Kansas and Iowa State. Oklahoma State should be looking at 5-1 (give or take a win) going into the second half of their season. That is where they will get tested. They take on TCU, Kansas State and West Virginia in back to back weeks, then host Texas Tech and then go to Oklahoma. If the offense can gel and Lunt can get his feet under him in the first half of the schedule, Oklahoma State could be in for another surprising year but the Big 12 just looks so competitive this year I think there is going to be a lot of teams beating up on each other.
2012 Prediction: 8-4
Top 25 Countdown
#22
#23 Oklahoma State
#24 Florida
#25 Louisville
Previous 2012 Previews:
ACC: Boston College, Duke, Georgia Tech, Maryland, Miami (FL), NC State, UNC, Virginia, Wake Forest
Big 12: Baylor, Kansas, Texas Tech
Big East: Cincinnati, Louisville, Pittsburgh, Rutgers, Syracuse, Temple, UConn
Big Ten: Illinois, Indiana, Iowa, Minnesota, Northwestern, Penn State, Purdue
C-USA: East Carolina, Houston, Marshall, Memphis, Rice, SMU, Southern Miss, Tulane, Tulsa, UAB, UCF, UTEP
Independent: Army, BYU, Navy, Notre Dame
MAC: Akron, Ball State, Bowling Green, Buffalo, CMU, EMU, Kent St, Miami (OH), NIU, Ohio, Toledo, UMass, WMU
MWC: Air Force, Colorado St, Fresno St, Hawaii, Nevada, New Mexico, San Diego St, UNLV, Wyoming
Pac-12: Arizona, Arizona State, California, Oregon St, UCLA, Utah, Washington, Washington St
SEC: Auburn, Kentucky, Miss State, Ole Miss Rebels, Tennessee, Texas A&M, Vanderbilt
Sun Belt: Arkansas St, FAU, FIU, Louisiana, MTSU, North Texas, South Alabama, Troy, ULM, WKU
WAC: Idaho, Louisiana Tech, New Mexico St, San Jose St, Texas State, Utah State, UTSA
[follow]
Original Story:
http://www.collegefootballzealots.com...
THE BACKYARD
BEST OF MAXIM
RELATED ARTICLES
Despite starting a true freshman quarterback, Oklahoma State was ready to make waves with a developed junior running back, two receivers with plenty of game experience, and a senior-laden offensive line. But now, after a violation of team rules, one of those seniors, left tackle Michael Bowie, will no longer be a Cowboy. He will instead be playing left tackle next season at Northeastern...
On the eve of the Oklahoma State Cowboys reporting for fall camp the notion that no news is good news leading up to the start of camp came true again. While Mike Gundy was hosting members of the media and some supporters on Wednesday, the Cowboys head coach announced that senior starting offensive tackle Michael Bowie would not be with the team this season.
Friday was the first day to report to practice for fall camp and things could not have seemed more different on the football practice fields in Stillwater. Oklahoma State returns with a quarterback fresh out of high school, an offense that could rely heavily on a talented run game and a defensive that could be the team's strongest point. It's a far cry from the Cowboys air attack of 2011.
Oklahoma State began the 2012 football season Friday morning with its first workout. All practices are closed but there are a few days when photographers are allowed to shoot the first 15 minutes of practice, and on those days we can provide observations. There's not much to report but on the first day with all the freshmen and newcomers we are able to provide some information.
NCAA rules only allow Division I football programs to open camp with 105 players, which kind of designates the players that are going to be expected to contribute during the season. Oklahoma State has 107 players. Receiver David Glidden, who just had a pin removed from his ankle, and Andrae May, who is still rehabbing following ACL reconstruction surgery late in the spring, are also in Stillwater.
STILLWATER - For the second day in a row and as part of the NCAA-mandated acclimatization policy the Oklahoma State Cowboys practiced Saturday morning in helmets, shorts and jerseys. It's just hard to get a lot of evaluation done in limited mode because football is a contact sport played with pads on for protection.
STILLWATER - It's just not the same as it used to be when Oklahoma State's players returned to Stillwater from being gone for the summer. The fact is that the majority have only been off campus less than a week after leaving for home after summer school. Thursday was more about checking to make sure equipment, insurance forms, etc., is in place for the start of practice Friday morning.
DALLAS — Sooners Illustrated listened in on Oklahoma State head coach Mike Gundy's Big 12 Media Days Press Conference, and the second part is all right here.
DALLAS — Sooners Illustrated listened in on Oklahoma State head coach Mike Gundy's Big 12 Media Days Press Conference, and the first part is all right here.
College Football News

Delivered to your inbox

You'll also receive Yardbarker's daily Top 10, featuring the best sports stories from around the web. Customize your newsletter to get articles on your favorite sports and teams. And the best part? It's free!
THE COLLEGE FOOTBALL HOT 10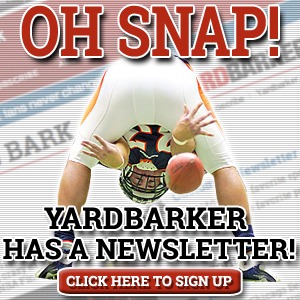 Latest Rumors
Best of Yardbarker

Today's Best Stuff

For Bloggers

Join the Yardbarker Network for more promotion, traffic, and money.

Company Info

Help

What is Yardbarker?

Yardbarker is the largest network of sports blogs and pro athlete blogs on the web. This site is the hub of the Yardbarker Network, where our editors and algorithms curate the best sports content from our network and beyond.