Found March 08, 2013 on The B1g Time:
PLAYERS:
David Gilbert
,
Mike Taylor
,
Chris Borland
,
Ethan Armstrong
,
Montee Ball
,
Melvin Gordon
,
James White
,
John Clay
TEAMS:
Wisconsin Badgers
,
Ohio State Buckeyes
,
Penn State Nittany Lions
,
Utah State Aggies
  For a variety of reasons, the Wisconsin Badgers may be the least heralded three-time Big Ten Football Champions ever. Sure, they were not technically division champions last year, but you can't blame the Badgers for the lack of institutional discipline at Ohio State and Penn State. No, their brand of play isn't sexy. They grind it out on the offensive side of the ball in hopes of winning the time of possession, an approach that is made effective by a consistent core of talent at running back and some of the largest offensive linemen found in captivity. Their defense, generally speaking, is very stout particularly against the run. Combine these two factors and you have a lot of low-scoring bouts, a hard sell to the average fan in a world of college football where defense may still win championships, but offense is generally predicated on the high-flying spread attack. The 2013 season took an unexpected turn before the 2012 season was even over. Shortly after Wisconsin's stomping of Nebraska in the Big Ten Championship game, then-head coach Bret Bielema announced that he was leaving the school for, what he felt were, greener pastures at Arkansas. UW eventually tabbed former Utah State head coach Gary Andersen as their new head man. Andersen can count himself as one of the few coaches to ever inherit a program that was arguably at its peak. But, with that luxury come high expectations. 2012 Record: 8-6 (4-4 B1G, Third in Leaders Division) Bowl Game: Rose Bowl- Lost to Stanford 20-14 Head Coach: Gary Andersen, 1st year First Practice: March 9 Spring Game: April 20   The More Things Change.....Change will be the name of the game in Madison this year as Andersen and his staff take over. The question is: how much will the new regime stray from the traditional school of thought at Wisconsin, both offensively and defensively? No doubt that Andersen would like to work at least some components of the spread into the offensive attack. Fans are understandably hesitant in that regard, but a small dose of change may not be the end of the world. One of the downfalls of a run-heavy offense is the inability to overcome medium-to-large deficits in a timely fashion. Perhaps some spread could remedy that.  Andersen has also shown a willingness to adjust his defensive schemes based upon where the talent lies. That may not be the worst thing for a Badgers' squad that boasts some talented linebackers and skilled end in David Gilbert whose athleticism could possibly be minimized by such a shift. The More They Stay the Same.....Even if (and it's a huge "if") Andersen wants to become more spread-oriented, the transition would be gradual. The pro-style offense will probably never be fully disassembled at Wisconsin and even if it is, it won't happen in one offseason . Let's Get Ready to Rumble: Linebackers Wisconsin may have lost linebacker Mike Taylor to graduation, but the Badgers return standout Chris Borland and a host of other LB's with good playing experience. Ethan Armstrong was a fixture in the lineup a year ago and could be poised to have a breakout season during his redshirt senior campaign. Nothing to See Here: Running Back There's no replacing a Montee Ball but, per usual, UW looks to have a few qualified candidates waiting in the wings. Used primarily as a change of pace back on end-arounds, then-redshirt freshman, Melvin Gordon showcased his explosiveness and playmaking ability. A few doubts remain about his ability to be the workhorse, but no one can deny that he will make an impact in 2013.  Senior James White will also be back for his final season. After he was named a consensus Big Ten Freshmen of the Year in 2010, White was thought to be the heir apparent to John Clay, but was eventually overshadowed by Montee Ball. White played more of utility role last season, but is a more than capable primary back. Name to Watch: Tanner McEvoy, Quarterback The 6- foot-6, 215 pound junior college transfer was a sought after commodity in the offseason. He opted for Wisconsin over the likes of Florida, Oregon, and West Virginia. He has been billed as an Andersen-type quarterback who possesses the dual threat capabilities necessary to run the spread offense. The UW depth-chart is unbelievably clogged at the quarterback position. They essentially return every quarterback on the roster from a year ago in a season that saw three different men take snaps under center. Andersen has declared an open competition throughout the spring, and while a starter will probably not be named in April, the cream will undoubtedly rise to the top during these practices. Spring is a Success If....The learning process begins. With a change at the top of the totem pole and several positions seeing more than one position coach in the past few seasons, the transition will not be easy. The key is that it begins now. It may not be possible to learn everything in a few weeks of practice, but some concepts have to stick before spring camp breaks, 
Original Story:
http://www.theb1gtime.com/teams/wisco...
THE BACKYARD
BEST OF MAXIM
RELATED ARTICLES
First Practice: March 9th Spring Game: April 20th Wisconsin football has been on a role as of late. Three straight Big Ten championships, three straight Rose Bowls. However, it's also been three straight Rose Bowl losses. Now Wisconsin enters a new era as former head coach Bret Bielema parlayed his success into the Arkansas coaching job in perhaps the offseason's most...
Focused on nothing but the 40-yard dash and resting his body, former Wisconsin tailback Montee Ball shaves two tenths of a second off his 40-yard dash time at Wednesday's UW pro timing day, putting him in prime position for April's NFL draft.
MADISON, Wis. Montee Ball posted loads of spectacular numbers during his career as a running back at Wisconsin. He finished second in school history with 5,140 rushing yards and tops in NCAA history with 83 total touchdowns. No one needed a stopwatch to recognize his tremendous talent. Yet the number that stood out most when Ball arrived for Wednesday's pro timing day inside...
Running back Montee Ball was clocked in the 40-yard dash at 4.46 seconds, a big improvement over his combine time, at Wisconsin's pro day. The two-time All-American and NCAA's career touchdown leader ran a disappointing 4.66 last month at the NFL combine in Indianapolis. ''I knew I was capable of getting under a 4.5,'' Ball said. ''So I'm pretty...
It's hard to believe Wisconsin is just one day away from the start of it's spring football practices, huh? Sooner than later we'll be bringing you reports from actual football practices. In the mean time it's time to get back to looking at the battles to be had and the position groups as they stand entering spring camp.  Up today is a position that sees some...
It's been a fun trip through the roster heading into spring, but as the saying goes - we've saved the best for last. That's because we've saved the quarterbacks for last.  No doubt we don't have to tell you about the disaster that was the quarterback position last year, right? I don't think any of us will forget what happened with Danny O'Brien, Joel...
The Wisconsin Badgers held their annual Pro Day on Wednesday and in attendance was the architect of the Green Bay Packers potent offense. Packers General Manager, Ted Thompson, made the short drive to Madison to take a look at a small group of Badgers prospects who have high hopes of being drafted in the upcoming  2013 NFL Draft. Wisconsin's most notable prospect is Montee Ball...
MADISON, Wis. Four NFL scouts huddled in the front row of metal bleachers, attentively staring down the field with a stopwatch in their hands and a notepad and pen in their laps Wednesday afternoon. The fate of players' professional football careers rested in those digital numbers quickly converted to paper. The men, decked in polo shirts and hats representing the Baltimore...
Photo: USA Today Sports Spring Practice Opens: March 10 Spring Game: April 20 Few teams dropped as quickly as Arkansas did before the start of the 2012 season. regarded as a potential BCS Championship contender after a fine 2011 season and Cotton Bowl victory, Arkansas dropped like an anvil the moment head coach Bobby Petrino crashed his motorcycle. From there it was all...
The lack of production from the wide receiver position in 2012 may have had many reasons. It could've been the inconsistency of having three different quarterbacks, it could've been the inconsistency of the offensive line early on that led to a lack of time to allow players to get open. However, the most likely case is that there just was a simple lack of ability to get open...
<span lang="EN" style="color: rgb(34, 34, 34); font-family: "Arial","sans-serif"; font-size: 9pt; mso-ansi-language: EN;">It's still early in the Pro Day circuit, but already prospects are making the most of their second chances in testing for NFL teams. Two of the draft's best at their respective positions did some at their March...
Wisconsin's Montee Ball ran a fast 40 in front of Ted Thompson but is it a big deal? An AFC scout in attendance offers his perspective. That and much, much more as we followed the Packers' scouts to South Florida, Mississippi State, Texas Tech and more.
Badgers News

Delivered to your inbox

You'll also receive Yardbarker's daily Top 10, featuring the best sports stories from around the web. Customize your newsletter to get articles on your favorite sports and teams. And the best part? It's free!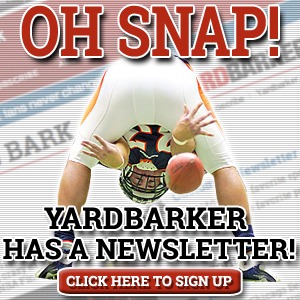 Latest Rumors
Best of Yardbarker

Today's Best Stuff

For Bloggers

Join the Yardbarker Network for more promotion, traffic, and money.

Company Info

Help

What is Yardbarker?

Yardbarker is the largest network of sports blogs and pro athlete blogs on the web. This site is the hub of the Yardbarker Network, where our editors and algorithms curate the best sports content from our network and beyond.