The Big10 is starting the season with 2 huge games and boasts possibly 2 of the top 10 players in the nation. With 5 teams ranked preseason, the league has plenty of hype and what seems to be 3 really dangerous teams in Wisconsin, Michigan, and Michigan St. Let's take a look at 5 things that could shape the 2012-13 season for the Leaders and Legends. 1. Big10 needs a stronger out of conference schedule
True
The Big10 has suffered from inferiority complex since the late 00′s. For people outside of the Big10 they really are not considered to have the same athletes as some of other major conferences. This problem may go much farther back. The conference has only won 4 National Championship since 1970, and one of those was a shared title in 1997. It has made its self a target to continuous talk of being overrated. The best way to deal with that issue is to really reach out and play top level teams out of conference. The league has failed at this goal! This year the entire league only plays 2 ranked opponents in it's out of conference schedule. So, it leaves itself little room for error in the national discussion. We won't have long to wait either, as both of these games are on opening weekend. Michigan St. welcomes a down Boise State on Friday and Michigan meets up with Alabama in Arlington on Saturday night. If Michigan beats Alabama then the "what have you done for me lately" crowd would be satisfied for this season, at least until the championship game! 2. Denard Robinson can win the Heisman
Maybe
As Denard Robinson goes Michigan goes…and if Michigan wins Robinson could be lifting the Heisman this year. Robinson and the Wolverines open with the Crimson Tide and if they can pull off a stunner then he would jump right to the top of the list. The Wolverines schedule is favorable with Michigan State coming to the Big House and no Wisconsin. Their toughest road match-ups will be a at a Nebraska who is prone to sketchy defenses and at a recovering Ohio State. If Denard can lead the Wolverines to 1 or 2 loss season then he will be in New York at the Downtown Athletic Clubs presentation of the biggest individual trophy in college sports. 3. Montee Ball has a better chance at a Heisman
True
I thought Montee Ball was the best football player in 2011. He ran for 33 tds, over 1900 yds, and caught 6 more td's. His 39 TD's in a single season has only been matched by the great Barry Sanders. Ball, recovering from a disgusting attack on campus, is set to have another huge season. Wisconsin's schedule is screaming for an undefeated season and if they are able to accomplish that goal, then Ball may have the inside lane to the Heisman. You can expect over 30 tds again for the Senior and another trip to New York. 4.Urban Meyer will make Ohio State not miss the Vest
True
Urban Meyer is a winner. I don't know the guy personally so any personality issues have no concern to me. Sure he is a little cocky but you would be too, if everywhere you went you won! The most difficult opponent for Meyer will be the SEC, off the field. His toughest competition will be going to into the same recruiting sites and convincing that big time recruit that Ohio State and the Big10 is the place for them. His main quarterbacks have been Alex Smith and Tim Tebow, so if he can get his hands on one these guys then the Buckeyes fans will forget all about the Vest and tattoos. 5. Legends and Leaders are great names for divisions
False
What goofball came up with this idea? I get it that the league didn't want to shoehorn itself into geographic locations and utilize the directional conference names, but really this was it? I would have thought that after last seasons backlash that they would have taken action. Maybe this is what they were thinking about!
Original Story:
http://www.straitpinkie.com/sports/co...
MORE FROM YARDBARKER
College Football News

Delivered to your inbox

You'll also receive Yardbarker's daily Top 10, featuring the best sports stories from around the web. Customize your newsletter to get articles on your favorite sports and teams. And the best part? It's free!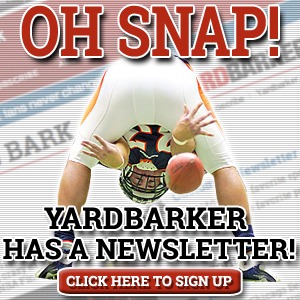 Latest Rumors
Best of Yardbarker

Today's Best Stuff

For Bloggers

Join the Yardbarker Network for more promotion, traffic, and money.

Company Info

Help

What is Yardbarker?

Yardbarker is the largest network of sports blogs and pro athlete blogs on the web. This site is the hub of the Yardbarker Network, where our editors and algorithms curate the best sports content from our network and beyond.