Tonight will see the beginning of the college football season and the official beginning of the presidential general election campaign, when the first of two major party candidates accepts his party's nomination. College football and major elections have a lot in common. Both take in place in the fall; and both are the subject of impassioned, but often fruitless and childish, debates in workplaces and on Internet forums. So maybe it should be no surprise that so many college football players make their way into politics. In this election season we've seen former SMU star and ESPN College Football Analyst (and Mike Leach antagonist) Craig James fail in his bid to win the Republican nomination for Texas's open U.S. Senate seat. Former Montana Grizzly Jimmy Farris, on the other hand, won the Democratic nomination to represent Idaho's First Congressional District. Farris, a wide receiver who played five seasons in the NFL, was part of a Grizzlies team that went to the 2000 Division I-AA National Championship Game. He'll enter November as a major underdog against incumbent Raúl Labrador. Even if Farris joins James on the sidelines, current members of the Congressional Gridiron Caucus will likely retain their seats, continuing a long tradition of football players at the highest levels of government. Here's a look at nine former college football players who have won election or appointment to major government offices. New Jersey Congressman Jon Runyan (Michigan) As a freshman at the University of Michigan in 1992, offensive tackle Jon Runyan was part of a team that went undefeated (albeit with three ties) and won the Rose Bowl. In each of his remaining seasons, the Wolverines would lose four games and finish third or worse in the Big Ten. But by his senior year, Runyan was an All-Big Ten performer. The Houston Oilers took him in the fourth round of the 1996 Draft. New Jersey Republicans and/or Michigan Wolverines fans can buy this autographed Jon Runyan rookie card on eBay for $24.99. Runyan played an impressive 13 NFL seasons with the Oilers/Titans and Eagles. After retiring, he wasted no time getting into politics. In 2010 Runyan, who had moved to the Garden State during his tenure with the Eagles, narrowly defeated Democratic incumbent John Adler for a House seat in New Jersey's third congressional district. Oklahoma Congressman J.C. Watts (Oklahoma)
J.C. Watts endeared himself to the people of Oklahoma's Fourth Congressional District by leading the Oklahoma Sooners to back-to-back Orange Bowl victories. Watts began his college career buried on the depth chart and twice left school in frustration. But he worked his way into the starting quarterback job, and his Sooners posted a 21-3 record during Watts' junior and senior years. Future Congressman J.C. Watts ran the wishbone for the Oklahoma Sooners in the late 1970s. (AP Photo) After five seasons in the Canadian Football League and six years on the Oklahoma Corporation Commission, Watts ran for Congress in 1994. He narrowly defeated opponent Ed Apple to become the South's first black Republican member of Congress since Reconstruction. He served as House Republican Conference Chair before deciding not to seek reelection in 2002 (though no less than Rosa Parks had asked him to stay in Congress). Oklahoma Lieutenant Governor Jack Mildren (Oklahoma)
If you want to get into politics in Oklahoma, it wouldn't hurt to first play quarterback for the Sooners. It worked for J.C. Watts, and it worked for one of his predecessors, Jack Mildren. Future Oklahoma Lieutenant Governor Jack Mildren takes off against Kansas on his way to All-America honors for the University of Oklahoma. (AP Photo) While Watts ran the wishbone offense successfully in two consecutive Orange Bowls, Mildren is known as the "Godfather of the Wishbone." Sooners coach Chuck Fairbanks introduced the offense in 1970, Mildren's junior year. Oklahoma went 7-4-1 that year but improved to 11-1 and won the Sugar Bowl during Mildren's senior season. That year Mildren earned All-American and Academic All-American honors. The Baltimore Colts took Mildren in the second round of the 1972 NFL Draft, and he played three NFL seasons as a defensive back. In 1990 the people of Oklahoma elected Mildren Lieutenant Governor. After one term, Mildren won the Democratic nomination for the 1994 Oklahoma gubernatorial election. He lost to Frank Keating and retired from politics to a career in the private sector. Oklahoma Congressman Steve Largent (Tulsa)
Oklahomans love to elect football players. Exhibit C is Steve Largent, best known as a hall-of-fame wide receiver for the NFL's Seattle Seahawks. This Upper Deck football card shows future Congressman Steve Largent during his playing days at Tulsa. When Largent retired from pro football in 1989 he held the all-time NFL records for receptions, receiving yards, and touchdown receptions (all of which Jerry Rice would eventually break). But before he was an All-Pro receiver, Largent was an All-American at the University of Tulsa. After seeing limited action during his first two seasons with the Golden Hurricane, Largent posted 884 receiving yards as a junior and an even 1,000 as a senior. He caught 14 touchdown passes both seasons. The Oilers drafted Largent in the fourth round of the 1976 Draft but traded him to the Seahawks before the start of the regular season. After 13 years in the NFL, Largent ran for Congress in Oklahoma's First District in 1994. He served four terms in the U.S. House before running for Oklahoma Governor in 2002. He lost a close race to Democrat Brad Henry. ***** Four down, five to go! Click to continue and learn about:
The top-5 pick who went bust…before going after Nancy Pelosi.
The quarterback who was too short…but ended up as a potential vice president.
The college football Hall of Fame member…who ended up as a Supreme Court Justice.
Amry's one-year wonder…who later became a D-Day hero (and president!).
The Michigan Man…who took the most unlikely path to the White House in U.S. history.
The post 9 Prominent Political Figures Who Played College Football appeared first on Midwest Sports Fans.
Original Story:
http://feedproxy.google.com/~r/Midwes...
MORE FROM YARDBARKER
College Football News

Delivered to your inbox

You'll also receive Yardbarker's daily Top 10, featuring the best sports stories from around the web. Customize your newsletter to get articles on your favorite sports and teams. And the best part? It's free!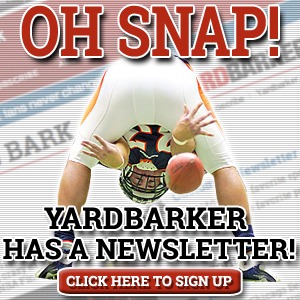 Latest Rumors
Best of Yardbarker

Today's Best Stuff

For Bloggers

Join the Yardbarker Network for more promotion, traffic, and money.

Company Info

Help

What is Yardbarker?

Yardbarker is the largest network of sports blogs and pro athlete blogs on the web. This site is the hub of the Yardbarker Network, where our editors and algorithms curate the best sports content from our network and beyond.