Found January 02, 2013 on Athlon Sports:
TEAMS:

Via Athlon Sports:
There are few programs in the history of college football that have experienced as much success as Alabama and Notre Dame. The Fighting Irish are fourth all-time with 865 wins and no team in the nation can claim more Heisman trophies than the Irish's seven. The Crimson Tide are ninth all-time with 826 wins and have won two of the last three BCS National Championships. Officially, the Tide lead all FBS programs with 14 national titles and Notre Dame is tied for second with 11. 'Bama claims 24 NCAA Hall of Famers while the Irish boast 50.
Arguably, the two most powerful brands in college football history will be on the field deciding a championship on Monday, Jan. 7. Dedicated fans, legendary coaches, historic moments and most importantly, transcendent players have made these two football Goliaths what they are today.
So which program has had the better history of great athletes? To be fair, the evolution of the athlete makes it extremely difficult to compare players who passed beneath Touchdown Jesus or through the Capstone 60 years apart. Players today are bigger, faster, stronger and more prepared for elite competition than ever before. How could you ever compare Barrett Jones to Aaron Taylor to John Hannah? What about Manti Te'o, Cornelius Bennett or Jim Lynch? How about George Gipp or Trent Richardson?
It's virtually impossible, but Athlon Sports has given it the ol' college try:
Quarterback:

Alabama's Best: Joe Namath, Ken Stabler, AJ McCarron
Notre Dame's Best: Johnny Lujack, Joe Montana, Paul Hornung

With AJ McCarron pushing for his second national championship ring, Alabama has a strong trio at the most important position on the field. The Tide also has title winners in Jay Barker, Greg McElroy and Pat Trammell. 'Bama also claims Green Bay Packers hero Bart Starr. However, Notre Dame gets the nod under center with a deep and talented history at the quarterback position. Lujack, Hornung, John Huarte and Angelo Bartelli all won Heisman trophies and many believe Montana is the best to ever play the position. Throw in Terry Hanratty, Joe Theismann, Rick Mirer, Brady Quinn and Tony Rice, and the Irish have the clear edge under center.
Edge: Notre Dame
Running Back:

Alabama's Best: Trent Richardson, Mark Ingram, Bobby Humphrey
Notre Dame's Best: George Gipp, Johnny Lattner, Jerome Bettis



If the game was being played 50 years ago, Notre Dame's best would likely trump 'Bama. However, the modern athlete gives the Crimson Tide the edge at running back. Richardson is one of the most physically gifted players to ever carry a football on any campus. Ingram won Alabama's lone Heisman Trophy, and old-school names like Humphrey, Johnny Musso, Shaun Alexander and Johnny Mack Brown give the Tide plenty of history of their own. The Gipper is the gold standard in South Bend for all players regardless of position, as Gipp excelled at much more than just running. Bettis is arguably the most gifted Irish runner, but is the only modern "all-time" tailback at Notre Dame. Lattner, Gipp, Elmer Layden and Emil Sitko played during a different era and even the best of the rest — Vagas Ferguson, Autry Denson, Reggie Brooks — are nearly 20 years removed from action. This position battle is extremely close but Alabama gets the slight edge based on raw athletic ability.
Edge: Alabama
Wide Receiver:
Alabama's Best: Don Hutson, Julio Jones, David Palmer
Notre Dame's Best: Tim Brown, Rocket Ismail, Michael Floyd

'Bama's best can hang with anyone's top three, especially considering what Hutson and Jones have gone on to do in the NFL. But the position isn't extremely deep with All-Americans. Notre Dame, however, has a deep history of elite pass catchers. Brown won the program's seventh Heisman Trophy, Ismail was virtually unstoppable in the open field, and Floyd was as productive as any wideout at any school. But Jim Seymour, Jeff Samardzija, Golden Tate, Wayne Milner and Derrick Mays, to name a few, give the Irish the nod over the Crimson Tide. Although, it would have been interesting to see what type of legacy Tyrone Prothro would have left at Alabama had he stayed healthy.
Edge: Notre Dame
Tight End:
Alabama's Best: Ozzie Newsome, Howard Cross, Rod Rutledge
Notre Dame's Best: Ken McAfee, Dave Casper, Kyle Rudolph



This one isn't even close despite Newsome being the best overall player at this position on either team. McAfee and Casper are two of the greatest college tight ends in history, while Rudolph's freakish athletic ability made him a special player. Toss in Jim Mutscheller, John Carlson, Tyler Eifert, Irv Smith and Mark Bavaro and the Irish can boast one of the best tight end traditions in the nation.
Edge: Notre Dame
Offensive Line:
Alabama's Best: John Hannah, Chris Samuels, Barrett Jones
Notre Dame's Best: George Connor, Bill Fischer, Aaron Taylor

Much like the tight end position, this battle isn't really close. This time, however, it's Alabama that has the distinct advantage. The fact that Dwight Stephenson, Andre Smith, Antoine Caldwell, Billy Neighbors and Chance Warmack aren't one of the best three linemen to play at a school indicates just how elite 'Bama's blocking heritage has been. Strangely enough — and relatively speaking, of course — the Irish have little history of elite offensive linemen. Mirko Jurkovic, Andy Heck and John Scully might not even stack up with even the Mike Johnsons and D.J. Flukers of the Crimson Tide world.
Edge: Alabama
Defensive Line:
Alabama's Best: Leroy Cook, Marty Lyons, Terrance Cody
Notre Dame's Best: Ross Browner, Leon Hart, Justin Tuck

Surprisingly, Alabama's tradition and history along the defensive line is similar to that of Notre Dame's offensive line in that a small number of D-Liners are named amongst the program's all-time best. For example, it is likely that Jesse Williams is one of the top 10 defensive linemen in Capstone history. Lyons and Cook were truly great, and Cody was a monster. Beyond them it is hard to find comparable names. Eric Curry, John Copeland, Marcell Dareus and Mike Pitts were all great players but not Heisman Trophy-type talents. Browner was one of the game's greatest at his position, Hart is still one of just two linemen to win the Heisman Trophy, and Tuck is a physical freak. Toss in Bryant Young, Chris Zorich, Alan Page and Bob Dove, and the Irish get the nod along the defensive frontline. Walt Patulski, Frank Stams, Steve Niehaus and Louis Nix III could also be mentioned among the ND's best — and Stephon Tuitt may only need one more season to prove he belongs as well.
Edge: Notre Dame
Linebacker:
Alabama's Best: Derrick Thomas, Cornelius Bennett, Lee Roy Jordan
Notre Dame's Best: Manti Te'o, Jim Lynch, Bob Crable

Alabama's tradition of churning out elite linebackers is downright absurd. DeMeco Ryans, C.J. Mosley, Keith McCants and Dwayne Rudd aren't even in the top 10. Woodrow Lowe, Dont'a Hightower, Rolando McClain and Courtney Upshaw aren't in the top three. Along with offensive line, this position is the strongest historically of the Crimson Tide program. Considering the history at this position, it's no wonder Nick Saban has made a killing recruiting elite tackling prospects. Te'o speaks for himself as one of the better all-around college athletes to ever the play the game. Lynch and Crable are elite in their own right as well. And Bob Golic, Jerry Groom, Michael Stonebreaker and Nick Buoniconti are good players but Notre Dame can't match the rich heritage of Alabama's linebackers.
Edge: Alabama
Cornerback:
Alabama's Best: Antonio Langham, Javier Arenas, Jeremiah Castille
Notre Dame's Best: Todd Lyght, Bobby Taylor, Luther Bradley

Langham won the Thorpe Award and led his team to a national title, while Arenas impacted the game in so many different ways. That said, Dee Milliner might be the most complete and talented corner to ever play at Alabama. Dre Kirkpatrick, Kareem Jackson and Don McNeal add quality depth to the cover corner position as well. Notre Dame has had some quality players at cornerback over the years but none are considered amongst the school's all-time greatest players.
Edge: Alabama
Safety:
Alabama's Best: Mark Barron, Tommy Wilcox, George Teague
Notre Dame's Best: Mike Townsend, Tom Zbikowski, Dave Duerson

There was talk around the SEC that Barron was the best player in the conference last season — in a year that had nine first-round picks from the SEC. Wilcox is widely regarded as the only other truly great Alabama safety, while others like George Teague and Rashad Johnson were big winners. However, Notre Dame's recent run at safety — Zbikowski and Harrison Smith — give the Irish a very slight edge at the backend of the defense. Dick Lynch and Dave Duerson add quality depth to a position that has been comparatively thin for both programs. Although, both programs have produced some NFL stars in the last few seasons.
Edge: Notre Dame
Kickers:



Notre Dame's John Carney vs. Alabama's Leigh Tiffin

Both names dominate their respective record books. Alabama has had a slightly better run of kickers overall (Phillip Doyle, Michael Proctor) than Notre Dame, but Carney went on to become one of the NFL's best for more than two decades.
Edge: Notre Dame
Head Coach:
Alabama's Best: Bear Bryant, Nick Saban, Frank Thomas
Notre Dame's Best: Knute Rockne, Frank Leahy, Ara Parseghian

This is one of the more interesting debates in a historical perspective for both teams. It's tough to argue that Bryant isn't the game's greatest general, however, nearly one third of his 323 wins (91) came during his 13-year coaching tenure prior to getting to Tuscaloosa. And the Notre Dame coaching history has been slightly deeper and more balanced as seven different men won a national title at Notre Dame, while only five did so at Alabama. How do Lou Holtz, Dan Devine and Elmer Layden compare to Wallace Wade and Gene Stallings? Brian Kelly has won titles on every level of his coaching career and has a chance to defeat Saban head-to-head and make it eight coaches to win titles for the Irish. That said, The Bear is the trump card. But this is about as dead even a position battle for these two historic programs. One could also argue that these are the two best collections of head coaches in the nation — which should come as no shock considering these are two of college football's most prestigious programs.
Edge: Alabama
Original Story:
http://www.athlonsports.com/college-f...
THE BACKYARD
BEST OF MAXIM
RELATED ARTICLES
WHY NOT MUUMUUS?
We've all seen the anti-Alabama shirts lately by Notre Dame fans. Jimmy Clausen, former Notre Dame quarterback, tweeted a picture of one. There was one that insinuated all Alabama Crimson Tide fans lived in mobile homes. Now, Alabama fans are fighting back with t-shirts of their own. Trust me ND fans. You do not want to get this fan base riled up. Bad things happen. HT Rovell
WASH ONLY WITH TIDE
To the naked eye, Alabama will appear to be wearing their standard uniforms next week when the Crimson Tide take on Notre Dame for their second straight BCS championship. But upon closer inspection you will see that Nike has given a couple of new tweaks to the Alabama Pro Combat Hypercool uniform. According to Nike, Alabama's uniforms will be specially designed to improve temperature control ...
Can Manti Te'o lead the Irish to their first National Championship since 1988? This is the moment Notre Dame football fans, alumni, players, and students have been waiting for. 24 years since Lou Holtz won the Irish's last National Championship, and here they stand once again, on the verge of their official Return to Glory in the BCS National Championship Game against Nick Saban...
It's really happening, Auburn fan. Katherine Webb, 2012 Miss Alabama, an Auburn grad and girlfriend of AJ McCarron, really went out and bought an Alabama jersey. She's also currently in a Nissan Armada on the road to Miami with McCarron's family. It's really happening, Auburn fan. Dee Dee Bonner confirmed it with us. I'm so sorry to report this. That's just a typo from...
The life of a big time college quarterback seems to be pretty good off the field as Johnny Manziel proved late last year. Well Alabama's A.J. McCarron is continuing the trend after images surfaced of him with Katherine Webb, the Ms. Alabama of 2012 and an Auburn alum to boot. Busted Coverage (by way of [...]
When Everett Golson sees a piano, he usually sits down and starts entertaining. He plays several instruments, keeps a keyboard in his room and loves to sing. Music is a huge part of his life, perhaps only topped by basketball. And in Golson's spare time, he plays quarterback for Notre Dame. ''He's pretty good at his hobby,'' Notre Dame offensive coordinator...
Alabama coach Nick Saban has sent home two backup players from the BCS championship game for violating curfew. A person with knowledge of the decision identified the players as freshman linebackers Dillon Lee and Ryan Anderson. The person spoke on condition of anonymity because the school didn't release the names. A statement from Saban announced the disciplinary action. Alabama...
Manti Te'o and Barrett Jones are two of college football's good guys and best players. The Notre Dame linebacker and Alabama center have led their teams into the BCS championship after postponing NFL paychecks to return for their senior seasons. They're good academically and have collected numerous awards and honors for football. Coaches say Te'o and Jones are just...
Covering Dixie Like Mildew - The SEC. You got a problem with that? Cotton Eyed Bowl. Good Bull Hunting's Cotton Bowl preview is a definite must-read, with a complete breakdown of Texas A&M going into the game. Everybody Wants You. Robert Cessna looks at the throngs trying to get their piece of the Johnny Manziel action. (The Bryan-College Station Eagle) I want...
(Updates. With AP Photos.) By TIM REYNOLDS AP Sports Writer Notre Dame linebacker Danny Spond values every chance he gets to be on the football field. That might sound trivial. After all, doesn't every player feel that way? Probably so, but then again, few players have seen what Spond has seen. The native of Littleton, Colo., was a star quarterback at Columbine High, where...
English: Nick Saban after the Alabama vs. Arkansas game, thanking the Alabama student section. (Photo credit: Wikipedia)  The SEC may be considered the strongest conference in college football, but so far the 2012/13 bowl season hasn't shown it.   Through Thursday's games, in fact, the SEC is batting a mere .500 (a 3-3 record), with surprising losses for Florida (to Louisville...
When all is said and done, Alabama's first-year offensive coordinator Doug Nussmeier will have had much to say and do with AJ McCarron's budding legacy.
College Football News

Delivered to your inbox

You'll also receive Yardbarker's daily Top 10, featuring the best sports stories from around the web. Customize your newsletter to get articles on your favorite sports and teams. And the best part? It's free!
THE COLLEGE FOOTBALL HOT 10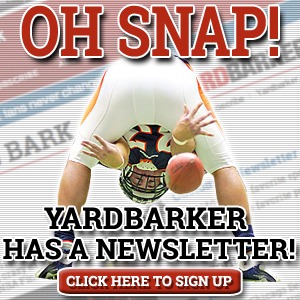 Latest Rumors
Best of Yardbarker

Today's Best Stuff

For Bloggers

Join the Yardbarker Network for more promotion, traffic, and money.

Company Info

Help

What is Yardbarker?

Yardbarker is the largest network of sports blogs and pro athlete blogs on the web. This site is the hub of the Yardbarker Network, where our editors and algorithms curate the best sports content from our network and beyond.