Coming in hot and anonymous for bed check Gene Chizik has a lot on his plate these days.  He's got enough to worry about in a days time what with coaching his football team and dodging questions about his job security.  He doesn't have time for mundane tasks that, while important to maintain order and cohesiveness in his team, take up a good part of the actual work day.  A good leader, like Chizik, learns to delegate those tasks to others so that he can more acutely concentrate on things like trying to run a pro style offense with a bunch of built-to-run-the-spread players…you know, important stuff.  One of those more menial tasks is team curfew check.  That task is usually given to some lowly GA or student manager, but Chizik , instead, did what any good ruthless dictator seeing his empire crumbling around him would do, scare his people into submission with the persuasion of military force. AUBURN – The Auburn football program has contracted with a private security firm to help enforce player curfews, an official with the company confirmed to The Advertiser. Stanley Dallas, the Auburn Regional Manager of the Event Operations Group, confirmed members of his staff are working in conjunction with members of Auburn's football player development department to "enforce" player curfews throughout the week. The Event Operations Group, Inc. is a "national full service event management, staffing, and security provider," according to its website. The firm is used by facilities across the country, including at Auburn and other SEC schools such as Ole Miss and Mississippi State, to staff on-campus events in a variety of capacities including security, parking attendants and stadium ushers. Curfews are a common practice on the evenings before games but Auburn instituted a nightly curfew, a far more rare practice, and the use of paid personnel from a private security firm to assist in enforcing a curfew may be unprecedented. "We always do what's in the best interest of our team," Auburn coach Gene Chizik said. "We have a curfew check and we have to employ people to help us with some of the kids off campus. Other than that I'm not going into any details of any of that. "I've got one focus and that is Georgia. So we got our work cut out for that and be glad to answer any questions about Georgia." Dallas said the operation – which includes members of his staff going to the homes of football players who live off-campus and confirming they are home by the team's 11 p.m. curfew – began shortly after the arrest of center Reese Dismukes for public intoxication on Aug. 25. Dallas said when the use of his staff for curfew checks began a few players were not pleased and had to be spoken to by members of the Player Development staff. There are, as of yet, no reports of flash bangs or tear gas being used in order to access player's off campus homes, but you totally know it's coming….or maybe I'm just really excited for the new Call of Duty…either one. Auburn Hires Private Security to Make Sure Everyone is Tucked in at Night is brought to you by Friends of the Program - Sports and Culture...All Under the Table Of Course
Original Story:
http://feedproxy.google.com/~r/Friend...
MORE FROM YARDBARKER
Tigers News

Delivered to your inbox

You'll also receive Yardbarker's daily Top 10, featuring the best sports stories from around the web. Customize your newsletter to get articles on your favorite sports and teams. And the best part? It's free!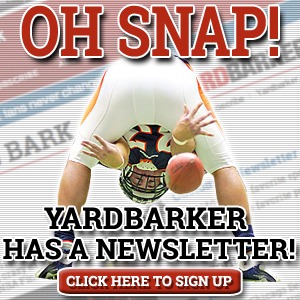 Latest Rumors
Best of Yardbarker

Today's Best Stuff

For Bloggers

Join the Yardbarker Network for more promotion, traffic, and money.

Company Info

Help

What is Yardbarker?

Yardbarker is the largest network of sports blogs and pro athlete blogs on the web. This site is the hub of the Yardbarker Network, where our editors and algorithms curate the best sports content from our network and beyond.